The land tells a story. We know how to read it.
Landscape Architecture and Design
Without exception, understanding site conditions is the primary key to successful projects. Only then can planning and design begin in earnest.  When the built environment fits naturally into the land, or the building is a perfect complement to the streetscape, we help to minimize impact and maximize value. From national cemeteries to state parks; bustling downtowns to campus landmarks, The LA Group is the first consultant on the job. We ensure projects begin on solid ground.
Services include:
Feasibility Studies

Program Development

Site Analysis
Site Planning

Master Planning

Building Siting

Facility Design

Grading and Drainage Design
Landscape Design/Restoration
Road Layout and Design
Hardscapes

Plazas

Parks

Squares

Streets

Riverwalks
Plantings

Site Furnishing

Wayfinding Systems

Outdoor Lighting Plans

Green Infrastructure Design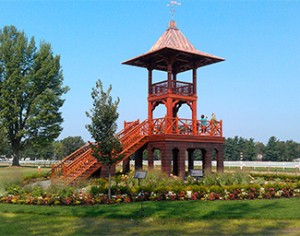 Whitney Viewing Stand, Saratoga Race Course
The ambiance of your favorite resort.
"The LA Group has been a pleasure to work with. They assembled a great team, completed documents ahead of schedule with good communication."
– NYS Office of General Services, Design & Construction
"With my civil background, I take a keen interest in site design. I can tell you I am quite pleased with what the drawings I received as compared to others I've reviewed recently. My compliments to the LA Group for a nice job."
– Carson Sorrell, Director of Facilities, SUNY Institute of Technology