Landscape Architecture Services
Environmentally sensitive and balanced design solutions that meet project needs and create better spaces for all.
Landscape Architecture Capabilities
Understanding site conditions is fundamental to the successful design of projects. Through assessment of natural components and manmade conditions The LA Group provides the foundation for successful planning and design projects. From national cemeteries to state parks, bustling downtowns to campus landmarks, The LA Group is the first consultant on the job and ensures projects begin on solid ground.

Feasibility Studies
Program Development
Site Analysis
Site Planning

Master planning
Building siting
Facility design
Grading and drainage design
Landscape design/restoration
Vehicular and pedestrian circulation planning and design
Hardscapes

Plazas
Parks
Squares
Streetscapes
River walks

Plantings
Site Furnishing
Wayfinding Systems
Green Infrastructure Design
Master Planning Services
A master plan sets out a long-range plan for the physical environment. A strong master plan provides recommendations for expansion, renovation, or change based on a thorough assessment and understanding of site characteristics and features with an end goal of a vibrant and sound facility that meets the goals of the owner, user groups, and constituents now and into the future.
A Blueprint for the Future
Understanding the Needs of the Client – Through discussion and understanding of the needs, goals, concerns, and requirements.
Program Development – Review and discussion of the program elements and assistance in defining and refining components.
Develop a Detailed Understanding of the Site and Surroundings – Through analysis of site conditions including topography, geotechnical and soil characteristics, wetlands, drainage, erosion potential, vegetation, wildlife, cultural and historic resources, local design vernacular and architectural style, wind and solar orientation, views, noise, utilities, access, and adjacent uses.
Consideration of Site Resources – To be successful, the design must take into consideration all site components, minimize environmental impacts, preserve important resources, and take advantage of the site's positive attributes.
Establish a Sense of Place – Every site brings unique attributes and strengths.
Design Concept Recommendations – Implementation of the project program based on the site characteristics including vehicular and pedestrian circulation and access, structure placement, placement of outdoor gathering areas, planting concepts, stormwater management, and utilities.
Establishment of Site Vocabulary – Consistent materials and detailing for site components including pavements, signage, lighting, walls, furnishings, and landscaping palette.
Exploration of Phasing Options – Staging project components to allow planned implementation.
Sustainable Design – Integration of sustainable design principles within the context of the master planning design and recommendation of appropriate sustainability components and practices.
Energy Efficiency – Maximize energy efficiency relative to life cycle costs including alternative energy studies and energy reduction measures.
Cost Evaluation and Project Prioritization – Consideration of economic cost factors both short and long term.
Maintenance and Operations Recommendations and Strategies – To ensure extended quality of site improvements.
Meeting Challenges of Regulatory Requirements – Outlining the requirements and path to approvals.
Flexibility and Implementation Strategies – Build in flexibility and ability to adjust to changing conditions or needs and outline steps to implementation.
"Thank you again for a fantastic landscape design which has greatly exceeded our project goals. Not only does the landscape provide an oasis style of place making within an existing palette of modern architecture, but it also helps the campus further its dedication to sustainability. Kudos to the LA Group team!"

Brad Bunzey, Project Manager, University of Albany, Architecture, Engineering and Construction Management
Wayfinding Services
At The LA Group, landscape architecture is not only about visual beauty or functional foundations, it's also about communication. Comprehensive wayfinding studies and design ensures every institution, campus, or outdoor destination tells the right story.
Wayfinding Design for Every Point of View
Welcome and inform. Guide and entertain. With an integrated approach, thoughtful wayfinding can enrich the visitor experience. And from the ADA Standards to government or corporate guidelines – The LA Group specializes in creative solutions that maintain compliance while enhancing the environment, including:
Wayfinding Audits – Conducting site-wide inventory and analysis of existing wayfinding systems.
Gateway and Entrance Studies – Identifying the primary locations for communication based on goals for vehicular and pedestrian circulation.
Wayfinding Master Plans – Producing comprehensive plans that align with the evolution of the site and considering all possible wayfinding solutions, integrating plantings, walkways, signage, and more.
Information Hierarchy and Sequencing – Determining natural decision points, creating zones, and delineating the proper order of communication to move from point A to point B safely and easily.
Construction Documentation and Administration – Preparing construction details of the wayfinding system to clarify size, materials, fabrication, and finishes and overseeing the final implementation and quality.
Guidelines – Creating graphic and landscape standards manuals for consistent communication.
The land tells a story. We know how to read it.
Landscape Architecture Team
The LA Group's landscape architecture team brings an expansive depth of experience and energy to each project. With an average experience of 27 years, the firm's landscape architects bring a perspective to the development of a project honed by years in the field. Bringing not only years of experience, the team also brings a diversity of insight, drawing on input of the team to bring fresh and exciting design ideas to the table.
Team members specialize in the components that form the basis of design: environmental issues, planting design, regulatory components, materials and detailing, community integration, wayfinding, historic context, and universal accessibility. As a large group of landscape architects, The LA Group provides a variety of passionate perspectives united in a common goal of delivering designed environments that improve both human and environmental health.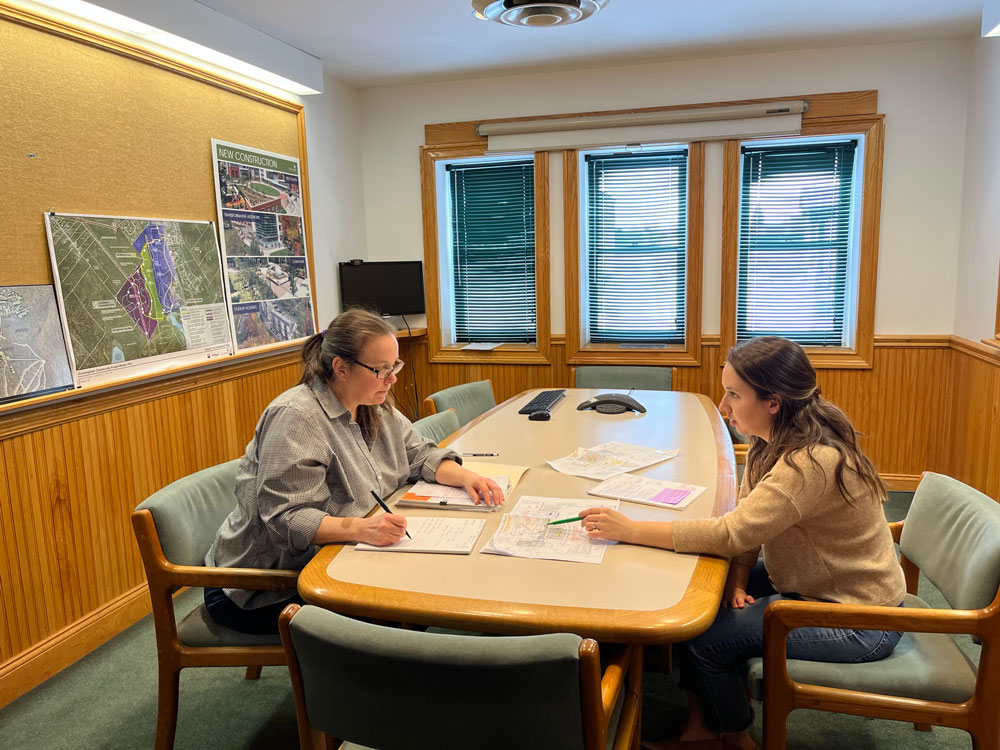 Markets Served for Landscape Architecture
Frequently Asked Questions
What benefit does a landscape architect bring to a project?
The LA Group provides landscape design services that bring a holistic perspective to each project. This entails examining the natural and built site components, understanding the challenges and envisioning the opportunities each project presents.
When should a landscape architect be brought into a project?
It's best to contact a landscape architecture company at the very start of a project. Landscape architects can assist in understanding site components that form the basis of design decisions across multiple disciplines.
How are landscape architecture components coordinated with architecture or engineering components?
It's an ongoing process to coordinate all the components of a landscape architecture project. Citing of new buildings or building additions and relationship to the overall site fabric, grading related to architectural components and coordination of utilities inside and outside of the building are all critical to project success. The LA Group works both as a member of a multidisciplinary team and as the team leader.
Is landscape architecture limited to planting design?
Absolutely not! Landscape design is an important part of landscape architecture, however at The LA Group, landscape architects are experts in site planning, space making, grading design, hardscape design and so much more.
My project is on a tight budget. How can I fit in landscape architecture?
Each project has unique goals and restrictions. When providing landscape architecture design services, The LA Group works closely with each client to determine expectations and needs. Using a landscape architect brings value to a project through assessing and understanding existing site systems and providing strategies to meet the project goals.
Recent Landscape Architecture News
Last week we celebrated the groundbreaking of Charlie's Stay + Play, a pet care facility offering multiple services, such as,…
Our Services
The LA Group would like to make your projects successful. Learn how together the team can create better spaces for all.