People. Purpose. Place.
Since 1974, The LA Group has helped to shape experiences through landscape architecture and engineering that creates space for life and community; family and friendship. Our staff of landscape architects, civil engineers and environmental scientists boasts a robust resume in public space and government projects, resort and commercial development and campus planning and design.
Strategic Design. Expert Integration.
Through practical creativity we blend history, culture and ecology, aligning what is best for the land with a skillful application of the intricate laws and regulations that govern development.
We take clients from environmental analysis and land planning to comprehensive landscape designs, walking projects seamlessly through complex permitting and approvals to completed places.
From our headquarters in Saratoga Springs and our office in Ithaca, New York, our impact extends from the Adirondack Park and New York State, throughout the Northeast and around the United States through extensive work with the US Department of Veterans Affairs and National Park Service.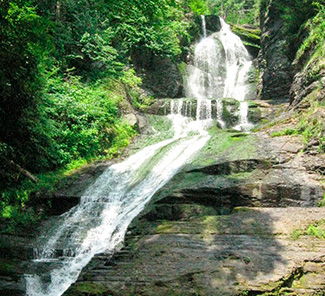 George W. Childs Park, PA
Sustainable by Nature
The LA Group is a strong advocate of environmentally sensitive design and always works to strike a balance between program goals and the natural site. We have specialized expertise in all phases of natural resource compliance including SEQRA, NEPA, Clean Water Act, cultural resource protection rules, federal wetland regulations, and storm water management regulations.
We are an accomplished authority in green infrastructure and stormwater management and have significant experience creating project-specific, regional and large-scale environmental impact statements and visual impact assessments.
Understand What is Underfoot and Underground
Low Impact Design is simply a new phrase to describe the way The LA Group has always practiced. When landscapes and buildings are designed in harmony with the natural setting, disruption to water resources, habitats, indigenous species and soils are eliminated or minimized.
Our team of licensed Landscape Architects, Certified Environmental Planners, Environmental Scientists and Civil Engineers has been educated in site analysis and environmental sustainability, with LEED Certified Professionals in every studio. Through a collaborative approach, we bring a variety of viewpoints and skill sets to every project. The result is a quicker analysis of site feasibility and more balanced solutions.
Collaboration with other professionals also drives results. From architects to mechanical and plumbing engineers and facilities personnel, The LA Group helps teams to understand site environments and how to maintain a greener profile.
Stormwater Masterplanning and Design
A Soft Approach to Site Engineering
Stormwater planning is a fundamental part of the practice of landscape architecture and land development planning. Since our inception, The LA Group has employed dozens of landscape architecture solutions to naturally minimize stormwater runoff. Rain gardens and grass swales, green roofs and permeable pavement are but a few of the techniques integrated in our projects through our multi-disciplinary team approach.
All federal agencies are required to comply with the provisions of the Clean Water Act, which includes stormwater discharges. This has been further integrated into stormwater management as a result of the Phase I and Phase II Environmental Protection Agency Stormwater rules. These rules regulate construction activities, post-construction, operation of municipal separation storm sewer systems (MS4), and non-traditional MS4s (colleges, large campuses).
Permitting involves analysis of site conditions, inventory of stormwater management facilities, modeling of stormwater flows, and planning of treatment devices. Many of the preferred treatment devices involve wetland basins, rain gardens, and bio swales in order to polish the stormwater flow. These devices require detailed analysis of flow and knowledge of plant material in order to effectively treat stormwater.
As part of stormwater permitting, planning and phasing of development to meet disturbance limits is necessary. This frequently includes establishment of temporary construction sediment basins.
Planning for on-site management of stormwater discharges within the context of the downstream neighborhood is an issue that frequently has to be addressed by retrofitting discharge swales with rip-rap or other velocity control devices. Many other methods including wetland base treatment and extended detention basins are available to manage and improve the quality of stormwater.
Stormwater management standards are now regulated through federal and state guidelines. We walk projects seamlessly through these challenges, applying best practices that reduce runoff.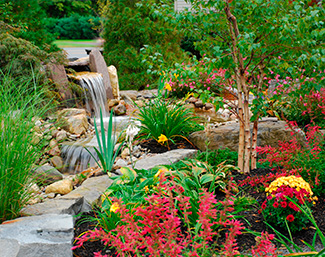 Malta Meditation Garden, Malta NY
Green Infrastructure
Building with Nature
Less pavement. More plantings. Green infrastructure uses vegetation, soils and natural processes to manage water and create healthier urban environments. The LA Group combines an understanding of environmental impacts and the engineering know-how to calculate successful outcomes. With a balanced approach that considers what an owner is prepared to build as well as committed to maintain, we weave a range of green infrastructure elements throughout our projects, including:
Downspout Disconnection
Rainwater Harvesting
Rain Gardens
Planter Boxes
Bioswales
Permeable Pavements
Green Alleys and Streets
Green Parking
Green Roofs
Green roofs present a unique opportunity to integrate the built environment with landscape features that increase usable acreage and space for site amenities while employing a number of green infrastructure techniques. Through intense collaboration with the entire building design team, we've achieved exciting results that incorporate gardens, plazas, and even a campus quad atop structures such as underground parking garages, downtown buildings and community housing complexes.
Our award-winning project at the SUNY Orange Campus in Newburgh, NY, provides an excellent example.
Green Infrastructure has also become a popular concept among those looking to tread lightly on the site. Our projects exemplify a number of approaches that minimize disruption and create inviting outdoor spaces.
Enduring Impact
 Community involvement is the focus and foundation of our company culture. Our causes come from our core, the passions of our people, because a dedicated team makes the biggest difference.
We understand community – it's our job. Without it we wouldn't be here. Giving back isn't only the right thing to do, it's the most effective way to sustain the places we live in and love.
The LA Group has assisted nonprofits by providing design services, site studies and evaluations, fundraising support and staff volunteering since its foundation. It was also one of the first firms in Upstate New York to join The 1+ Program, launched by Public Architecture in 2005. Through the program, The LA Group has provided thousands of hours to nonprofit organizations in need of design assistance.
Adirondack Research Consortium
Adopt a US Soldier
Ballston Spa Central School District
Boy Scouts of the Twin Rivers Council
Catholic Charities of Saratoga, Warren and Washington Counties
The Christopher Daily Foundation for Youth Sports
City of Glens Falls Urban Renewal Agency
Code Blue Saratoga
Double H Ranch
Franklin Community Center
Girl Scouts of Northeastern NY
High Rock Park 9/11 Memorial
The Hyde Collection Art Museum
Malta Memorial Meditation Garden
National Museum of Racing
The NYS Federation of Lakes
Pitney Community Farm
Presbyterian New England Congregational Church
Salvation Army
Regional Food Bank of Northeastern NY
Saratoga Bridges
The Saratoga Center for the Family
Saratoga County Planning Board
Saratoga County E.O.C.
Saratoga Economic Development Corporation
Saratoga Hospital
Saratoga Miss Softball
Saratoga Regional YMCA
Saratoga Springs City School District
Saratoga Springs Downtown Business Association
Saratoga Springs Lions Club
Saratoga Springs Open Space Advisory Committee
Saratoga Springs Preservation Foundation
Saratoga Springs Rotary Club
Scotia-Glenville Central School District
Adalbert's Church
Clement's Church
SUNY ESF
Town of Ballston Recreation Commission
Town of Glenville
Town of Wilton Recreation Commission
Union College
Wiawaka Holiday House
The Wesley Community
Yaddo Artist Retreat
YMCA Camp Chingachgook
Team & Careers Services & Portfolio
Balance beauty with science.
"The LA Group's patience and concern for each voice in the APRAP process was remarkable."
– Bradford G. Dake, Chairman of APRAP
"The LA Group was at the literal and figurative foundation of the project; without their insight and ability to share the vision – the project would not have realized the client's dreams and expectations."
– Equicurean Magazine 2010, Fasig-Tipton Saratoga