People. Purpose. Place.
The LA Group is consistently noted for our strong work ethic, positive attitude, and collaborative approach to problem-solving. The team keeps details in order and projects on track, always delivering a straight story about our winding paths. The firm's reputation for excellence precedes them up mountain peaks, across campuses, and down historic main streets as they design places of prestige that create or enhance cityscapes, waterfronts, campuses, and regional and national landmarks.
The LA Group also takes fun seriously. Whether it's a perfect day at your favorite resort, a record drive on a historic golf course, or a game of Frisbee on your campus green, the firm's projects shape experiences that leave lasting impressions.
And when it comes to honoring those who have served in the armed forces, The LA Group stands proudly among the best landscape designers in the United States, creating national and state cemeteries that bestow dignity and instill veneration.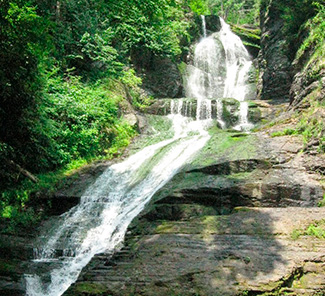 Enduring Impact
Community involvement is the focus and foundation of The LA Group's culture. The firm's causes come from its core and the passions of its people because a dedicated team makes the biggest difference. The LA Group understands community. Without it, they wouldn't be where they are. Giving back isn't only the right thing to do, it's the most effective way to sustain the places the team lives in and loves.
The LA Group has assisted nonprofits by providing design services, site studies and evaluations, fundraising support, and staff volunteering since its foundation. It was also one of the first firms in Upstate New York to join The 1% Program, launched by Public Architecture in 2005. Through the program, The LA Group has provided thousands of hours to nonprofit organizations in need of design assistance.
Adirondack Research Consortium
Adopt a US Soldier
Ballston Spa Central School District
Boy Scouts of the Twin Rivers Council
Catholic Charities of Saratoga, Warren, and Washington Counties
The Christopher Daily Foundation for Youth Sports
City of Glens Falls Urban Renewal Agency
Code Blue Saratoga
Double H Ranch
Franklin Community Center
Girl Scouts of Northeastern NY
High Rock Park 9/11 Memorial
The Hyde Collection Art Museum
Malta Memorial Meditation Garden
National Museum of Racing
The NYS Federation of Lakes
Pitney Community Farm
Presbyterian New England Congregational Church
Salvation Army
Regional Food Bank of Northeastern NY
Saratoga Bridges
The Saratoga Center for the Family
Saratoga County Planning Board
Saratoga County E.O.C.
Saratoga Economic Development Corporation
Saratoga Hospital
Saratoga Miss Softball
Saratoga Regional YMCA
Saratoga Springs City School District
Saratoga Springs Downtown Business Association
Saratoga Springs Lions Club
Saratoga Springs Open Space Advisory Committee
Saratoga Springs Preservation Foundation
Saratoga Springs Rotary Club
Scotia-Glenville Central School District
Adalbert's Church
Clement's Church
SUNY ESF
Town of Ballston Recreation Commission
Town of Glenville
Town of Wilton Recreation Commission
Union College
Wiawaka Holiday House
The Wesley Community
Yaddo Artist Retreat
YMCA Camp Chingachgook
Balance beauty with science.