Sustainable by Nature
Through every service, we approach design in a way that avoids environmental impacts. We are committed to a wise use of resources, minimizing wastes, the re-use of existing facilities and innovative, long-term solutions. Our balanced designs begin with an intimate understanding of site ecology, paired with detailed knowledge of the legal and regulatory framework. For over forty years The LA Group has used landscape architecture solutions to provide a soft, sustainable approach that turns site and engineering challenges into opportunities.
The LA Group is a member of the U.S. GreenBuilding Council, has LEED Accredited Professionals on staff and continues LEED certification courses to keep abreast of new required standards. Our portfolio includes numerous LEED Certified and eligible projects.
Site Analysis Services
Environmental Inventory
Soils
Vegetation
Surface Waters
Wetlands: Utilizing the most recently approved state, federal or regional specific delineation procedures for the identification of wetlands, we undertake a fundamental inventory to support land planning for any scale project. The LA Group has completed hundreds of wetlands projects.
Rare, Threatened, Endangered Species: Compliance with the Endangered Species Act requires assessment of a project's potential impact on the species or its habitats. This most often requires the evaluation of the plant communities of a site as a part of project planning in order to assess habitat quality or use of the property by a species.
Regional Planning
Environmental Program Project Management: As part of decision making, government is in the position of evaluating projects under their control and proposed by the private sector that require both an assessment of environmental impacts and preparation of plans for operation of a facility or event. These evaluations set forth specific management objectives and projects to improve or update facilities.
Environmental Regulation Technical Studies/Compliance Services: The supporting reports evaluate the expected or desired outcomes as a result of implementation of revised regulations or rules. Documentation may include small business impact evaluation and cost of regulation evaluations.
Natural Resource Management Plans: These plans assemble diverse data sets that are utilized to facilitate development or site selection. Information for projects is often a mix of previously gathered data such as county soils surveys, along with site-specific data.
Watershed Planning: Watershed studies are utilized to plan future reclamation projects on lakes or waterways. These studies may also be used to examine regional issues related to land use.
Community or Countywide Planning Studies
Visual Analysis
Project Permitting/Feasibility
Visual, Wind and Stormwater Permitting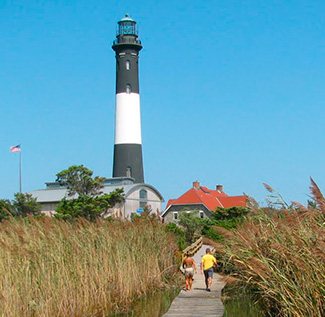 Fire Island National Seashore
"The LA Group's Master Plan provided an original and innovative vision that is necessary for the future sustainable economic development of our area."
– Jaime Brown, Lake George Land Conservancy
"The LA Group has a clear understanding of the importance of deadlines, budgets, schedules, plans and specifications; are able to meet project challenges with new insights and out of the box solutions; are able to produce detailed, readable, concise and well thought out graphic sketches, construction documents and specifications; are efficient at navigating the environmental permitting processes for many states; and are effective and responsive communicators."
– Mary E. Brown, United States Department of Agriculture, Forest Service