Environmental Planning and Permitting Services
The LA Group offers comprehensive environmental planning and permitting services to obtain timely land development approvals. The firm believes that successful designs are those that blend a concern for environmental characteristics with client program goals, aesthetic and cultural concerns, and project budgets. By collaborating with in-house professionals, teaming partners and owners/developers, The LA Group's environmental staff develops permittable project designs that meet client development goals in an environmentally sustainable fashion.
Environmental Planning and Permitting Capabilities
At The LA Group, the design approach enhances unique site-specific opportunities while minimizing environmental impacts. The firm is committed to utilizing available resources to minimize waste and reduce environmental impacts. Balanced designs begin with an intimate understanding of site ecology, paired with detailed knowledge of the legal and regulatory framework. For over forty years, The LA Group has used environmental planning and permitting solutions to provide a sustainable approach that transforms challenges into opportunities.

Environmental Analyses (Desktop and/or On-Site)

Topography and slopes
Wetlands (delineation and jurisdictional determination)
Vegetation
Soils
Surface waters
Floodplains
Ordinary high water
Rare, threatened, and endangered species
Composite opportunities and constraints analyses
GIS spatial analysis and visualization

Local Planning and Permitting Services

Site feasibility studies
Zoning compliance
Municipal approvals
New York State Permitting Services

State Environmental Quality Review Act (SEQRA)

Environmental Assessments (EA)
Environmental Impact Statements (EIS)
Visual Impact Assessments (VIA)

NYSDEC streambank and wetland permits
Construction, State Pollution Discharge Elimination System (SPDES) Permits

Regional Planning and Permitting Services

York State Adirondack Park Agency
New York City Department of Environmental Protection (NYCDEP)
Community and Countywide Planning Studies
Watershed and Natural Resource Management Plans

Federal Permitting Services

National Environmental Protection Act (NEPA
Environmental Assessments (EA) and Environmental Impact Statements (EIS)
Wetlands (Clean Water Act Sections 10 & 404 Permits)
"As a Senator who represented a majority of the Adirondack Park, I have found The LA Group's work to be extremely valuable to ensure the future of the people who reside and make a living within the confines of the Park."

Elizabeth "Betty" Little, New York Senator
Environmental Planning and Permitting Team
The LA Group's environmental planning and permitting team consists of natural resource planners, Professional Wetland Scientists (PWS), and Geographic Information System (GIS) and environmental sustainability specialists. The LA Group is a member of the U.S. Green Building Council, has LEED-accredited and SITES-accredited professionals on staff, and continues LEED certification courses to keep abreast of new required standards. The firm's portfolio includes numerous LEED-certified and eligible projects.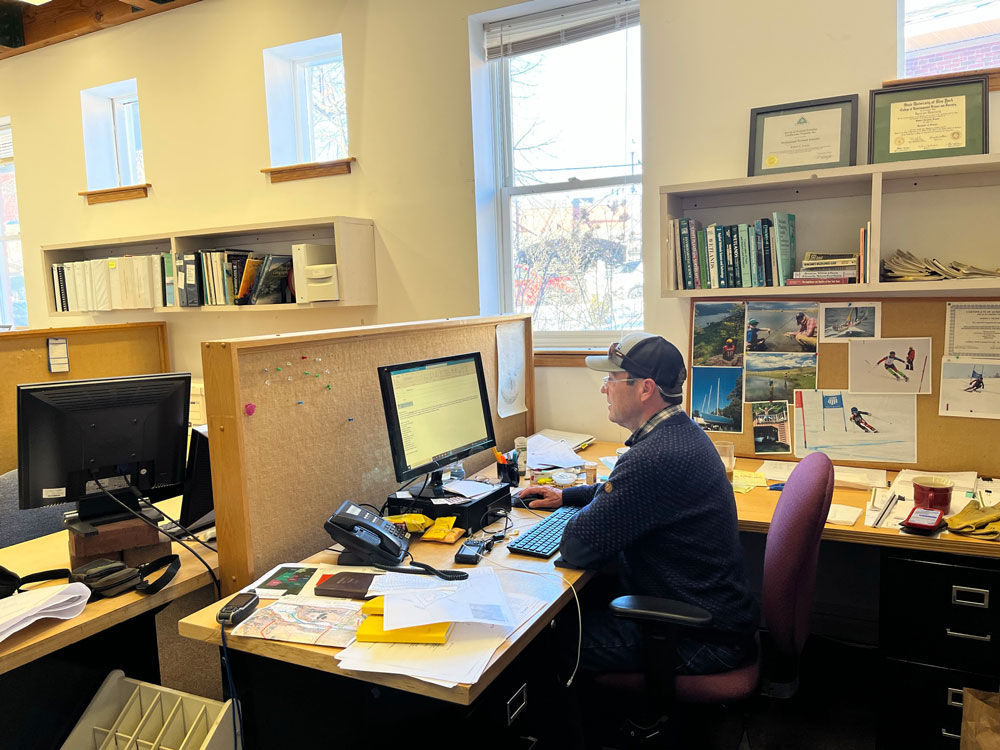 Markets We Serve for Environmental Planning and Permitting
Frequently Asked Questions
What is GIS and how can it benefit a project?
A geographic information system (GIS) is a technological tool that can be used to manipulate, analyze, and visualize spatial data to inform strategic decisions. The LA Group staff includes dedicated GIS professionals who employ database development, spatial analysis and digital map production to provide a robust foundation upon which sustainable design decisions are made.

The integrative nature of GIS enables a holistic approach to interpreting multifaceted systems through the layering of multiple datasets into a single comprehensible visualization. Additionally, by utilizing GIS and remote sensing data during the initial stages of a project, the utility of a site can be estimated prior to substantial time and financial investment.
Why is environmental analysis of a property important?
Environmental analysis of a property is a critical component of the development process. The analysis determines the physical constraints of a particular property with respect to its existing conditions such as wetlands, surface waters, floodplains, slopes, soils and vegetation. Analysis of these conditions by an environmental planning firm is necessary for understanding the development potential of a piece of property and determining environmental permits required to move forward.
When should environmental analysis be performed?
The initial phase of understanding a parcel's development potential is analysis of existing conditions. Environmental analysis, coupled with understanding regulatory controls, is a necessary prerequisite to responsible design.

Ideally, environmental analysis should be conducted early on before substantial time or money has been invested in the design of a project. If environmental analysis is performed first, then the subsequent design phase can incorporate all the relevant information concerning existing environmental conditions.
How does the LA Group utilize environmental analysis in design?
The LA Group utilizes environmental analysis to not only understand a parcel's physical constraints but to enhance the quality and sustainability of the firm's designs. The LA Group works to create a distinct sense of place that integrates the existing natural conditions with the unique program goals and vision of each individual client.
Recent Environmental Planning and Permitting News
The LA Group is pleased to announce their work at the Olana State Historic Site, House Environs is the recipient…
Our Services
Learn how The LA Group can provide comprehensive environmental assessments and permitting services in compliance with local, state and federal guidelines.