Olana State Historic Site Strategic Landscape Design Plan and Implementation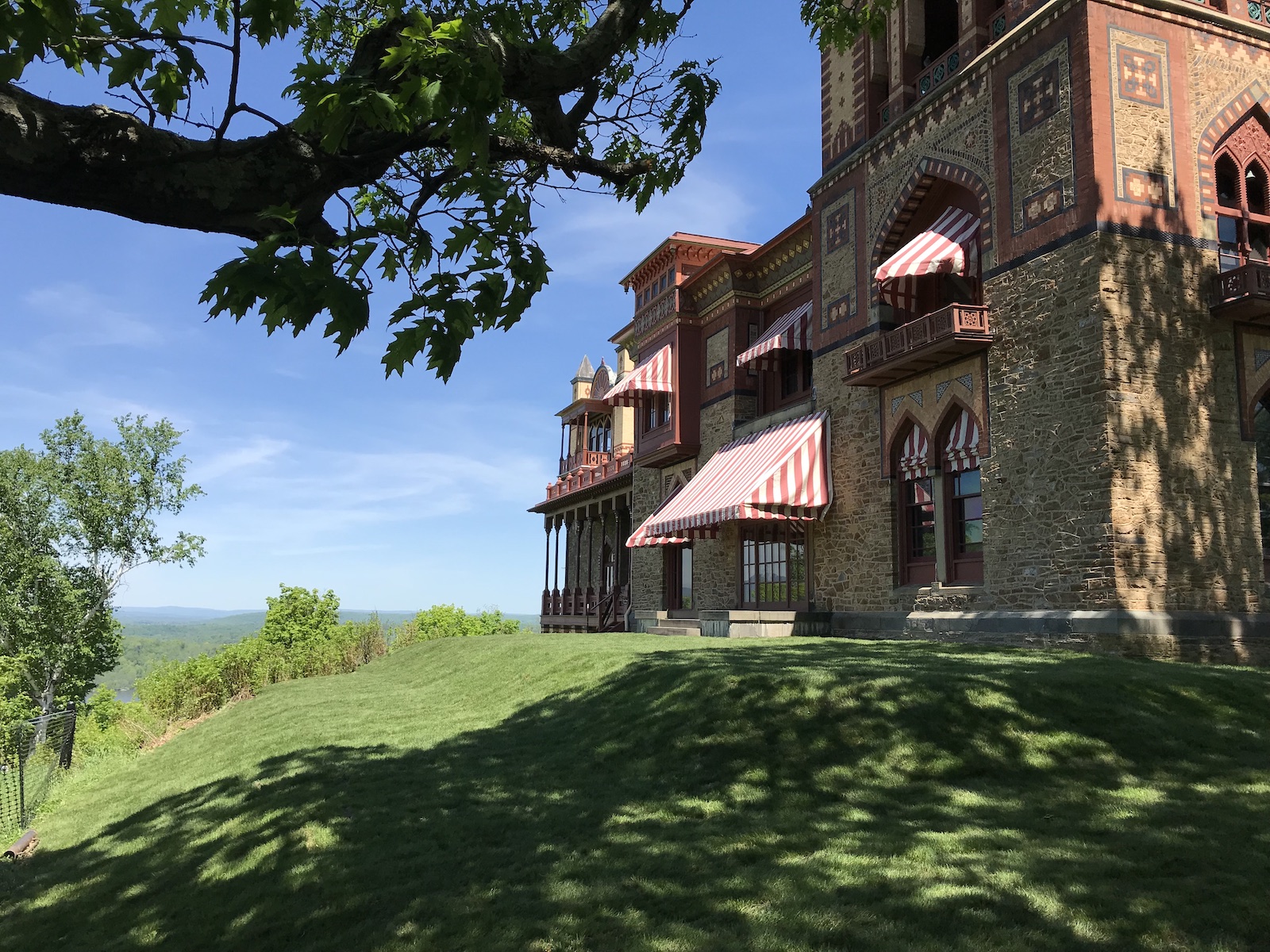 Client

NYS Office of Parks Recreation and Historic Preservation

Location

Hudson, NY

Service

Market
Project Overview
Reviving a Living Work of Art
Olana State Historic Site preserves a uniquely American cultural resource for the people of New York State. Olana is of exceptional statewide and national significance as the residence, studio, and artist-designed landscape of famed Hudson River School painter Frederic Church. It was home of the Church family, and it exists today as a large-scale work of art and public park.
The Strategic Landscape Design Plan, developed in collaboration with Nelson Byrd Woltz Landscape Architects, marries the historical significance and traditions of Olana in a forward-thinking approach that responds to patrons within a sustainable blueprint. Scope of work included investigation and programming, design and visioning, master plan and report, and facilitation of meetings and workshops. The plan included a market analysis, viewshed restoration plan, and guidelines for the farm complex, house environs, visitor center, maintenance/service areas, visitor circulation, events, woodlands restoration, site lighting and furnishings, and plantings. Cost analysis, phasing, and implementation strategies were also included.
Through continued collaboration with OPRHP and The Olana Partnership, The LA Group is providing design and construction documents, permitting, and construction administration for a series of house environs and farm complex improvements as set forth in the Strategic Landscape Design Plan. The completed $1.2M House Environs construction project demonstrates the success of this collaboration in meeting project goals, schedules, and budgets. The finished product is aesthetically pleasing and provides balanced solutions to addressing contemporary needs within a historic footprint. The LA Group also prepared construction documents for a $2M Farm Complex project and design of sitewide wayfinding signage improvements and NYS Route 9G entry improvements to be constructed in 2023.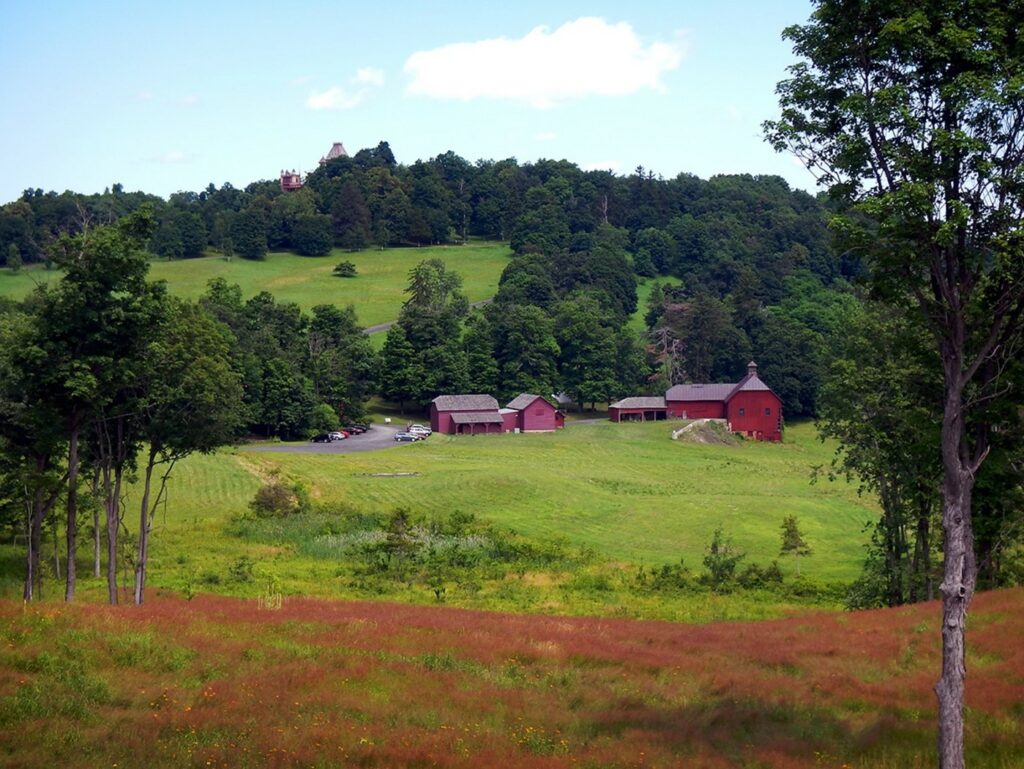 Project Highlights
Included market analysis, viewshed analysis, and site design guidelines.
Cost analysis and phasing/implementation strategies provided.
Design and construction documents for implementation of $1.2M house environs improvements, $2M farm complex Improvements, $600K wayfinding signage improvements, $100K NYS Route 9G entry Improvements.
Construction administration for phased construction.

Challenges/Benefits
Providing ADA accessibility between the historic house and carriage barn/gift shop was a key challenge given the historic context of site and with limited areas for modern interventions. Accessibility was provided by designing a compliant ramp located behind a small historic shed structure. The design also included native screen plantings to limit the visual intrusion.
Facility now provides full access to the historic house connecting key features of the site, while preserving the historic site's integrity.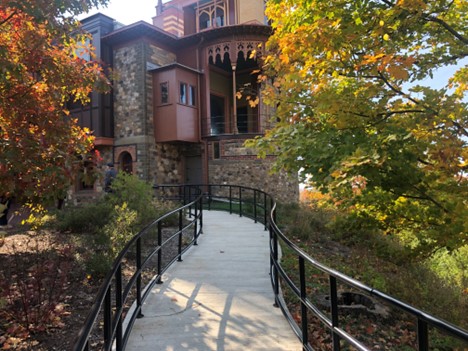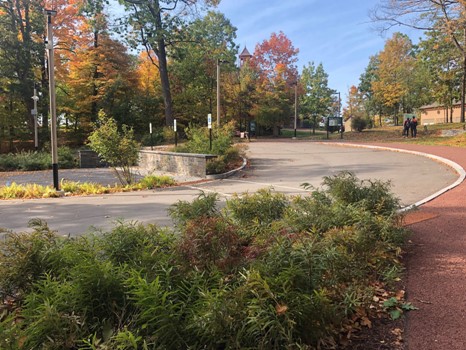 Challenges/Benefits
Improving the bus turnaround/drop off area with new accessible parking was a challenge due to the historic context of the site and varying topography. With creative and thoughtful design, including use of natural stone materials for new retaining wall and native plantings for buffering, bus access, and accessible parking were provided with limited impact on the historic site.
Improved access and visitor orientation is a key benefit of the improved bus turnaround/drop off area, including new accessible parking and access to the historic house and environs.