University at Albany Campus Center Expansion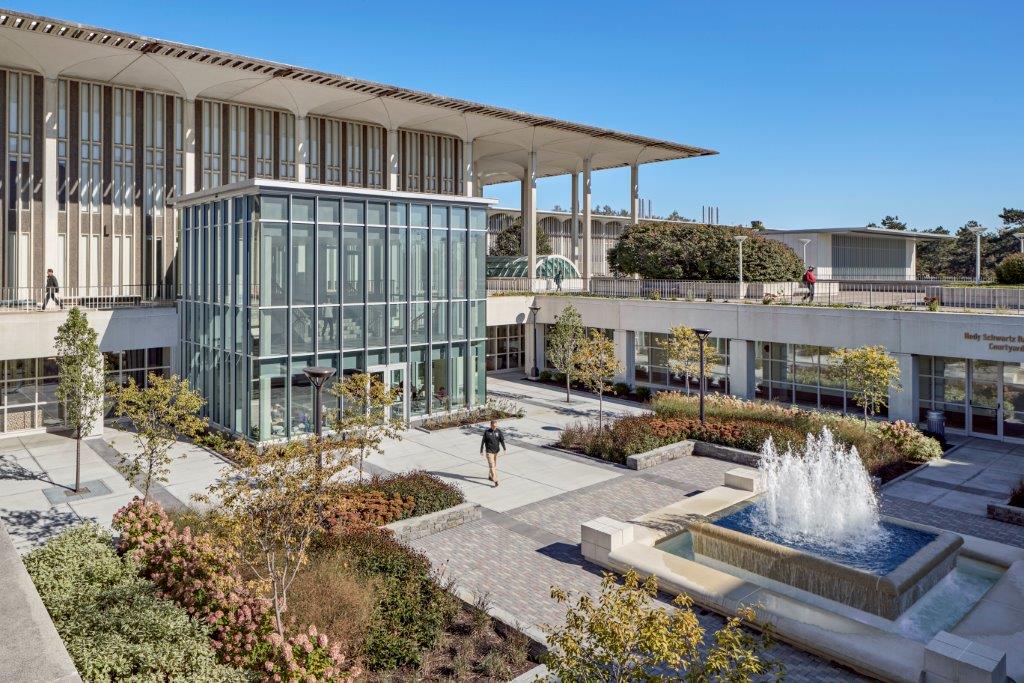 Client

SUNY Albany

Location

Albany, NY

Service

Market

Education and Institution
Project Overview
The University at Albany's original campus center was designed in the 1960s for a university with 10,000 students. More than 50 years and an additional 7,000 students later, the center needed significant improvements to support an institution with a rapidly growing global reputation for academic excellence. Over the last decade a renewed interest has been observed by The LA Group in the establishment of campus centers as the core of student life on campuses. The contemporary student center is envisioned as a mixed-use facility, providing educational, wellness, and retail services in support of student and academic activities. The Campus Center at the University at Albany enjoys a prominent location and is visually and functionally a central anchor of the historic "Academic Podium" designed by Edward Durell Stone in the 1960's.
The $62.2 million Campus Center expansion included a 21,000-square-foot East addition and a 55,000-square-foot West addition. The LA Group supported the University with a new courtyard design that would integrate longstanding design principles on campus with contemporary needs. Representing integrations of all kinds, from historical perspectives to LEED Silver Certification standards, the balanced solution was a collaborative effort involving a comprehensive buy-in and input-gathering process from a variety of stakeholders.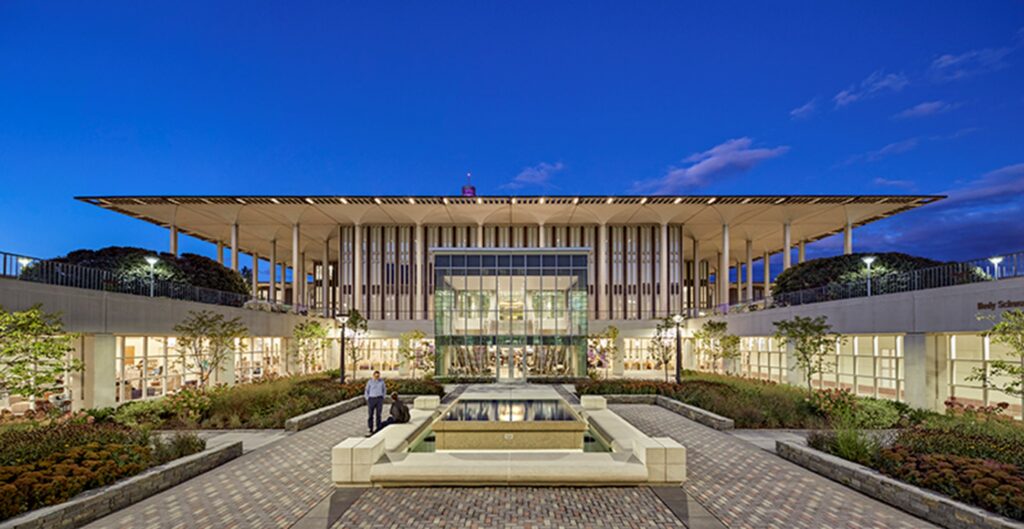 Project Highlights
Developing a more open and aesthetically pleasing courtyard for dining and group activities.
Removing stairs and designing sloped walks for increased accessibility.
Enhancing the adjacent bus stop to support increased mass transit use.
Landscape and site amenity improvements to encourage outdoor socializing.
Designing an appropriate entry plaza for a campus facility at the heart of student activity with two rain gardens and perimeter landscaping.

Challenges/Benefits
The East Coast is full of stunning architectural masterpieces and the University at Albany campus is certainly one of them. Durell Stone's original campus plan is consistently recognized as a campus of great architectural importance.  Respectful stewardship of the site's history was the primary challenge since the onset of the project.  Despite its historical significance, the facilities needed updates and improvements to attract and retain a 21st-century student body. Careful massing of spaces, use of appropriate materials, maintaining critical sightlines, and circulation patterns were all considered to honor the ideals expressed in the original campus design.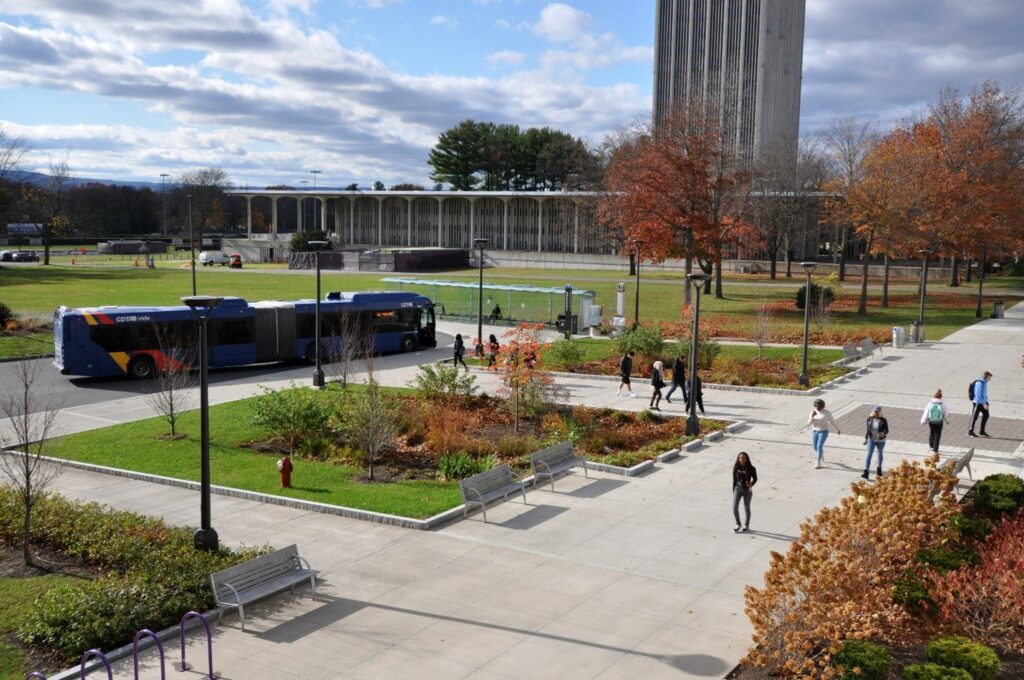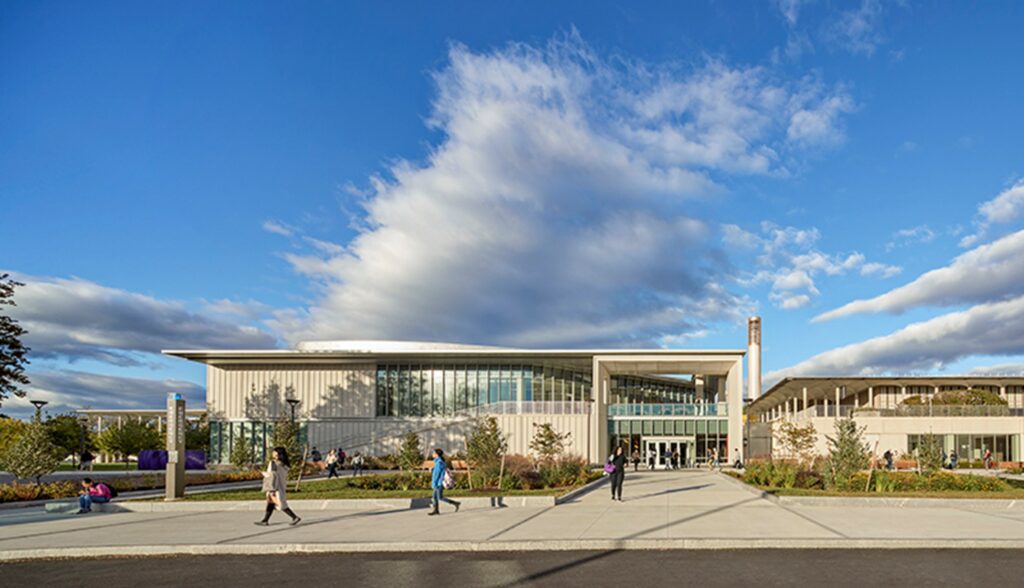 Challenges/Benefits
The successful integration of Green Infrastructure and LEED standards such as rain gardens at the arrival area was delivered after detailed collaboration with the design team and campus stakeholders.
Challenges/Benefits
The courtyard aesthetic all year long is an important visible characteristic from within the space, the interior hallways and gathering spaces that line the courtyard, and the roof above. Developing a balanced solution for this challenge was the result of detailed site assessment and visualization efforts.