Site/Civil Engineering Services
The LA Group provides a diversity of site/civil engineering services, specializing in land development, stormwater management, sustainability, and construction services.
Site/Civil Engineering Capabilities
The LA Group provides site/civil engineering services that emphasize land development, infrastructure design, stormwater management, sustainability, permitting, and construction-related needs. Licensed civil engineers assist clients with assessing project feasibility and coordinating construction on both large and small-scale development and site improvement projects. Civil engineering staff leverage technical expertise along with respected relationships with local, state, and federal agencies to ensure each client's goals, timelines, and budgets are met."

Land Development

Feasibility Analysis
Site Planning
Subdivision Design
Road & Street Design
Grading and Drainage Design

Water and Wastewater

On-site Subsurface Wastewater Disposal System/Septic Systems
Water Distribution Systems
Sewer Conveyance Systems

Stormwater Management Design

Stormwater Master Plans/Studies
Low Impact Development (LID) Design
Erosion and Sediment Control
Stormwater Pollution Prevention Plans (SWPPP)
SWPPP Construction Inspections
Seasonal High Groundwater Determinations (SHGW) and Permeability/Percolation Testing
Local, State, and Federal Permitting

New York State Environmental Quality Review Act (SEQRA)
New York State Department of Health (NYSDOH)
New York State Department of Environmental Conservation (NYSDEC)
Adirondack Park Agency (APA) Permitting
Municipal Planning/Zoning Board representation

Construction Administration and Observation Services
"When it comes to national cemetery projects, the LA Group has been a phenomenal partner and we are forever grateful for their collaboration."

Butch Kaupp, Cairone and Kaupp, Inc.
Contact our team at The LA Group
Site/Civil Engineering Team
The LA Group's staff of civil engineers are licensed in 17 states throughout the U.S. The firm's engineering team is passionate about enhancing communities and providing innovative and cost-effective solutions.
The firm's engineers shepherd projects through concept, design, and permitting phases and into construction. Staff specialize in sustainable stormwater management and integrating projects into challenging sites while meeting client and regulatory requirements. The LA Group's unique combination of landscape architects and civil engineering designers fosters creative design for attractive, sustainable, and functional sites.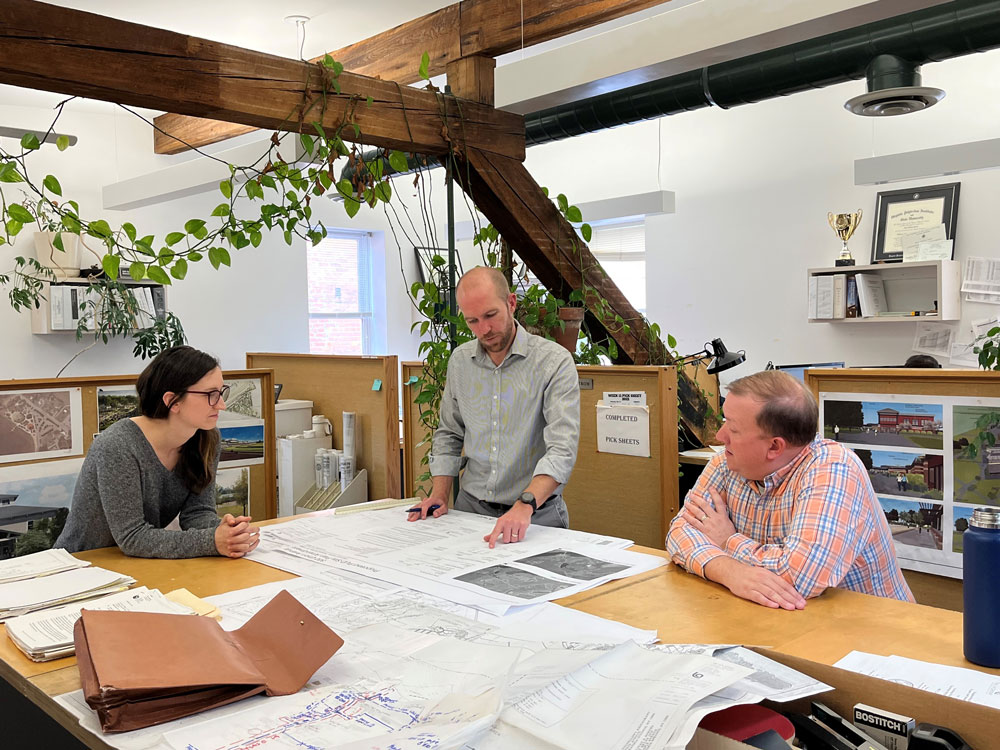 Markets Served for Site/Civil Engineering
Frequently Asked Questions
At which step do I hire a civil engineering company?
You should contact a civil engineering company right at the start of your project. Bringing on a civil engineer early in the process is essential for reviewing project feasibility, assessing potential design and approval concerns or opportunities, and determining whether other professionals or services may be required for a successful project.
Do I need a Stormwater Pollution Prevention Plan (SWPPP)?
There may be state-specific requirements depending on your location. For example, projects that involve soil disturbance of one or more acres or that are located in the New York City Watershed east of the Hudson River and disturb greater than 5,000 square feet will require the preparation of a Stormwater Pollution Prevention Plan (SWPPP). They will also require coverage under the State Pollutant Discharge Elimination System (SPDES) General Permit for Discharges from Construction Activity. A SWPPP may also be required by the local municipality if disturbing less than one acre.
Who can perform SWPPP inspections?
A qualified inspector in the state must complete SWPPP inspections. A qualified inspector shall be either a licensed Professional Engineer (PE), Certified Professional in Erosion and Sediment Control (CPESC), Registered Landscape Architect (RLA), or New York State Erosion and Sediment Control Certificate Program Holder. Additionally, someone working under the direct supervision, and at the same company as a PE or RLA, may be qualified to perform SWPPP inspections.
How can I implement Low Impact Development (LID) into my site?
Low Impact Development (LID) are practices that simulate the natural environment through the use of infiltration, evapotranspiration, and reuse of stormwater runoff to protect water quality. Examples of LID include practices such as sites with soils conducive to infiltration that can utilize surface or underground infiltration systems. Other examples are sites with shallow depth to groundwater or soils with slow infiltration rates that can utilize green roofs, cisterns for capturing stormwater for reuse in irrigation or grey water, or lined biofiltration facilities.
Recent Site/Civil Engineering News
The Wellspring organization started 40 years ago to provide basic shelter and crisis services and is now working toward its…
Our Services
The LA Group provides site/civil engineering services, as well as several other specialized services, including landscape architecture, environmental planning and permitting, community and regional planning, and more.