Western New York National Cemetery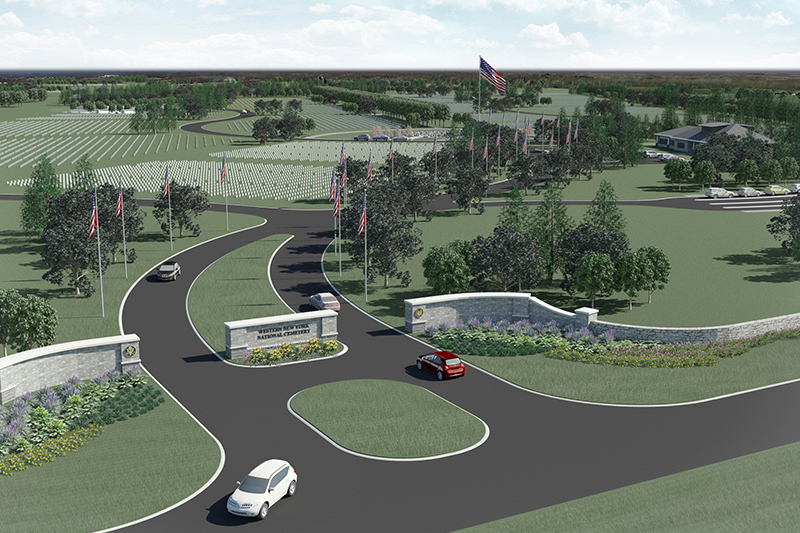 Client

US Department of Veterans Affairs

Location

Pembroke, NY

Service

Market
Project Overview
There are more than 95,000 veterans and their family members between Buffalo and Rochester, New York. Though entitled to a final resting place in a national cemetery, they faced limited options as the closest cemetery was far from their homes and almost at capacity. To meet the urgent need, the U.S. Department of Veteran's Affairs selected The LA Group as a prime consultant, landscape architect, and civil engineer for a new National Cemetery in Pembroke, New York roughly 15 miles east of Buffalo and 40 miles west of Rochester. Design team services included survey, geotechnical investigation, site analysis, permitting analysis, water source analysis, alternative energy analysis, traffic analysis, site design, architectural design, civil engineering, a project labor agreement study, and cost estimating. The LA Group also provided master planning for the entire 198-acre site, overall project management, and coordination of a large sub-consultant team.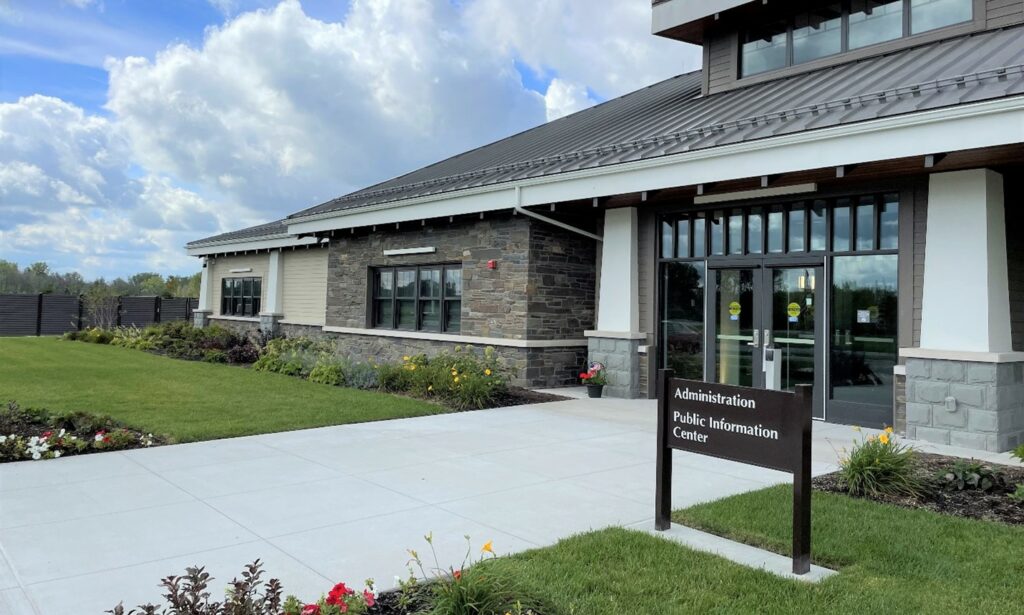 Project Highlights
Master Planning of nearly 200 acres providing over 73,000 burial sites.
Phase 1 includes 70 acres of development and provides for approximately 10 years of burials.
Full design services including construction documentation and construction period services.
Design program includes pre-placed crypts, columbarium, in-ground cremation, ossuary, entrance area, memorial walls, memorial walkway, maintenance facility, administration/public information building, committal service shelters, honor guard building, assembly area, stormwater management, irrigation system, and on-site sewage disposal system.
Administration/Public Information Building was designed for LEED Silver certification.
Exceptional Performance Review from the Department of Veterans Affairs.

Challenges/Benefits
The Team's assessment of subsurface conditions determined a large portion of the project site included groundwater close to the surface as well as poorly draining soils. In addition, a high percentage of the site was classified as wetlands. Utilizing the expertise of the firm's environmental and civil engineering staff, The LA Group's designers successfully planned the cemetery in such a way as to maximize the burial and minimize the negative impact of the high groundwater and wetlands. These conditions are major factors in the grading design and handling of storm water runoff. Providing positive drainage for roads, building areas and burial sections is crucial to the success of the facility.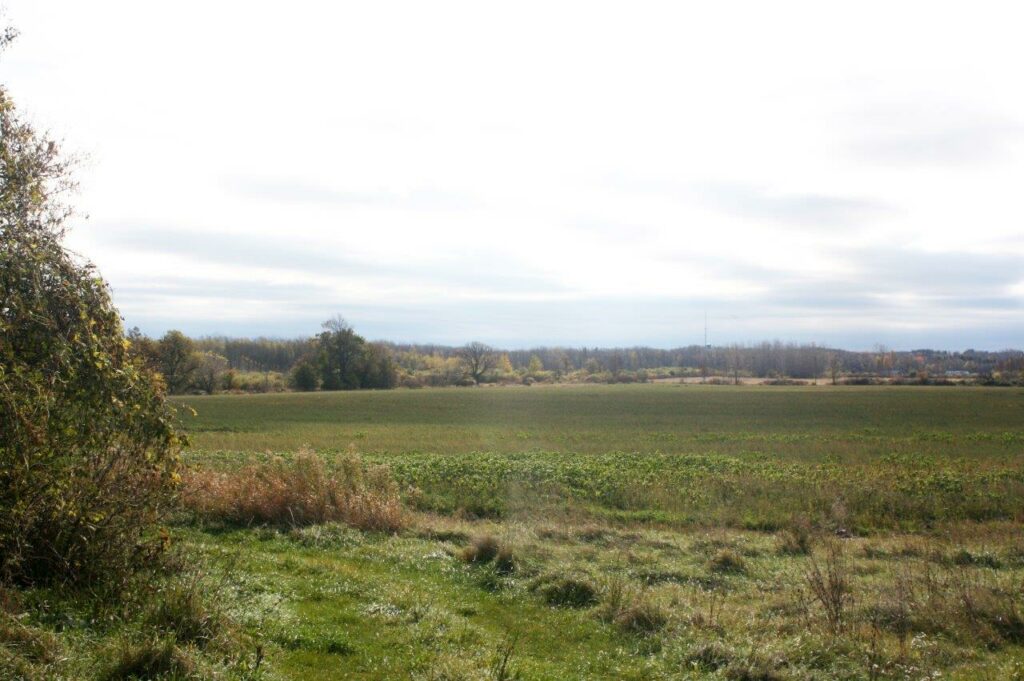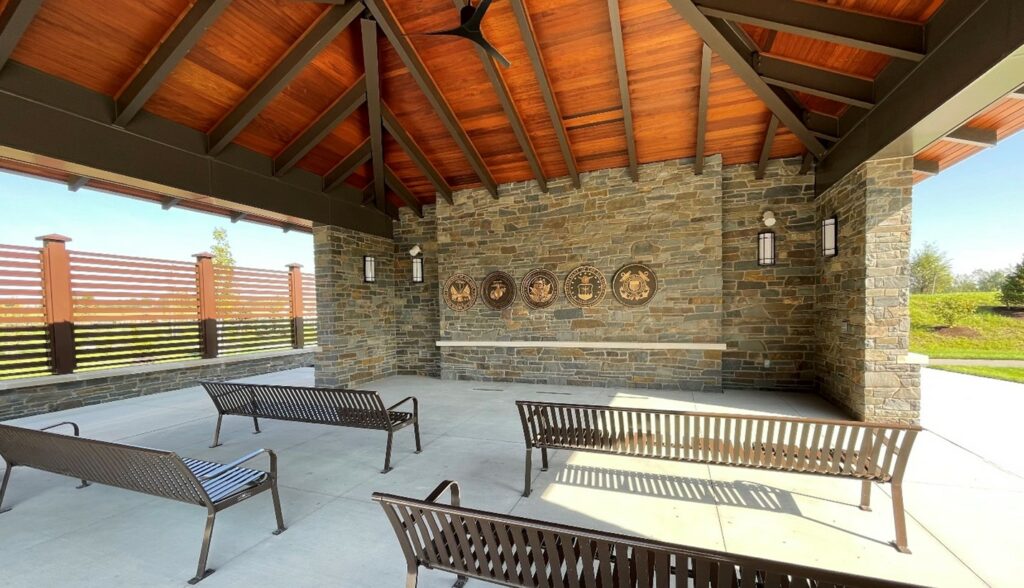 Challenges/Benefits
Winter winds arrive predominantly from the northwest and sweep across the site's northern half. To provide as much comfort to funeral attendees as possible, The LA Group's site planners focused on careful placement of the committal service shelters to help mitigate the cold winds. In addition, windbreaks and earthen berms are located on the west side of the structures to help block the wind from the west/northwest and provide additional privacy.
Challenges/Benefits
Safety concerns are the primary factor in the design and placement of the main and service entry roads into a cemetery. The Team's traffic engineers analyzed the adjacent road configurations, vertical and horizontal roadway geometry, and travel speed, and established safe zones for placement of cemetery access roads.