Gabrielle's Playground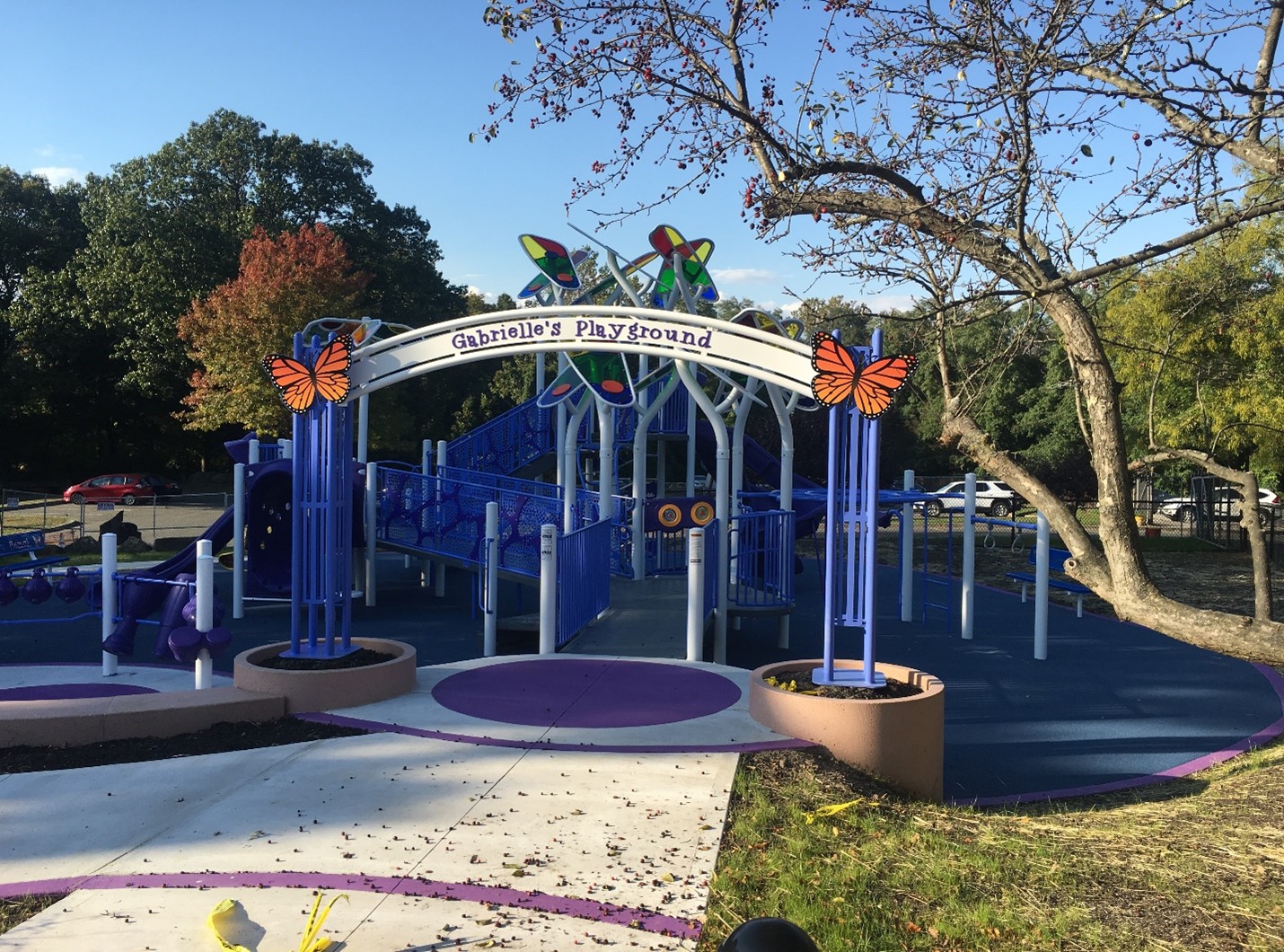 Client

New Rochelle City School District

Location

New Rochelle, NY

Service

Market
Project Overview
Rarely do designers come across a project as bittersweet as the playground replacement at William B. Ward Elementary School in the City School District of New Rochelle. The school district was approached by a resident wishing to donate $250,000 toward a new playground. The playground was to be built in the image of a little girl named Gabrielle who sadly was killed as a result of domestic abuse. The LA Group was proud to be able to collaborate in the design for the new playground.
Gabrielle, at age 7 was a student at Ward Elementary School with many friends. She was a bright young girl with a friendly heart and a welcoming spirit. Gabrielle's mother wanted this playground to have a bright and welcoming appearance and to be one inclusive of children of all abilities as her daughter would never allow any child to be left out.
The existing site to be utilized for the new playground was enclosed with a six-foot chain link fence and no access meeting ADA regulations. To make the new playground as inclusive as possible, all areas must be made accessible. The initial provisions of transfer platforms onto the raised play structure are surpassed with the addition of an upper level bridge allowing even a child in a wheelchair to access the structure without needing to leave his or her chair. A gently sloping walk is provided as an accessible route to all ground level play items around the structure. The six-foot perimeter fence was replaced with a four-foot fence and a gate added to permit direct access and improve visibility to the new playground. Gabrielle's favorite colors of blue, purple, and pink were used as the basis of the color palette. Her love of music and acting is the inspiration behind a small performance area with musical instruments and adjacent tiered seating. As an additional tribute to Gabrielle's inclusive nature, two buddy benches were provided around the playground, available to any child needing a friend to play with.
From concept to opening day, the new playground was completed in 17 months. Regardless of the cold rainy morning, children flooded the playground in excitement once the ribbon was cut. The playground has heard the sound of children playing extensively since it's opening and continues to please a new class of students with the beginning of each school year.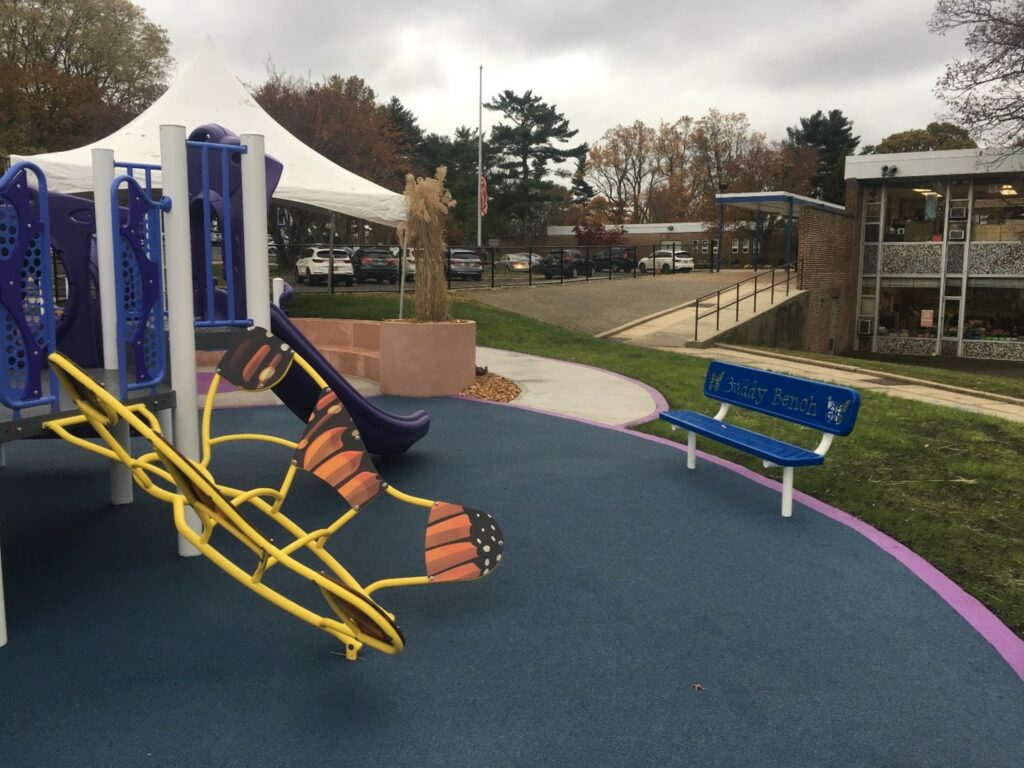 Project Highlights
The playground was delivered on time and under budget.
Construction budget of approximately $300,000.
Concept design through construction administration services, working collaboratively with the client, donor, play equipment vendor, and contractors.
Universally accessible playground with outdoor music components and seating area.

Challenges/Benefits
Solving the grade elevation changes to provide a full accessibility from the elevated building floor elevation to the elevated play equipment platforms, then down to the grade level of the general playground and surrounding areas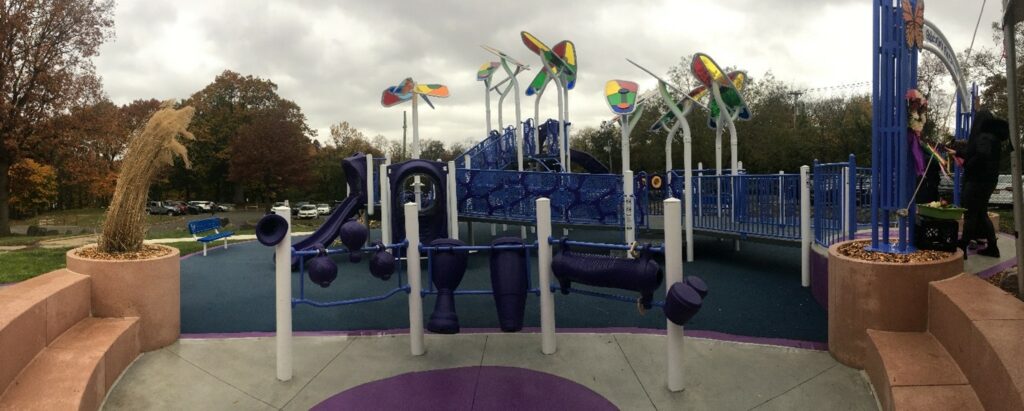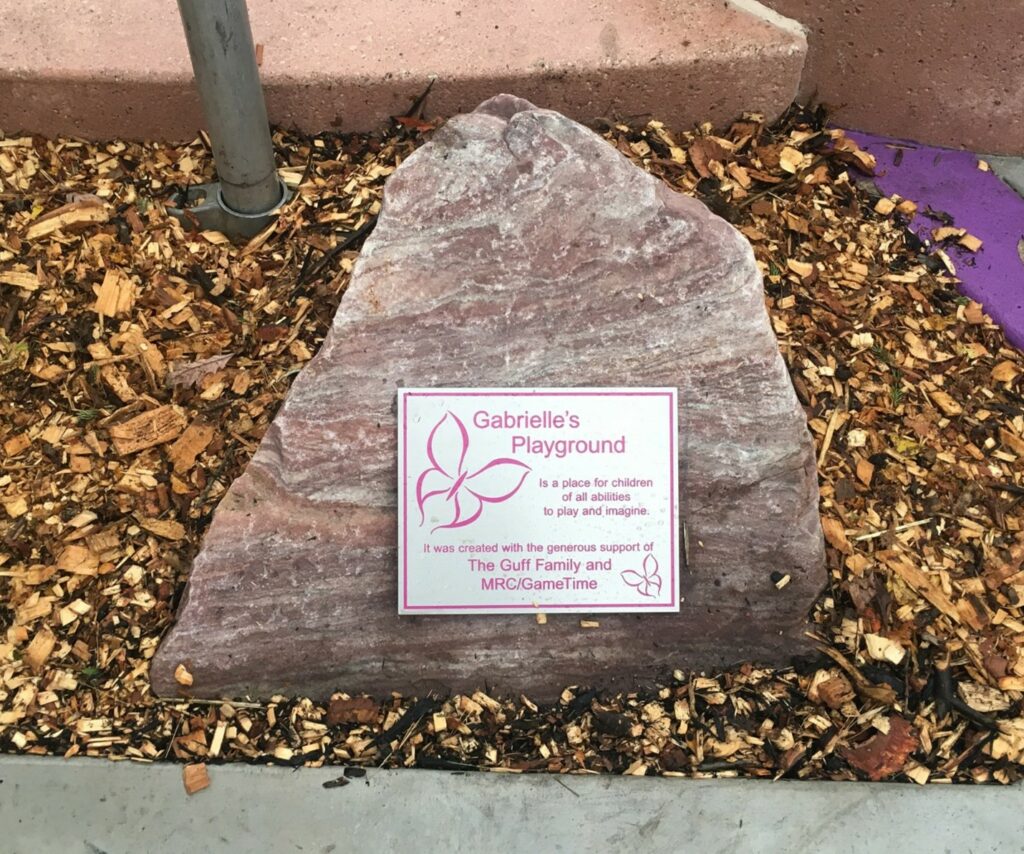 Challenges/Benefits
Balancing the family's respectful memorial desires with public school district policies.