A sharp decline in state and federal government spending hurt The LA Group during the recession, as it did all architecture firms. Total revenue this year is down 30 percent compared to 2009.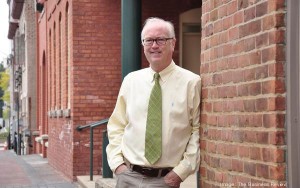 "That was our biggest hit," said Michael Ingersoll, one of the firm's principals.
Ingersoll credits diversification, and relationships forged with private-sector clients over the firms nearly 40-year history, as reasons why the project pipeline has stabilized and is starting to look better.
"It's definitely much brighter on the horizon than two years ago," he said. "More phone calls, more possibilities. I can't tell you how sustained that will be, but it's more positive than it was."
It's a mixed pictures for other landscape architect firms in the area. Revenues are up over last year at some, but down for others.
Similar to many firms, the LA Group's staffing today is less than it was before the recession. Some positions remained vacant after people left, but the core group remains. A few recent hires will increase staffing to 38 by November.
Among the projects keeping The LA Group busy are contracts with National Park Service and Veterans Administration to maintain national parks and design veterans cemeteries.
Locally, the firm has has several high-profile projects, including designing the Luther Forest Technology Campus in Malta (home to the GlobalFoundries computer chip plant). the Malta Med Emergent Care Center at Exit 12; and the new 11-screen Criterion Cinemas in downtown Saratoga Springs.
New, stricter regulations governing stormwater management that just took effect in New York are a double-edged sword for the firm.
On one hand, it could mean more demand from clients trying to get through a municipal permitting process. On the other hand, the regulations will drive up costs and could deter projects from getting off the drawing board.
"As they toughen, there are less people that have the appetite to go through that," he said.
This article was written by Michael DeMasi and originally appeared on October 4th in the Albany Business Review.