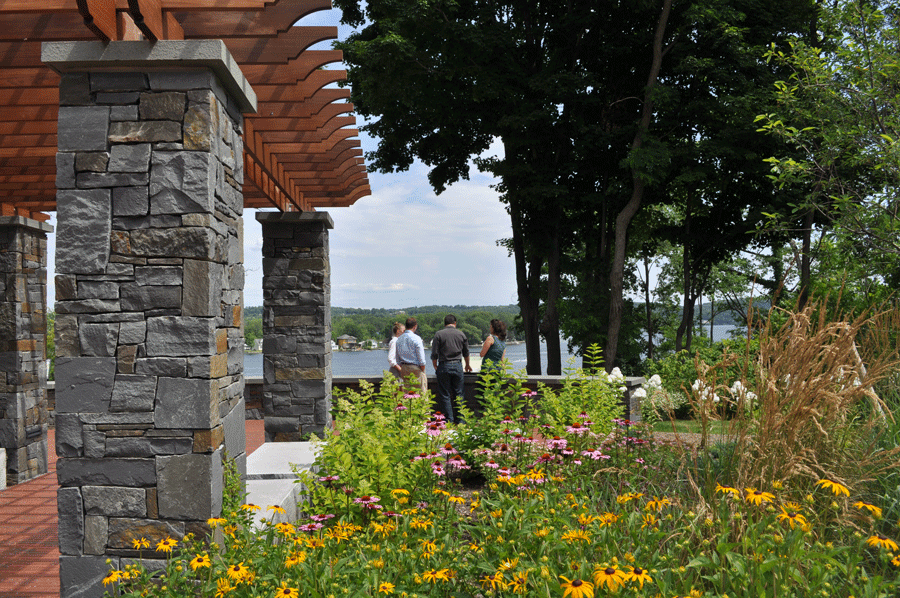 Returning the Lake to the Public
The LA Group has been a proud partner in reclaiming public access to our hometown lake, Saratoga Lake, with recreational and social amenities. The Saratoga Waterfront Park, located on the western side of Saratoga Lake in Saratoga County, New York, has been designed today to provide much-desired facilities for the future of our City.
The History of Saratoga Lake's Waterfront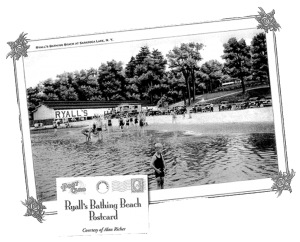 For centuries, Saratoga Lake has been a magnet for visitors. The freshwater lake, approximately 4.5 miles long and 1.5 miles wide was a sought-after site for Prehistoric tribes and Native Americans. Archaeological evidence shows that, as early as 1850 BC, people were using the fertile land along the lake and its major water source, Kayaderosseras Creek, to live and work.
Early pioneers set up camps and houses along the lake in the 1640s but its commercial activity didn't kick off until the 1800s. The late 1800s brought diners, travelers, and more to Moon's Lake House, the White Sulphur Spring Hotel, and Trolley Park (later Kayaderosseras Park). Starting in the 1870s, rowing regattas and races brought thousands of spectators to shores while swimming, boating, and fishing remained popular at places such as Ryall's Bathing Beach. Recreational and residential use continued through the early 1900s in both summer (boating, sailing, swimming, fishing) and winter (ice fishing).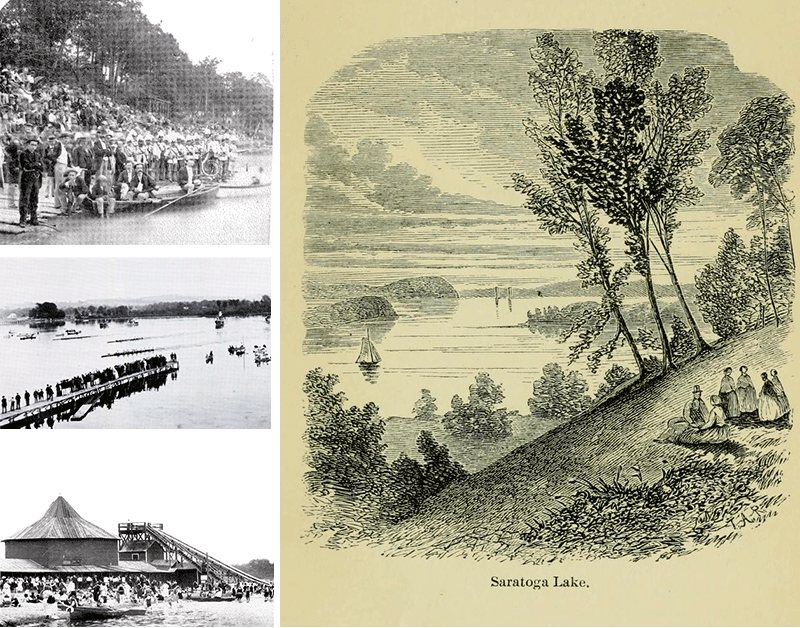 The Shift from Public to Private
While rowing continues to be a popular draw today (the country's second largest regatta, the Head of the Fish Regatta, is held annually), the year-round recreational activity has slowed as residential construction grew and commercial ventures declined. The residential growth, while economically and socially positive, shifted the development focus away from public toward private access.
Opportunity to Re-establish Connections
The City of Saratoga Springs is one of the municipalities that encompass the lake's shores (along with the Town of Saratoga, Town of Malta, and the Town of Stillwater). The City determined that there were opportunities to re-establish public access to the lake when the project sites prior uses closed. But, with every opportunity come unique challenges. The LA Group partnered with the City to assess the opportunities, manage the challenges and create a working master plan for the Saratoga Waterfront Park.
Deciding What to Do, How to Do it
The initial step in the process included identification of the community needs and fostering support. Social, economic and environmental factors related to park viability were seen as key in the success of the endeavor. Use of community and municipal working committees to brainstorm ideas, discuss options and rank priorities was an integral tool in building consensus.
Several key goals were established:
Spaces should be flexible to meet various uses and maximize the small site
New features, materials, and proposed uses should respect the historic character of Saratoga Lake without being a historic recreation of any particular time period
Include provisions for universal accessibility on a steeply sloping site
Development should be in harmony with the ecological considerations of the site, including: steep slopes, vegetation, storm drainage and lake water quality
Plans should be forward-focused, addressing predicted need and desires of future visitors
Park facilities should work with external multi-modal plans and allow connections to future bike and walking trails and boat facilities; the automobile impact on site is to be minimized
All plans need to consider the financial impact of ongoing maintenance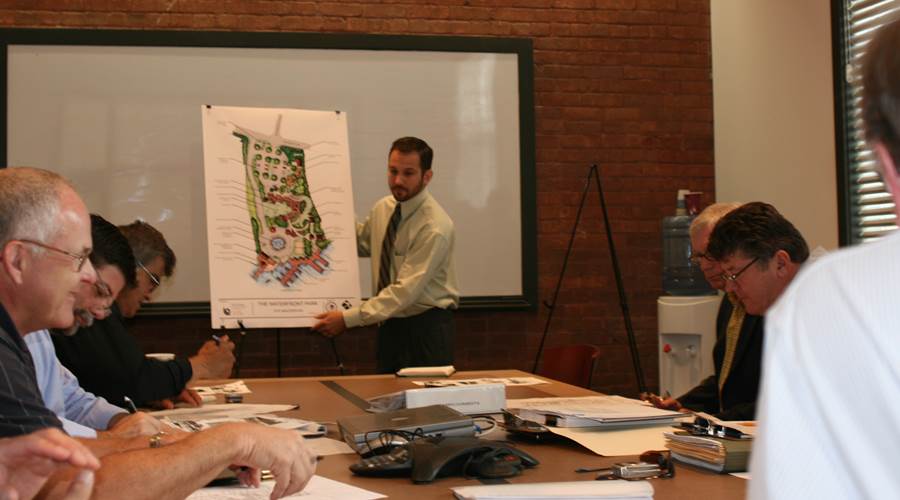 Master Plan: A Vision for the Future
Based on these parameters and goals, a long-term master plan was developed. Major features included:
Multi use areas, including: plaza pavilion, pier pavilion, plaza spaces, passive open/recreational spaces and amphitheater
Historic connections included provisions for interpretive signage and re-establishing lake vistas
Improved accessibility including vehicular drop off at the lower area and a variety of stair and pathways for pedestrian access and connections to the surrounding neighborhoods
Retention of existing vegetation and protection of steep slopes.
Storm water lagoon and repaired shoreline
Strategic placement of parking spaces to minimize lake impact and use of overflow unpaved parking spaces
New and renovated restrooms and changing rooms
New active spaces, including: playground and picnic pavilions and renovation of existing structures as feasible
Lake use, including: kayak launch, beach and fishing/boating pier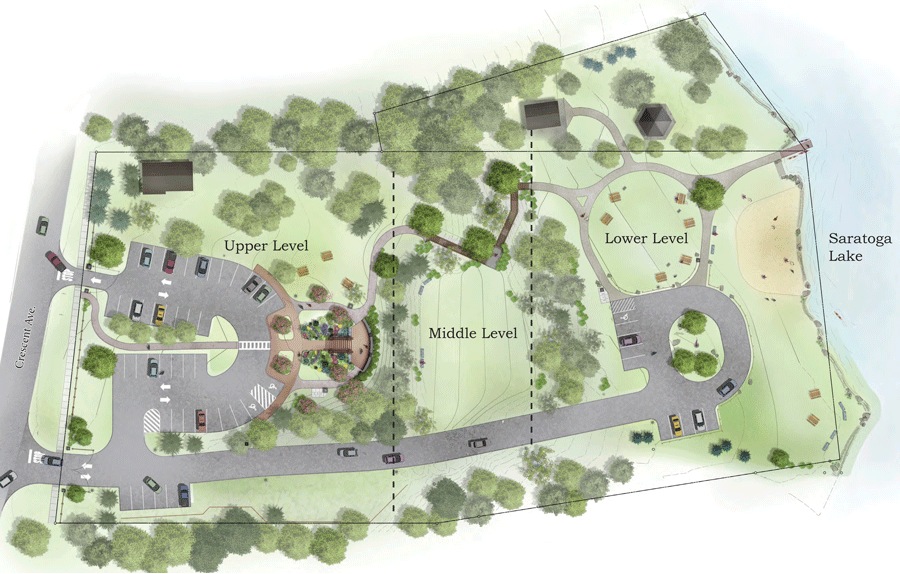 Phasing for Implementation
Based on current available funds, the maters plan was broken into phases. The LA Group prioritized project components and desired impact with respect to timing and budgets. Phase one was completed in Summer 2015.
Elements of Phase I included:
Development of design development construction documents
Review with City and finalization of components
Completion of full construction documents – drawings and specifications
Bidding of the project – assisting with bid questions and clarifications, review of bids
Construction administration – responding to questions, inspections
Project completion – ribbon cutting
Post completion – follow up with warranties, plant material review