Perry's Victory and International Peace Memorial Rehabilitation
Client

National Park Service

Location

Put-In-Bay, OH

Service

Market
Project Overview
Perry's Victory and International Peace Memorial consists of a 352-foot tall column, associated plazas and walkways, and landscaped grounds located in the Village of Put-In-Bay, Ohio on South Bass Island in Lake Erie, near the United States and Canadian border. The Memorial was established to commemorate Commodore Oliver H. Perry and to honor those who fought in the Battle of Lake Erie during the War of 1812. Visible for miles, the Memorial stands as a symbol of international peace between Great Britain, Canada, and the United States.
The Upper Plaza and supporting structure have experienced deterioration in part due to failed waterproofing, condensation, and water penetration that have compromised its structural integrity. A prior structural assessment indicated that the condition of the Upper Plaza structure could no longer support its designed live load, resulting in closure of the Upper Plaza to large groups since 2006. In addition, Upper Plaza finishes have been altered in recent years due to short-term maintenance projects, the planters are devoid of landscape material, and the plaza no longer reflects the historic intent of the Memorial. In addition, there is no dedicated accessible route to access the Lower Plaza or Upper Plaza as defined by the Architectural Barriers Act Accessibility Standards (ABAAS).
The LA Group served as lead landscape architect in providing predesign, schematic design, and request for proposal documentation, including supplemental survey coordination, existing conditions analysis and programming, design narrative, sustainability, and constructability checklists, input on cost estimate and cost validation report, schematic design alternatives, value analysis, and draft/final PD, SD, and RFP documents.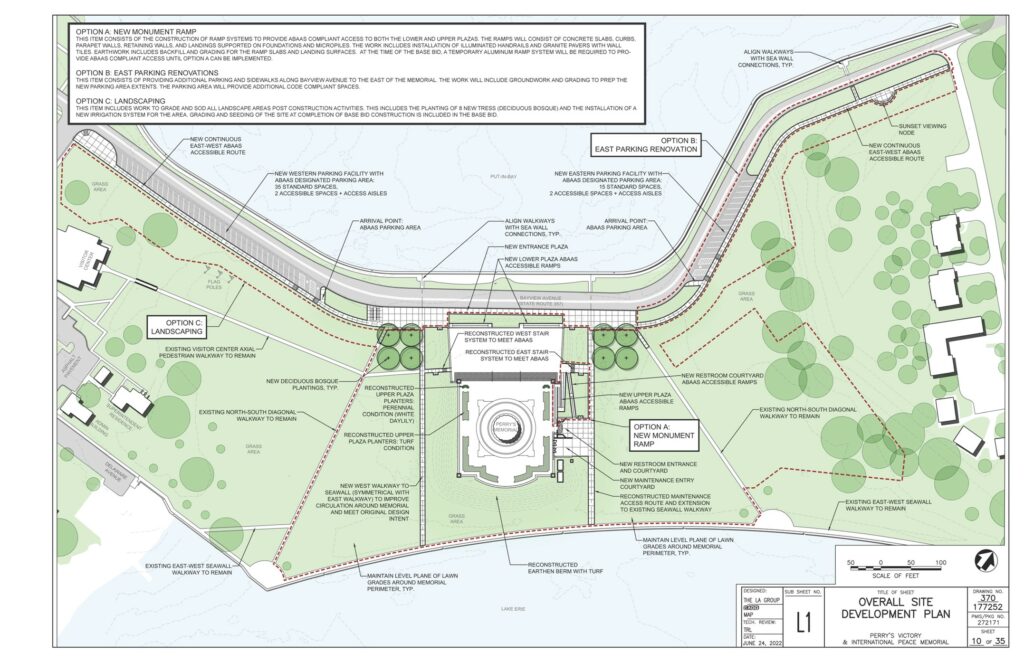 Project Highlights
New parking areas located at the east and west extent of the Memorial, outside of the primary viewshed.
New accessible pedestrian walkway connections from the new parking areas to the Memorial.
New pedestrian plaza spaces adjacent to the road corridor and the Lower Plaza.
New accessible ramp systems from the new pedestrian plaza spaces to the Lower Plaza.
New accessible ramp system to access and connect the Lower Plaza and Upper Plaza.
Restoration of the perimeter berm adjacent to the Memorial and the incorporation of new low-growing landscape plantings.

Challenges/Benefits
The Memorial is typical of the Beaux Arts design style which applies principles of proportion, scale, and a balanced arrangement of forms. Constructed in the early 20th century, the Memorial was built prior to present day accessibility requirements and the inclusion of accessible routes from the new parking area to each plaza space was a critical project element. The ultimate project challenge was the integration of these new site accessibility features into the Memorial while respecting the balanced and symmetrical design of the site.