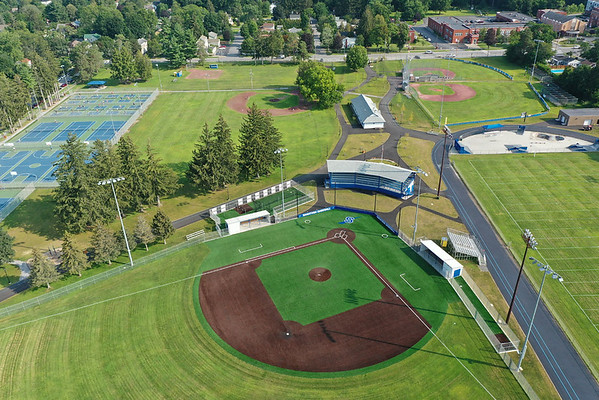 A Perfect Project for Our Times
While the planning efforts and design work occurred pre-pandemic in 2017, the components of the Saratoga Great Outdoors project were in place just in time to support community and school needs during the COVID-19 pandemic.
The Saratoga Great Outdoors Project covered eleven project sites including all of the schools within the Saratoga Springs City School District and several public park facilities. The effort involved multiple stakeholders and sought the involvement of many varied organizations and individuals. The LA Group partnered with Mosaic Associates and the School District in the design of the varied and far-reaching improvements and additions totaling $15.6 million dollars.
Project Basis and Goals
Research has shown that increased time outdoors can help people of all ages. Time outside results in the following: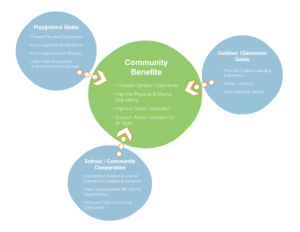 Higher levels of motivation, energy, and attention
Improvements to mood
Decrease in stress, anxiety, and depression
There are also benefits to physical wellbeing including increased physical activity, boosts to vitamin D levels, white blood cell counts, and memory functions.
By using a holistic approach to assessing and improving or expanding facilities the Great Outdoors Project expanded and added facilities to support health and wellness not just for school use, but for the entire community and supported and encouraged all in developing and maintaining a healthy body and mind.
Goals Achieved – Project Components
Common Components
Covering multiple sites, each with unique conditions, needs, and program requirements, the overall project included common components at some sites including the following:
Create outdoor classrooms

Sited to help minimize distractions
Functional and comfortable components
Benefits of integrating outdoor time into the school day
Improve existing playground areas

Modernize current areas
Provided experiences for varying needs
Create or expand fitness stations and trails

Sited for unique site configurations
Consideration of topography on access
Provide varied activities

Improve or expand athletic components

Sports courts
Sports fields
Youth sports support
Accessibility and activities for all users

Site Locations
Eastside Recreational Park

New fieldhouse with concessions and bathrooms
Renovated park entrances and directory signage
New synthetic turf baseball infield with new lights
Rehabilitation of grandstand and running track
New tennis and basketball courts with lights
New pickleball courts – first in the City, and provided in response to community interest
Renovated handball court
Expanded irrigation
New fitness station and trail with pavilion

West Side Recreation Park

Fencing renovation
Renovated lawn areas
Renovated tennis and basketball courts
Baseball field renovation including new dugouts and fencing

Dorothy Nolan Elementary School

New outdoor classroom
Two new play areas
New fencing

Division Street Elementary School

New outdoor classroom and pavilion
New play area

Geyser Road Elementary School
Greenfield Elementary School

New outdoor classroom
New pavilion and gathering area

Lake Avenue Elementary School

Recreation area improvements including play equipment and multi-use game court area

Maple Avenue Middle School

Athletic field improvements including new dugouts and irrigation
Expanded library patio
Outdoor Classroom

Saratoga High School

New concession stand at the stadium
New multi-use sport synthetic turf field
New maintenance building

Gavin Park – School Owned Land

Paved existing gravel parking area, expanded the number of spaces, and improved safety and accessibility
Design Considerations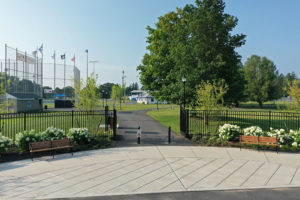 Many considerations were made during design, striving to balance requirements, elements, and the following:
Placement for ease of access – locate and orient components so easy to use
Accessibility – provide access through element placement, equipment selection, pathways and pavements, and grading.
Placement to reduce distractions – particularly at the schools, placement so active play can happen while quiet learning takes place.
Weather – how can elements be designed for maximum use even in less than favorable weather. Ensuring the site supports good drainage to allow use as quickly as possible after rain events. Solar orientation and covered outdoor space considerations.
Security – safety of users through visibility and perimeter control.
Considerations for the project sites after design and construction ensures continued success and use long into the future:
Managing cleaning and maintenance through selection of materials and open communication with user groups on expectations and management strategies.
Managing allergens and pests through selection of materials, including plant materials to maximize the enjoyability of the spaces for all users.
Benefits for the Entire Community
During the pandemic, the Great Outdoors Project provided cost-effective ways to reduce the burden on classrooms. Looking long term, the project has many benefits to all members of the community. Play benefits the entire community and being out of doors can improve everyone's health and wellbeing. By providing fun, safe, and attractive play areas, the Saratoga Great Outdoors Project lets people of all ages and abilities have the benefits of play and provides the opportunity for everyone to participate.
Let Us Help!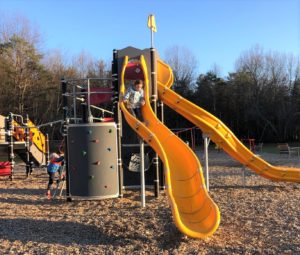 Do you or your organization want to foster outdoor activities? There are many ways to reach this goal – including small steps. Reach out to us at The LA Group for assistance on any scale project.
For additional info on the benefits of play, see the following websites:
Creating Outdoor Spaces – Green Schoolyards America