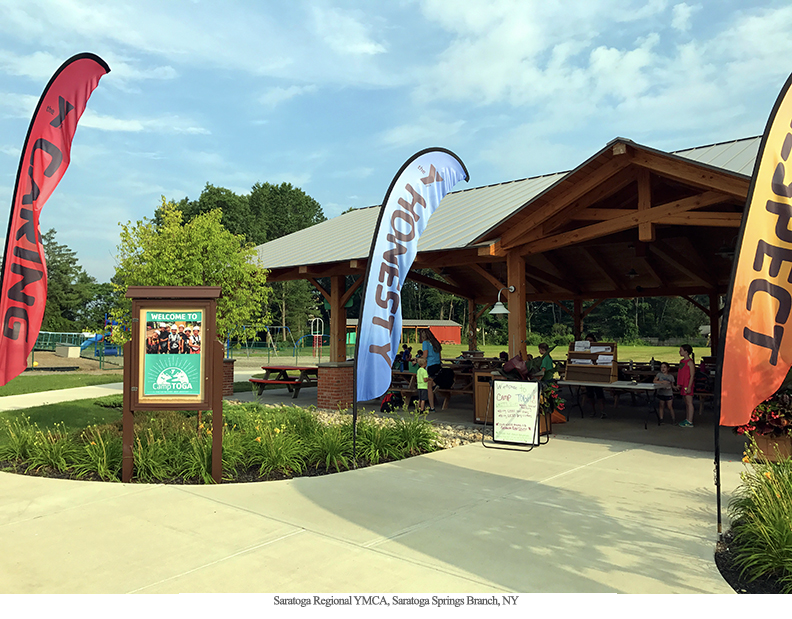 Authored By Joseph F. Kral
Think playground creation is all about picking equipment and color? Think a playground needs to be placed in whatever space is leftover? Think the playground of your dreams is a budget buster? Playground creation can be so much more. A design professional can help you achieve a holistic site design, strategically integrating play components with the overall facility and meeting the needs and realizing the goals of users and owners.
Research supports benefits of play in brain development, motor skills and social capabilities in children. Exciting new concepts in integrating play, outdoor activities, educational components and physical activities are creating playgrounds that meet several needs simultaneously. Playgrounds that successfully meet client goals and support the benefits of play in physical, social and cognitive development are carefully planned, designed and constructed.
While planning a playground project can seem to be a long and insurmountable task, having the proper design professional collaborating on your project can do more than just simplify the process. A design professional functions as guide, mediator, organizer and innovator. Let's liken building a playground to hosting a party. Whether you have done so previously or not, it is always less stressful and less work when you have proper planning and plenty of help. A seasoned host or hostess understands all the work that goes into the planning: shopping, cooking, preparing and setting the party location and setting up the event on time without needless spending. Involving a consultant in your playground planning and design from the beginning provides guidance from someone who has been through the process several times and ensures that your finished playground will meet the project deadline, adequately provide for all potential users and finish within a realistic budget.The playground design process does not have to be linear in nature, nor do all the steps need to occur in a particular order, however, it helps to address some steps before others. Remember our party metaphor; going shopping before planning the party theme could result in a return trip to the store. As your guide, it is the responsibility of the consultant to manage the process and assure all steps are addressed when necessary. Some repeated steps are to be expected, but changes to layout of play elements during construction can delay the project and add unnecessary costs.
The following is a general listing of the steps to achieve a successful playground construction project: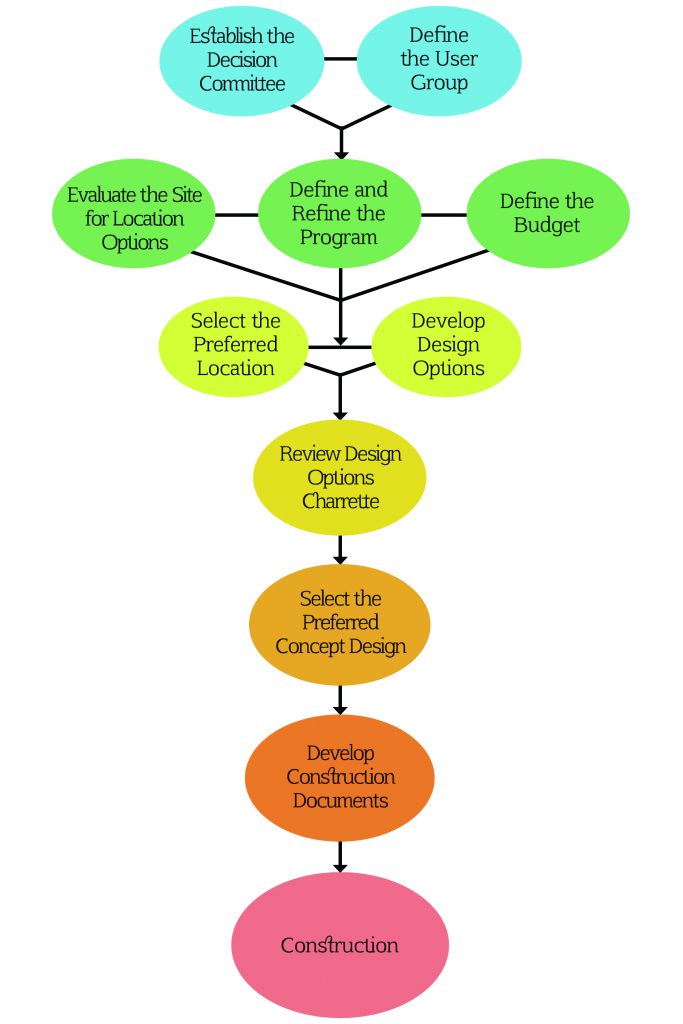 Define the User Group
Playgrounds often serve specific groups such as schools, churches, or communities. It is critical to learn the needs, likes and dislikes of the group. Definition of a group's perfect playground and compilation of information on the potential user group provides a strong basis for a great end product. The U.S. Consumer Product Safety Commission recommends playgrounds provide designs that are age appropriate and address the dramatic differences in physical size, abilities, intellectual and social skills. The nationally accepted age categories are:
"Toddlers" – from 6 months of age through 2 years old
Children often fall and play elements should include low equipment, soft surfaces, and space to encourage crawling, standing and walking.
"Pre-School" – ages 2 through 5 years
New skills are learned at a rapid pace. Fine and gross motor skills, strength and balance are improving and challenges desired. Providing safe environments is key as this age group is often daring beyond their abilities. Incorporating elements to accommodate these new skills as well as opportunities for social interaction and open spaces for running and games is important.
"School Age" – 5 through 12 years of age
Older children look for entertainment, challenges and opportunities for social and educational interactions.
The rationale for establishing defined age groups is to accommodate the dramatic difference in physical size and ability, and cognitive and social skills. Age specific locations like daycares, preschools, and elementary schools may have the ability to offer a playground specific to their unique age group. Playgrounds that are open to public use should accommodate separated use by age group wherever feasible and consider not only the 3 year to 12 year group but also teens and adults. Considerations are also needed for adults accompanying and supervising children.  Accommodating varying accessibility abilities and seamlessly incorporating access for all is also a primary consideration. From crawl tubes for toddlers to fitness equipment for adults, knowing who will be served by the playground helps to define what elements to include in the playground so everyone's needs are met.
Select your Decision Committee/Stakeholders
Definition of the user group and selection of the decision committee or stakeholders group go hand in hand. A decision committee that is representative of the user group helps to ensure the playground design reflects those who will most likely be using the playground and relates to the needs, wants, and identity of the users. A committee also provides a communication conduit between the overall community and the design team and is a way to efficiently move the project toward its goals. A decision committee for a school playground, for example, should include staff from the school, parents of some current students, and the design consultant. The school staff should represent a mix of expertise, including: educational programs, budgeting, and facility and grounds maintenance.
Define your Budget
Whether you are trying to fit a new playground within a set budget or trying to develop a budget for a new playground, a design consultant can assist. Every construction project has costs that must be considered but are not immediately apparent and a playground project is no different. The most important thing to consider when developing your budget is that the cost of the play equipment is only a portion of the budget. Equipment cost, including installation could be as little as 25% or as much as 60% of the total project cost. The design consultant will be able to identify all of the items making up the project cost and present options for site preparation, grading and drainage, paving, site furnishings, landscaping, fencing and signage. The consultant can also provide ideas on options for financing, including grants available annually to fund community play and recreation projects.
Study Location Options and Select the Preferred Location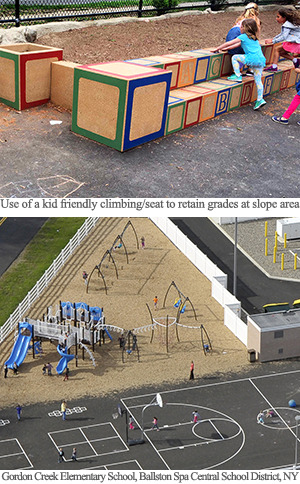 Playgrounds are a place to foster the imagination; a design consultant can find creative solutions to develop your unique playground setting. In many instances a new playground is proposed to replace an outdated existing playground. That doesn't mean the new playground has to go in the same location. Historically playgrounds were installed on flat ground wherever space was available. Thinking outside the box can make efficient use of a site's available space, while providing a unique and exciting play space:
What is unique about the project site? How can this be integrated into the placement and design of the play area?
Where a steep hillside was once a barrier to a playground, it can now be an opportunity. Play components like at-grade slides and hillside climbers are now valuable additions to the playground.
What features can do double duty? Is a paved area needed for occasional or event parking that can also be used for ball sport activities?
Taking advantage of existing vegetation instead of clearing trees provides immediate shade or screening and an opportunity for interaction with nature without waiting for new plant material to mature.
Careful integration of existing water features balancing safety and accessibility is a sensational opportunity to bring a tactile and natural component into the learning experience.
How can the conditions of the project site help or hinder universal accessibility and use?
Review the Design Options
Choosing your new playground design and details is the most exciting step in the planning process. It can also quickly become overwhelming. A playground is a large investment creating years of future enjoyment, experiential learning, and memories. There are numerous decisions to be made and endless combinations of play equipment layouts to consider. The design consultant is tasked with making those decisions less daunting and finding the right fit for the user group and the site. The previous steps inform possible solutions. It is critical to the success of the project for the design consultant and the decision committee to collaborate, share feedback and discuss options for design, materials, themes, colors and appearance. Using colored plans and sketches, images of play equipment, material samples and 3D images, conceptual options are presented, discussed and revised. This part of the process may require a few meetings with the committee. Having a structured process with scheduled meetings where information can be shared and decisions can be made keeps the planning process on track and on schedule.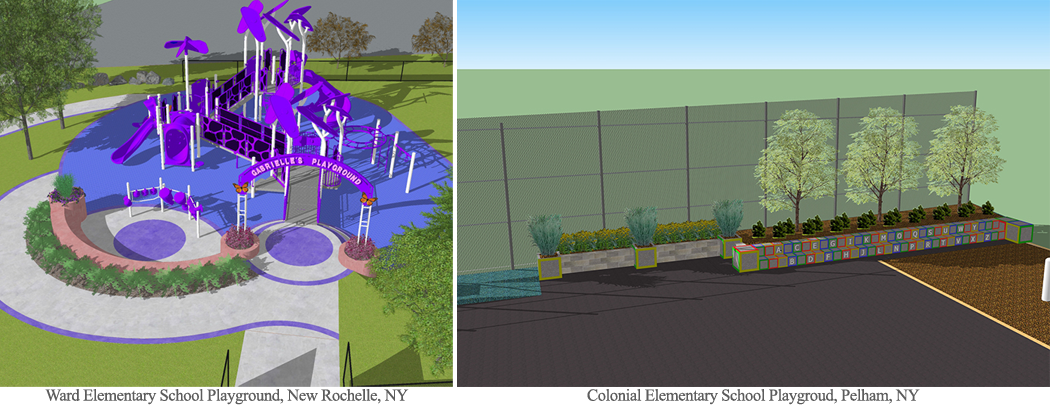 Select the Final Design
Once the preferred design is selected, the majority of the remaining work tasks are transferred to the consultant. Depending on the construction format selected, the following items are produced for use by the client: illustrative and descriptive plan drawings, product, equipment and site component material specification sheets, 3D imagery of the proposed playground, and an opinion of probable construction costs. Construction documents are prepared, a contractor is selected and construction can begin.
Imagine throwing your party where everything is exactly as you want it. All the shopping, cooking, setup, and cleaning are done for you, and you get all the credit. The consultant guides you through the entire planning process making sure to account for all your requirements and desires for the perfect playground.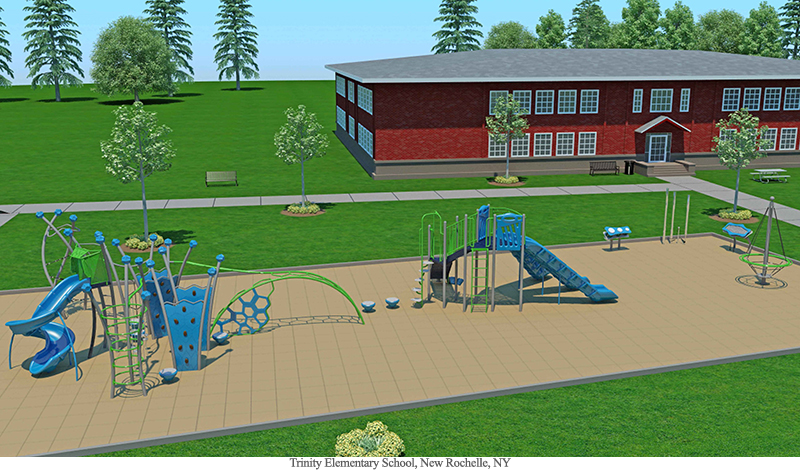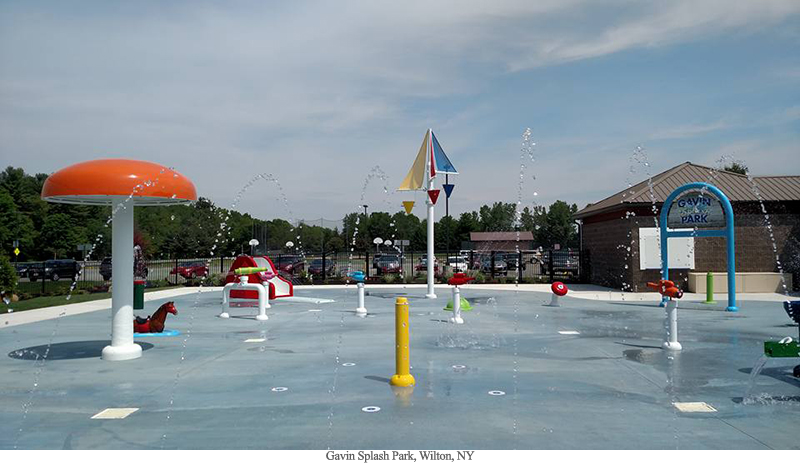 Using a defined and well thought out planning process will ensure your new or renovated play areas successfully meet the needs of your users for many years to come. An experienced design professional can assist in not only meeting user needs, but exceeding their expectations by providing a space that fosters educational, cognitive and social benefits and sparks the imagination of children of all ages as well as adults.