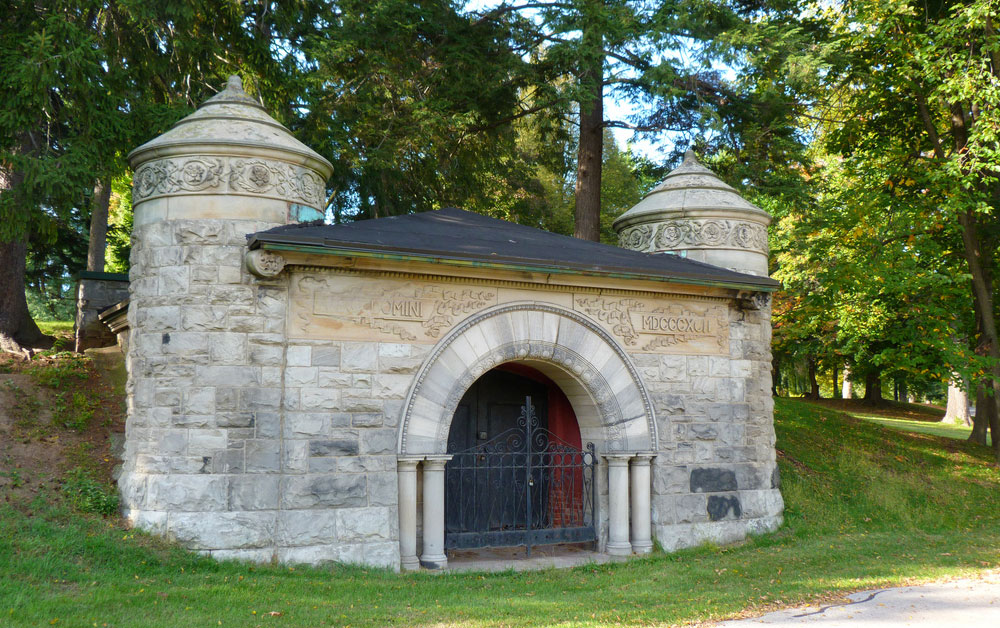 Times have changed. Will your historic cemetery be forgotten?
Cemeteries, whether they're urban, rural, public or private, were originally designed and constructed to fulfill multiple purposes within our communities. Often cemeteries functioned as parks as well as a place for burial, with picnicking, strolling and carriage riding as common activities. The reality of contemporary economic restraints can make it feel like historic cemeteries cannot meet the needs of today's communities. However, with study and innovation, historic cemeteries can function in a sustainable and vibrant manner.
Multi-dimensional Purpose, Contemporary Use, and Funding
When you think of cemeteries, you may believe they're just for burying the deceased. However, their historical purpose was for so much more. In addition to a respectful remembrance of family and friends, cemeteries serve as a connection to the past, an opportunity to observe cultural practices in relationship with our ancestors.
Cemeteries were designed to provide green space in cities and a quiet place of reflection in both urban and rural settings. Cemetery design practices evolved from the purely functional layout of burial plots to the creation of pleasant carriageways and walkways and planting of trees and shrubs for aesthetic appeal.
Unfortunately, many of today's historic cemeteries are facing deterioration. Lack of sufficient funds for maintenance can result from a decrease in revenue due to lack of burial plot sales, diversion of public funds or staff to other sectors, lack of community interest in the importance of the cemetery's function and benefit, or concerns with the extent and cost of specialized historic restoration efforts.
Times have changed, but cemeteries can still contribute to the quality of the community and provide valuable benefits. The LA Group has worked with historic cemeteries using the following strategies to optimize use, improve function and address the needs for long-term financial plans.

11 Strategies for Assessing and Identifying Opportunity in Your Cemetery
Inventory Burials: With a complete understanding of the type, numbers and distribution of existing burials, historic cemeteries are better situated for future restoration or growth. Document who is buried where and determine which plots are reserved and which are available.
Assess and Identify Historic Components: What is the story of the cemetery? Is the site eligible for the National Register of Historic Places? What unique features, people, or historic elements would help redefine that story?
Assess and Identify Concerns or Issues: With historic cemeteries, it's important to have a complete understanding of any potential safety issues. Part of this assessment can include measuring current visitor use patterns, burials, and accessibility.
Assess and Identify the Conditions of Physical Elements: Conduct an analysis of roads, buildings, paths and infrastructure. What's happening underfoot – sanitary sewer, potable water, irrigation water, power – should be properly documented in alignment with today's standards.
Assess and Identify the Conditions of Natural Elements: Trees, shrubs and lawn areas are a critical component in the overall appearance and the ecological health of the cemetery. Conducting a complete site analysis will help guide long-term maintenance strategies.
Identify the governing structure of the cemetery: Is there a cemetery association? Is the cemetery a designated not-for-profit? Are there standard guidelines and or rules for the cemetery? The administrative structure will affect the approach to problem-solving and budget distribution.
Identify the physical opportunities for expansion within the site: Since new burial plots equal new revenue, what space is still available on the site? Within potential expansion areas, inventory factors that could affect use including topography, vegetation, groundwater or subsurface rock conditions.
Identify features that could attract visitors: Do you have interesting genealogy? What's the history of the land? Are there interesting artistic features in the landscape such as monuments and memorials? Consider what makes your cemetery unique for attracting genealogists, history buffs, families, or tourists as these could be marketed or spark fundraising opportunities.
Identify economic opportunities: Are there social and economic opportunities in the region? Can your cemetery provide options for differing cultural burial needs? The community may have unmet needs for specific burial types, preferences for cremated remain burials, or other options. Identify ways to integrate new elements into the historic fabric of the cemetery.
Identify opportunities for volunteer and community involvement: Community initiatives, volunteer tour guides, school programs, and service project clean-up days are all ways to involve the community and benefit from services at a lower cost. Are there opportunities for community events such as local history festivals or tours, artist en plein air events or other activities to increase cemetery visibility or revenue?
Assess opportunities for additional funding: Begin exploring ways to supplement your funding and then create a plan to implement and take advantage of them. Some options to consider are:

Partnerships – consider working with a county or local historic commissions, city or town councils, county commissions, park commissions. Check into opportunities to share resources, equipment, personnel.
Trust Fund establishment
Not-For-Profit designation
Application to the National Register of Historic Places for access to resources
Gifts – connect with descendants of the deceased buried in the cemetery, funeral homes, and monument companies
Fundraising – look for local efforts in support of specific initiatives
Final Steps for an Enduring Plan
The challenges to maintaining a historic cemetery can seem daunting. With a holistic approach that includes assessment and evaluation of conditions, the involvement of community and stakeholders, identification of opportunities and methods to fund and implement them, your cemetery can once again be a vibrant and important contributor to your community. Whatever the right initiatives are for your cemetery, consider these final steps to ensure an enduring plan.
Prioritize the efforts
Identify champions in your organization or community to advance initiatives
Consider a phased approach to implementation and project-oriented funding opportunities
Think beyond your current problems and plan for ongoing maintenance efforts
Regularly reassess your conditions to ensure efforts are successful and identify if redirection is needed