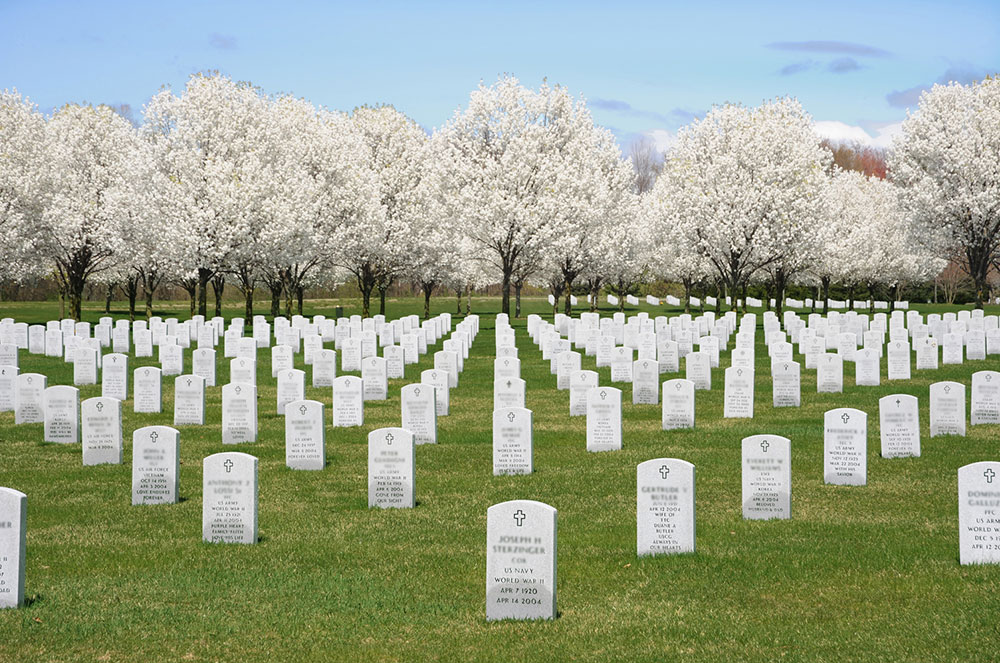 Give thanks. Never forget.
For more than 20 years, The LA Group has had the honor of planning and designing Veterans Cemeteries across the country. Entrusted with the final resting place of the people who have served on our behalf, we take the privilege seriously and the guiding tenets of our firm's culture – People. Purpose. Place. – tell the story of our dedication.
People – A personal touch
It's easy to feel a sense of duty when it comes to working on behalf of those who served for us. But at The LA Group, the mission goes deeper. Whether it's grandparents or parents, partners or siblings, we each have a story of our own, an internal motivation that elicits a private call of duty to share our talents in whatever way we can.
Personally, members of our team have vivid memories hearing a bugler play Taps in concert with the Honor Guard's rifles. Professionally, they work daily to make a difference for the more than 22 million veterans in America that deserve a permanent place of rest when their time on earth comes to an end.
Active duty or service from years ago, each veteran is a colleague, neighbor, friend, or family member that has made a difference in our lives. Ask anyone at The LA Group about our VA work and hear the tenor change. Because, as designers of these national shrines, we are challenged to create places that signify honor and dignity for those that selflessly gave their lives to protect our freedom. And every day, we continue to be humbled by the experience of being a part of something so sacred.
Purpose – A human experience
Mourning is a ritualistic part of the shared human experience. It's something people from all walks of life go through. And whether it's remembering a loved one or reflecting on those who have come before you, a cemetery experience hinges on the artful design of place.
With Veterans Cemeteries, you'll hear words like reverence, honor, and pride – some of the most powerful human emotions. Thus, it's critical that each one supports the structure of this sensitive atmosphere, ensuring that those who lay there are respected and those who visit can be comfortable and calm as they mourn.
From our team of dedicated landscape architects, engineers, and environmental specialists, we're able to pair form with function and technical understanding with empathy and compassion. Our designs work to create places that are welcoming and accessible, peaceful and practical to navigate. Together, we apply a breadth of understanding to the purpose of these sacred places – a final resting place for our fallen veterans.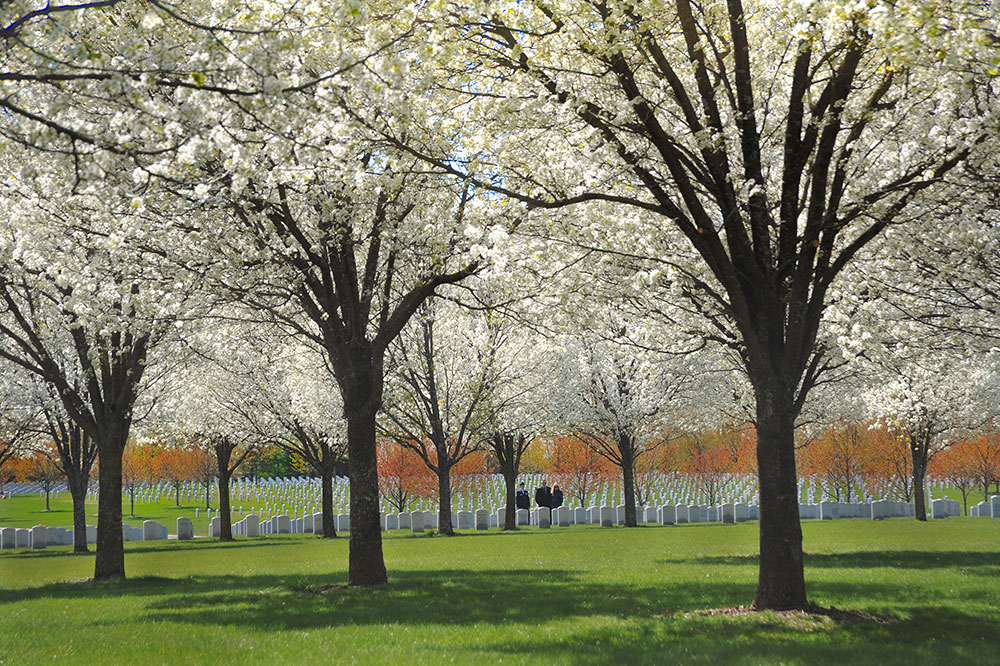 Place – A symbol of belonging
How do you know you're where you belong? A psychology of sorts, our subconscious recognizes various symbols as we orient and helps us feel like we're in the right place. Cemetery design follows the same philosophy. However, it's more than just standard symbols of wayfinding, it's about striking the right balance to ensure visitors in their sensitive emotional state can feel like they belong.
The LA Group has worked on more than 75 state and federal veterans' cemetery projects nationwide, including nine new national cemeteries, 12 new state or tribal cemeteries and 25 expansions of existing cemeteries. But, each new project brings its own unique challenges and as a team, we commit ourselves to learning the local design vernacular – what people expect, look for, and understand. From a contemplative moment standing before the American flag to a sweeping view of a rolling pasture, we find creative ways to use symbols of country and purpose to ensure every visitor feels like they belong.
Our Promise – Give thanks and never forget
Our nation honors veterans on Veterans Day, Memorial Day, Armed Forces Day, Flag Day and more. But at The LA Group, every day is a chance to remember what others have done to preserve our country and its freedoms, in ways great and small. As a firm dedicated to designing and planning Veterans Cemeteries, we consider ourselves humbled by the opportunity we have to do our part.