Niagara Falls State Park Terrapin Point Reconstruction Recognized by ASLA, NY Upstate Chapter
The firm is pleased to announce that it received a Built Design Merit Award from the New York Upstate Chapter of the American Society of Landscape Architects (ASLA) for its work done on the Terrapin Point Reconstruction Project at Niagara Falls State Park.
The LA Group in conjunction with T.Y. Lin International (Prime Consultant) was hired by the NYS Office of Parks, Recreation and Historic Preservation to provide landscape architectural services for the design of a $50M facility upgrade for Niagara Falls State Park. Created in 1885, it is the oldest state park in the nation. Each year, more than 8 million visitors come from across the state, the nation, and the world to wonder at Niagara Falls awesome power and natural beauty.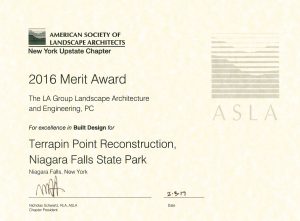 Project objectives included the major renovation of several major areas within the park, including Terrapin Point, Prospect Point and Lower Grove Trails, North Shore Trail, Luna Island Bridge, Stedman's Bluff, and Cave of the Winds Plaza. All landscape improvements are consistent with Fredrick Law Olmsted's vision for the park.
"Terrapin Point is a unique and special place and it was a pleasure to work with such a dedicated team on this once in a lifetime project. This award is to be shared by all involved," said David Miller, RLA, ASLA, Senior Associate Principal at The LA Group.