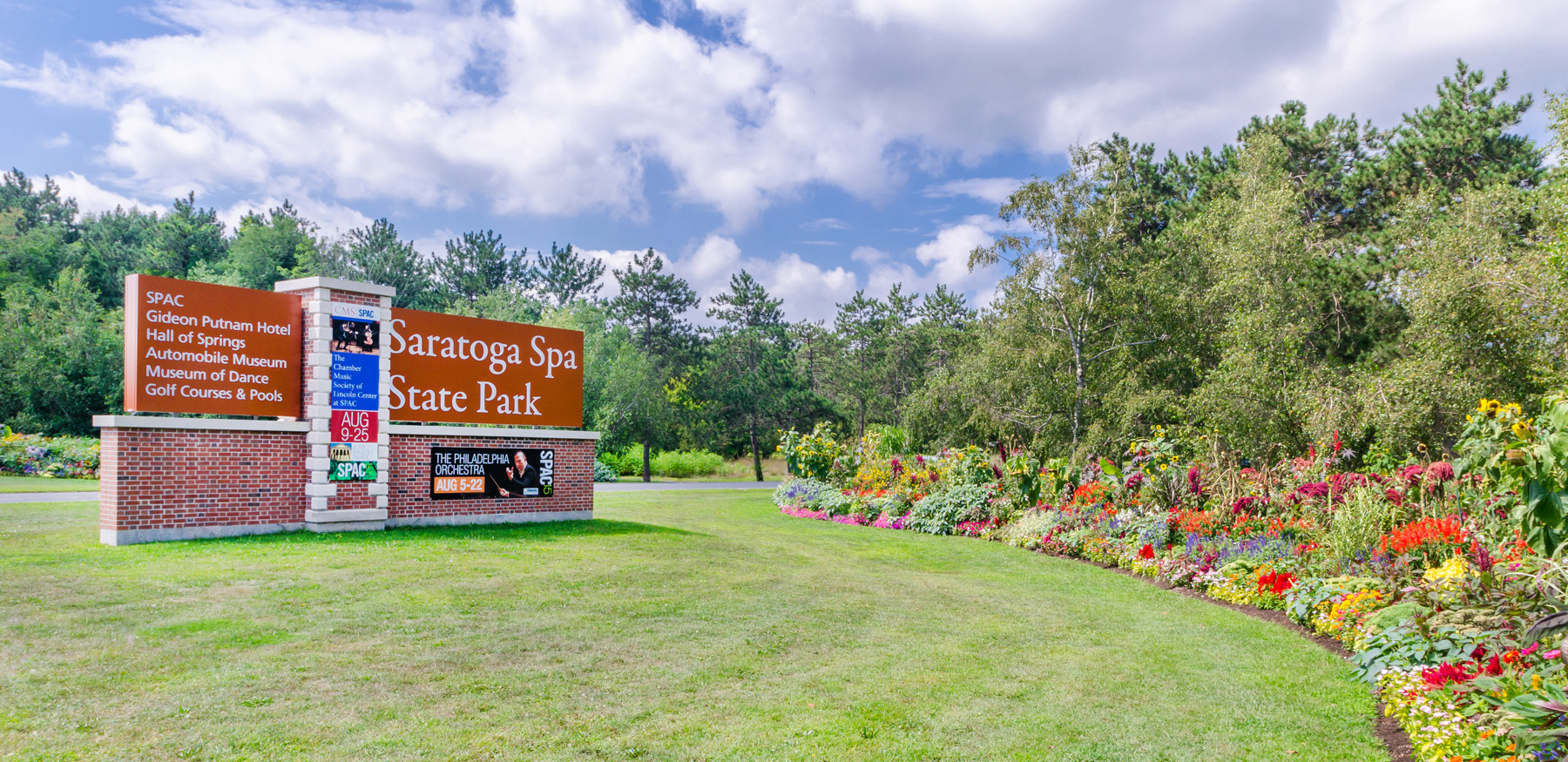 Navigating from place to place is a fundamental human activity and an integral part of everyday life. Where are you? Where are you heading to? How do you get there? In a world where we are often travelling to new places and at high speeds, finding your way has never been more important. As our lives increasingly become busier and more spread out geographically, getting to your destination on time and stress-free is more valuable than ever. Enter wayfinding…
Wayfinding is the art of using landmarks, pathways, environmental cues, and environmental graphics and signage to communicate to first time visitors to help them navigate and experience a place without confusion.
When these elements are well planned, seamlessly connected and aesthetically pleasing, they create a positive first impression and a sense of security, comfort and well-being for visitors.
Even though this type of communication has existed since the beginning of human life, the discipline of "wayfinding" itself has only recently gained recognition and importance over the last few decades. Because of its relatively young life as a discipline, it's still sometimes an afterthought in the design process. However, easy navigation and access to services is no longer a matter of courtesy, but of economic necessity. Effective exterior wayfinding and information systems are becoming required in environments as diverse as universities, colleges, medical centers and resort villages, as well as new communities, and state and national parks.
A Discipline of Design
The wayfinding discipline is a compilation of multiple design practices; including, urban design, landscape architecture, interior and graphic design. Landscape architects are trained in the tenets of visual and environmental design, placemaking and human behavior, and are equipped with an understanding of how these disciplines intersect in complex exterior environments. Landscape architects are therefore one of the most valuable members of a team – providing leadership and direction – when wayfinding in the public realm is on the table.
The LA Group has developed specialized areas of expertise in the planning and design of wayfinding signage systems for: educational, health and technology campuses; local, state and national parks; and state and national veterans cemeteries. The LA Group works with clients following a master-plan and executes project-wide signage solutions. The end result is an attractive, well-branded environment with smart wayfinding that fulfills all code requirements.
Wayfinding Examples
Saratoga Spa State Park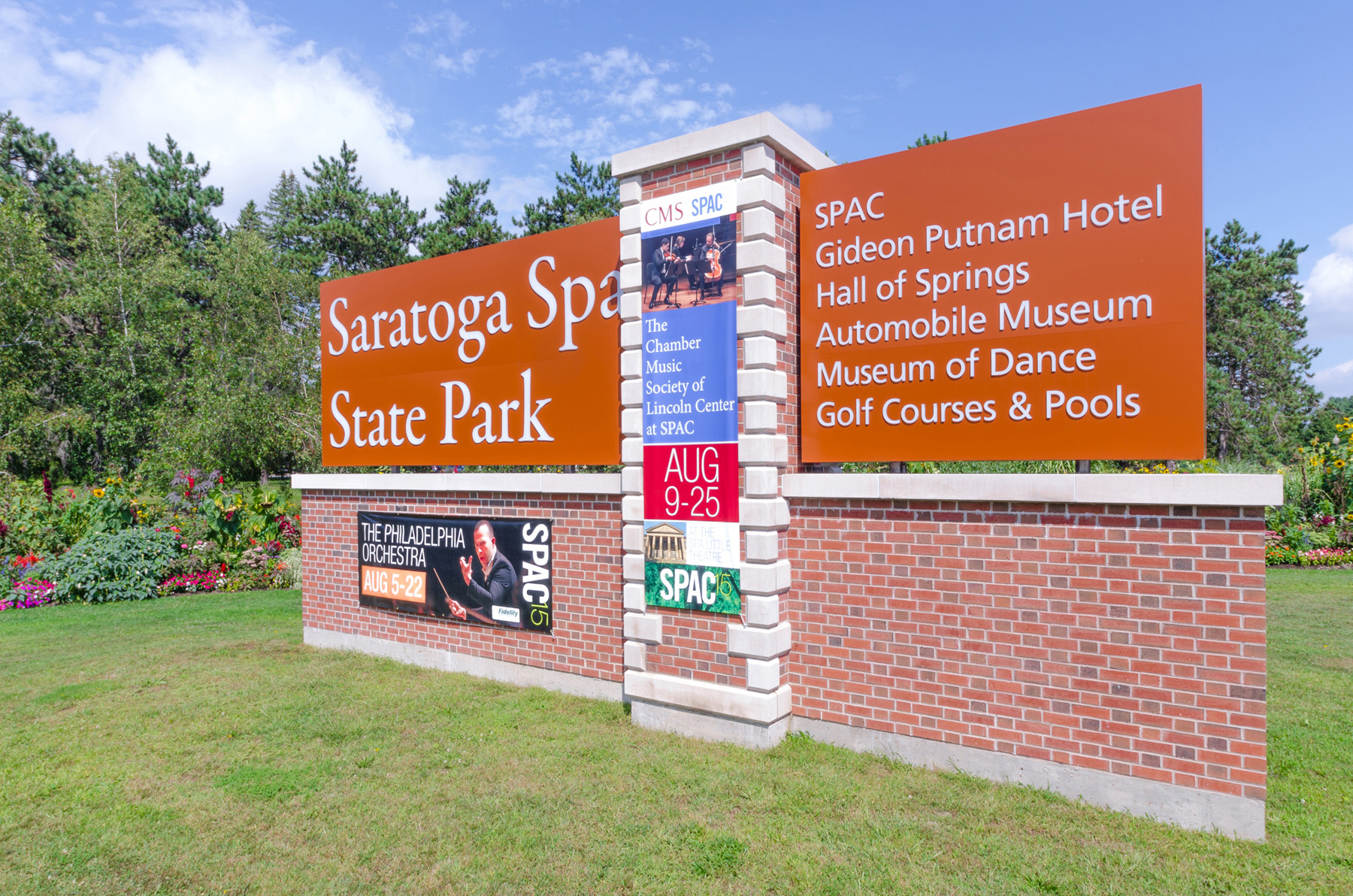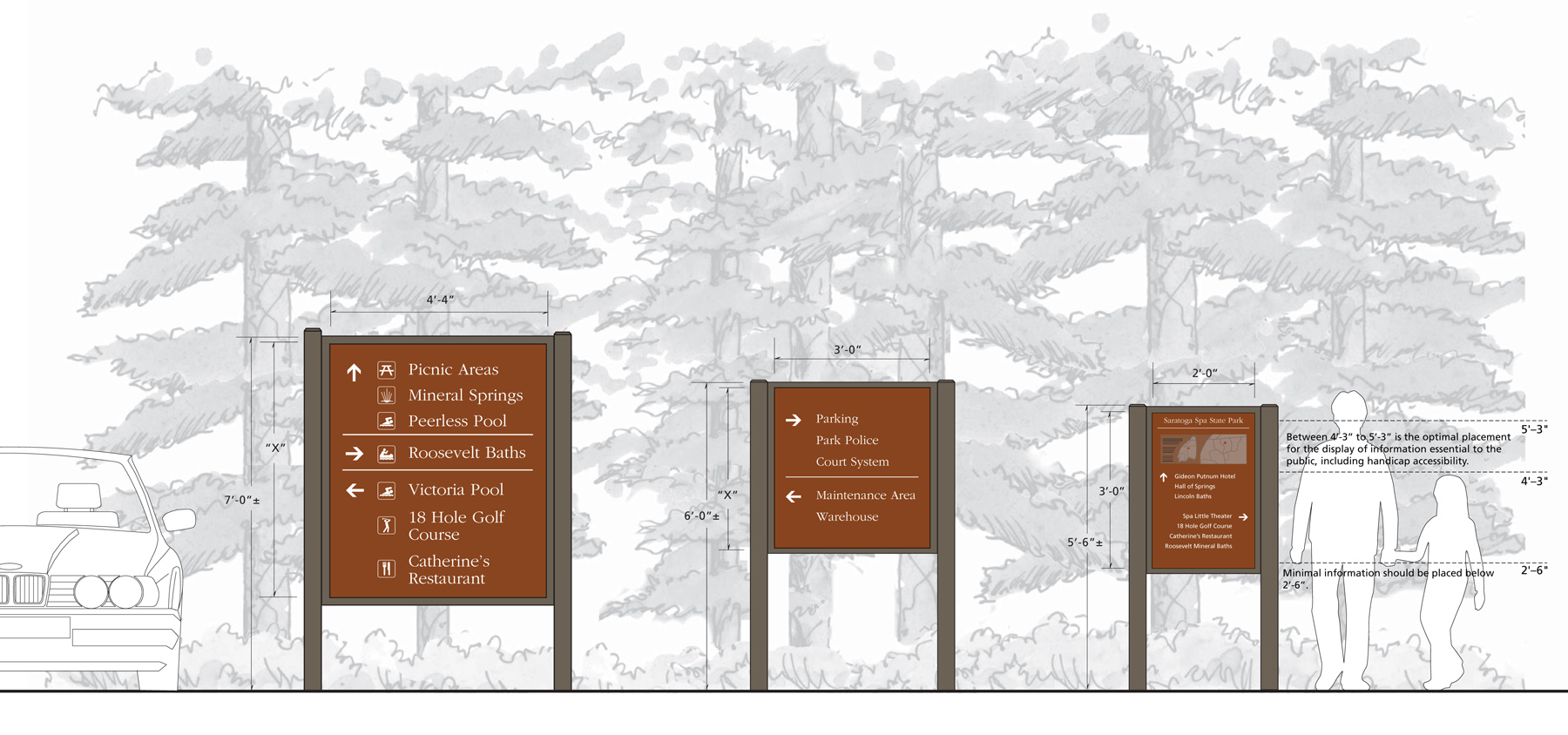 The Saratoga Spa State Park is a gem in the City of Saratoga Springs. Its classical architecture and diverse cultural and recreational resources has earned it a listing as a National Historic Landmark. From the Saratoga Performance Arts Center to the National Museum of Dance, a system of trails and more, wayfinding is critical to any visitor experience. In order to improve the park's complex vehicular and pedestrian networks, The LA Group:
Performed a detailed inventory of all existing signs throughout the park in order to gain a complete understanding of the unique wayfinding needs
Developed graphic design standards that will guide the planning, fabrication, and installation of all park signs
Created gateway monuments that draw upon the long, rich history of the park's architecture and importance as a public open space
The LA Group facilitated the resolution of signage needs and desires with the park's leadership and the various independent concessionaires that operate within
Saratoga Medical Park
Visitors to hospitals and healthcare facilities face some unique wayfinding challenges. Some of these include large, complex environments, multiple destinations during their visit, unfamiliar terminology, and stress caused by illness or frightening diagnoses. The LA Group designed a system with a distinct hierarchy of directional and orientation signage to assist Saratoga Hospital, its employees, patients and their loved ones in arriving to their location as quickly and with as little stress as possible.
Design guidelines were developed to guide all future signage as the remainder of the 140-acre parcel is developed to include a full range of health care facilities including a new hospital, nursing home, medical office buildings, outpatient care centers, senior apartments, and assisted living
The LA Group designed the medical complex campus to maintain the site's rural equine environment. Gateway monuments that welcome visitors to the campus reference the vernacular of native stacked stone walls that meander throughout the farmlands in the region
Read more about the Saratoga Medical Park 
Signage is the most visible and critical component of any wayfinding system and all levels of signage must be coordinated to create a seamless journey for the visitor. An effective signage master plan, when implemented correctly, helps to define and manage the entire signage system and the experience of following it.
For visitors, the outcome of their experience is dependent upon their ability to navigate a site efficiently. Whether it's making sure they see the correct historical information, or that they know how to exit a park quickly and safely, universal signage systems build an authoritative, clear and consistent voice.