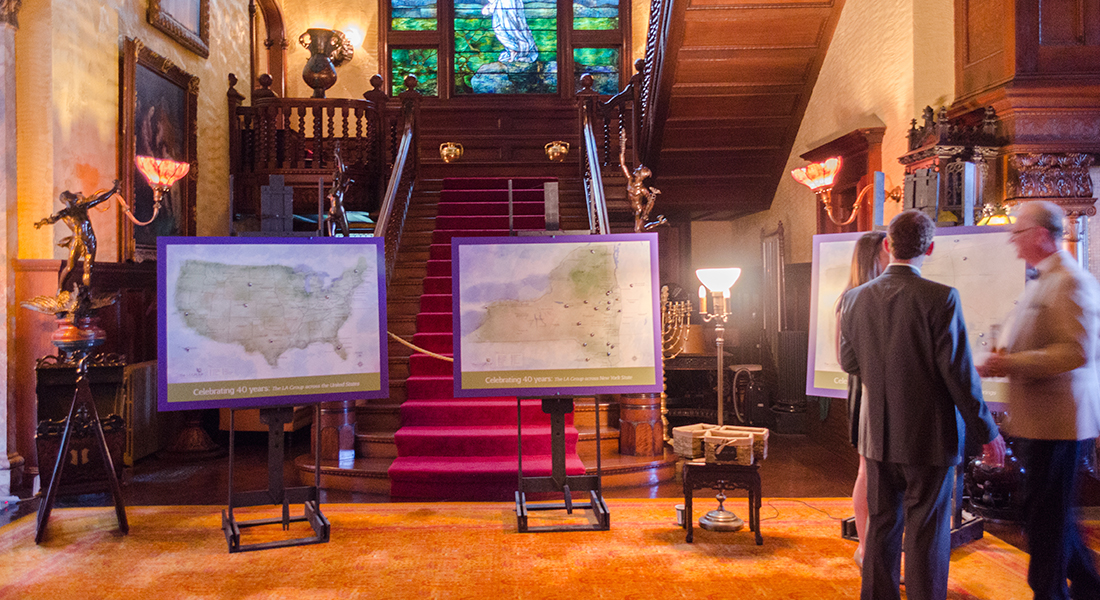 Yaddo today is an artists' retreat where authors, painters, sculptors, poets and musicians spend a period of time in the warmer months to create works of art. Entrance to the estate is by invitation only following submittal of a proposal that is considered by the Board of Directors. The LA Group is honored to have had the privilege to celebrate 40 years in business at Yaddo Mansion with a cocktail reception on September 5, 2014. Over 200 clients, friends and staff/spouses attended. We thank all who attended and Yaddo for hosting our event. In addition, thanks to Allegory Studios and The Holiday Inn for planning this special event.
Yaddo was originally the home of Spencer and Katrina Trask. Spencer was a New York City based stockbroker and businessman. Katrina was a poet and designed the three formal gardens and grounds of the Yaddo Estate. Spencer and Katrina intensely traveled the world and often brought back works of art, many of which today remain as features in the gardens and inside the estates structures. The name "Yaddo" was selected for the estate by Spencer and Katrina because one of their children spoke of the long "shadows" of the trees on the property as "Yaddos."
The LA Group first worked at Yaddo in 1983 when the firm produced a Cultural Resources Report for the Garden Restoration Plan. Many of the estate's treasures in the gardens were vandalized and in disrepair. The Garden Restoration Plan laid the foundation for an extensive and methodical repair of the gardens over time. Since then, The LA Group has assisted Yaddo on the implementation of several restoration projects in the gardens.
In 1991, 1995 and 2004, The LA Group prepared a series of "Buildings and Grounds" studies for the entire estate. This led to the completion of many restoration projects including the Mansion Terrace, West House and Green House as well as the addition of new Artist Cottages to the property. Maintenance projects were also accomplished such as the water line upgrade in 1985, Garden Irrigation Plan in 1994, Pond Water Quality Plan in 1992 and 2007 and its implementation and wastewater system upgrade in 1989.