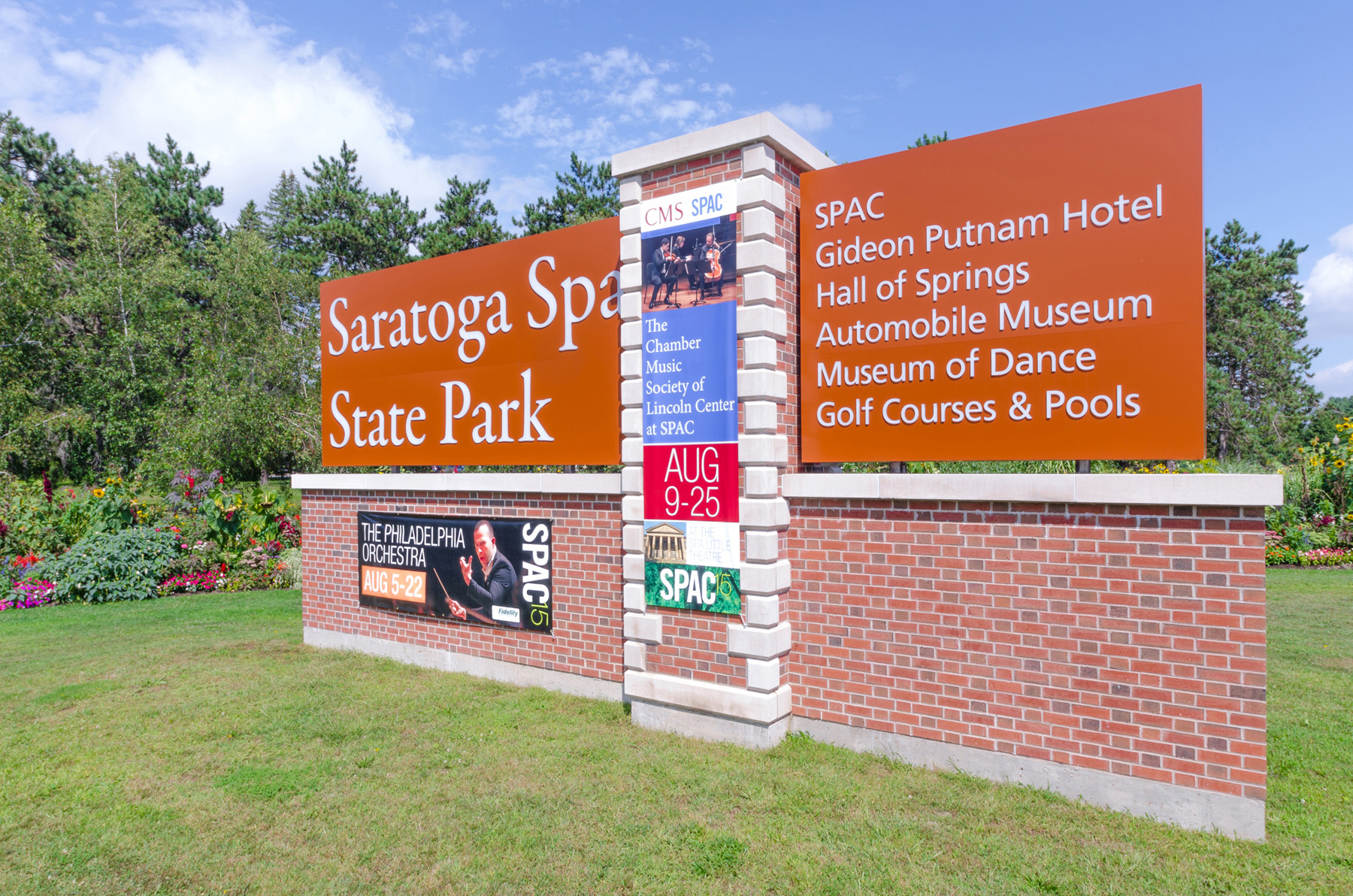 Eliminating "make or break" moments
Public open spaces, such as parks, are often complex environments that present many wayfinding and navigation challenges for new and repeat visitors alike. As parks and public places evolve over time, signage can be forgotten. Sometimes changes are made piece-by-piece creating a mismatched system. Other times the signs fade, are outdated by new construction or additions, or were never created in the first place.
A comprehensive signage and wayfinding program not only helps to welcome and guide visitors around an area while improving circulation, it reassures the overall visitor experience.
A thoughtfully articulated and choreographed experience created through a collection of signs, maps, pictographs and branded wayfinding tools can be used to do more than just direct and orient, it can be used to excite and inform visitors as well.
More than just signage
Wayfinding is a popular buzz term often used to talk about signage, but wayfinding is more than just signage. Wayfinding is the art of using landmarks, signage, pathways, and environmental cues to help first-time visitors navigate and experience a site without confusion. These cues should be well planned, seamlessly connected and aesthetically pleasing so visitors have a positive first impression highlighted by a sense of security, comfort and well-being.
When graphic standards of the signage system, such as mapping, colors, and fonts are carefully planned, they can easily be integrated into the other tools of the wayfinding program. An effective signage master plan helps define and control the entire system. It gives the site a singular, clear voice of authority that builds consistency for easy navigation. Consistency also gives visitors the confidence that the information presented is accurate and up-to-date.
Providing visitors with a variety of tools, and presenting information in different forms, gives multiple opportunities to help them find their way.
Make Navigation Easy
Signage is one of the primary forms of communication in a wayfinding system. Signage examples may include:
Identification – Identify destinations and marquee attractions
Pedestrian directional signage
Vehicular directional signage
Orientation signage
But, other tools are also critical to creating a comprehensive wayfinding experience. In addition to signage, it's suggested that a system also rely on:
Pre-arrival technology – websites and digital maps
Place technology – kiosks, QR codes, or mobile applications
Environment/spaces – physical landmarks like buildings and natural features, streetscapes and landscaping
Support information – brochures, printed maps, bus shelters, or visitor guides
How does wayfinding make a difference?
Picture this: The Smith family's story
It's Saturday and the Mr. and Mrs. Smith are traveling with their two young children. They're new to town and are excited to explore the local state park. The Smiths easily find their first destination in the park – a vista overlooking their new home. After taking a quick photo, they get back in the car to drive to their next stop.
Along the way, Mr. Smith loses track of his directions and struggles to find any landmark or signage to get him back on track. Mrs. Smith has a map she picked up at the visitor's center, but it doesn't seem to help. They both try to orient themselves but end up arguing and getting even more confused…
If they can find their way and stay, they will:
Fill their cameras with photos of scenic views and memories
Visit the gift shop and bring home something to remember their trip
Boast about their trip to their friends and family, encouraging everyone to visit
If they turn around and leave, they:
Will not come back
Will not recommend anyone else try visiting
May write a bad review online – "We were really looking forward to visiting the park, but we ended up getting lost and were seriously disappointed. We won't be returning."
Picture this: The Johnson family's story
It's Saturday morning and the Johnson family has just arrived at the park near their grandparent's house. As they pay their admission, a friendly ranger hands them a brochure and he:
Explains the hierarchy of sign types that will direct them to any destination they may be looking for
Clarifies that official park wayfinding signage, as opposed to DOT traffic control devices, will all be the same green and share the same pictograms that they see in the brochure
Adds that if they get confused, a "you are here" map is located at every parking area at each destination
Points out that they can also use a smart phone to scan a QR code at any point of contact throughout the park to get additional directions and information
The Johnsons spend an entire day exploring. Mrs. Johnson enjoys the interpretive signs and Mr. Johnson has fun exploring each attraction with their kids. Along the way, they stop for lunch in the park's concession stand and buy some postcards to send their friends back home.
As they pack up to leave, they remark about how much they enjoyed their visit and how they can't wait to return…
Ensure a Positive Experience
Before arriving at their destinations, both the Smiths and the Johnsons had equal opportunity for a memorable, enjoyable day. However, the Smith's day was complicated by their inability to easily navigate the park and soon that became the only memory they made. Their frustration could have been prevented.
With a strategic plan, public places can implement a comprehensive wayfinding system that helps visitors find their way. However, it takes a variety of tools and a collaborative partner to design a system that truly enhances their experience.
With experience in everything from national and state parks, national and state cemeteries, and to college and healthcare campuses, The LA Group has partnered with a number public and private businesses and organizations to find a wayfinding system that works best for them. Together, we work to uncover the goals – learning about what makes each site unique and how best to integrate wayfinding improvements into the existing fabric of a place – so that the purpose of your place is preserved for every visitor.