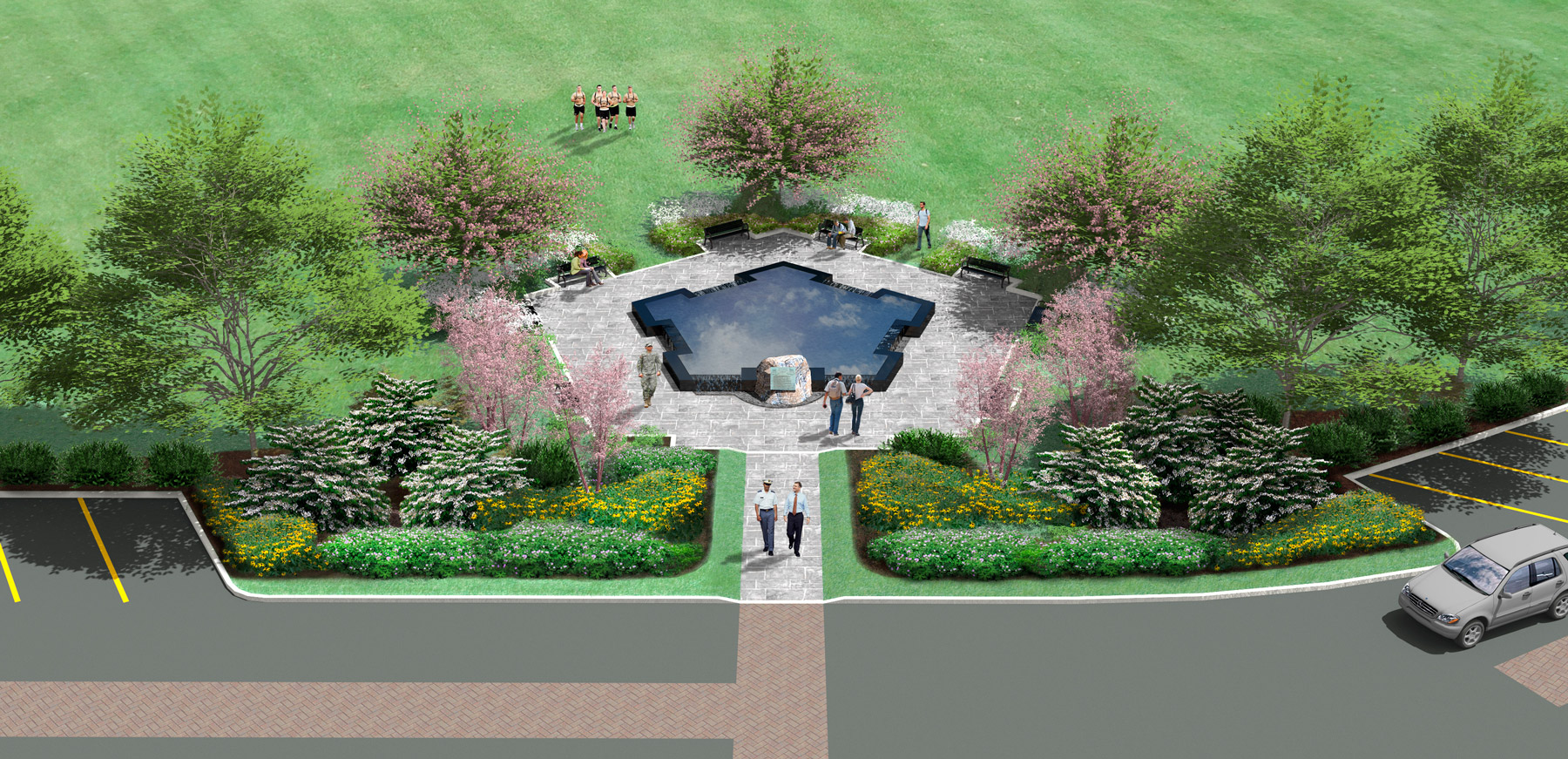 Low Impact Design (LID) for Stormwater Management
Stormwater can be one of the larger challenges institutions face. Between municipal permitting, NYSDEC, and EPA regulations for managing runoff and reducing pollutants, finding an effective solution can be a daunting task. On top of that, the easiest answer isn't always the most attractive one.
Picture this:
It's open house day on your college's campus. High school seniors from around the region are showing up with their parents. Decision deadlines are approaching and they're looking to confirm their choice. You've planned a day that offers a complete experience. Visitors enter the campus and begin to form their first impression. Along the way they pass a pond full of weeds that is unsightly and appears out of place. Could this have been avoided?
Picture this:
Your biggest client is in town to visit your facility. You've had every inch scrubbed inside, the plantings outside have been trimmed and touched up, and your entire crew is dressed and ready to show your best side. Then it rains. The client arrives and the entire front entrance is flooded. Could you have prevented this?
In both scenarios above, we face the chance to make or break that first impression. The landscape design of a college campus has a profound impact on the student experience; and, the outdoor spaces that create the setting for a corporate campus or commercial facility are critically important in conveying a quality image of your brand.
Stormwater infrastructure that is not effectively integrated into the landscape can have a negative impact on scenarios like those above and many more. But, creative stormwater solutions can add value and create memorable places.
To ensure success, we need to look at both the design technicalities and the aesthetic they create.
One of the best ways to do this is to creatively implement Low Impact Design (LID) solutions for stormwater management and make them a valuable part of the landscape.
Using LID to Align Engineering and Design
Examples from West Point
The LA Group recently worked with the U.S. Army Corps of Engineers (USACE) along with the U.S. Army Construction Engineering Research Laboratory (CERL), the U.S. Military Academy (USMA), and HDR Inc. to create a 20-year LID stormwater management plan at West Point. Our role was to generate creative LID stormwater solutions that seamlessly blend into the existing campus while enhancing the value of the landscape.
LA Group Goals
Create stormwater management solutions that add value, functionality, and enhance the aesthetics of the campus
Reduce stormwater-related impacts on the existing infrastructure network
Harvest and re-use stormwater where feasible
Develop concepts and approaches that can be applied through the campus and at other federally owned and operated facilities
Challenges
The historic West Point campus sits impressively on the banks of the Hudson River with views up and down the valley. This means, however, that its 100-plus-year-old buildings and grounds are on bedrock coastline with significant terrain, a challenging scenario for stormwater management.
Some of the specific issues the LA Group faced were:
A historic campus framework
Inadequate soils, shallow bedrock, and steep slopes
Intense rainfall events and a cold weather climate
Dated infrastructure and combined sewer outfalls
Densely developed areas with little room for stormwater retrofit
LID Solutions
Across multiple projects selected on the campus, The LA Group integrated a number of LID solutions that offer landscape enhancements with practical, technical uses.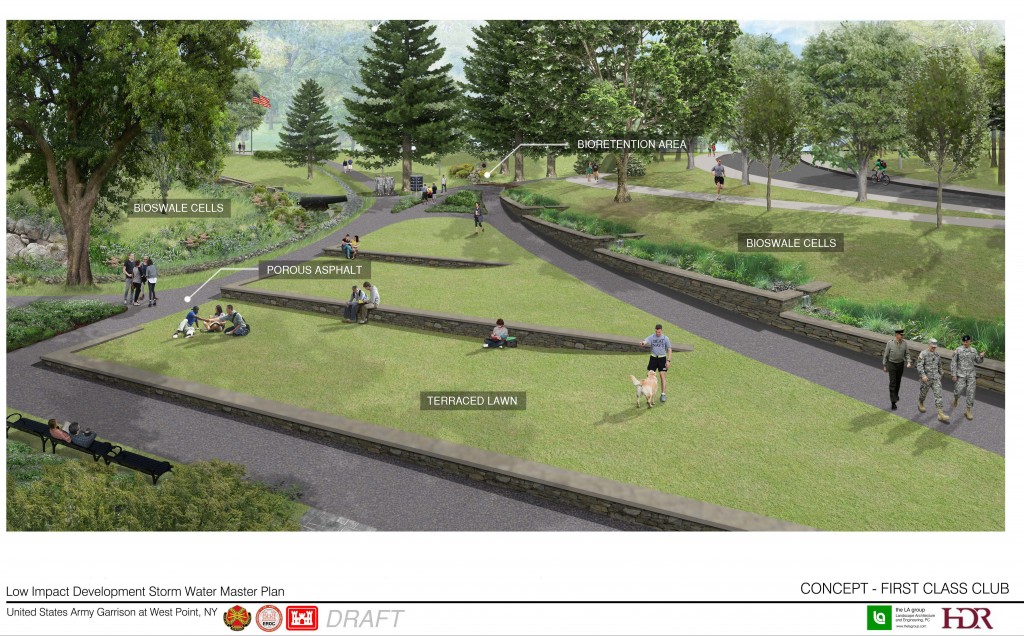 1. Bioretention Areas and Bioswale Cells
The training and academic vigor West Point's cadets face can be especially stressful, and The LA Group was challenged to enrich a welcoming outdoor living environment that also solved stormwater problems.
The proposed creative solutions included bioswales that replicate natural cobblestone streams meandering through gathering places, and tiered stone walls that cascade runoff through a series of planted bioretention cells to create a water feature.
These concepts can:
Become beautiful landscape features
Create comfortable places for gathering
Provide water quality benefits
Reduce runoff volume
Have design flexibility that allows them to be implemented in areas with challenging terrain
2. Strategic Stormwater Planters and Trees
Most campus environments must efficiently accommodate a large number of parking spaces that can serve multiple functions from everyday classes to premier football games. Strategically placed stormwater planters not only address stormwater issues, but are used to efficiently re-structure parking and create safer circulation patterns.
Generous tree plantings within these planters and parking areas will:
Provide stormwater filtering properties
Improve aesthetic by breaking up expansive areas of asphalt
Add shading benefits such as reduced heat-island effect
3. Cisterns and Natural Irrigation
Buffalo Solider Field, a historic campus environment with a multi-purpose athletic field, collects a large amount of runoff. Any stormwater infrastructure in the area had be creatively implemented into the historic landscape to limit obstructions to the popular destination. The LA Group designed a system to:
Harvest rainwater from adjacent building roofs and filter pollutants into landscaped stormwater planters
Convey the water to an underground cistern, removing it from the combined sewer system, and storing it for re-use as irrigation for the athletic field
Relocate a historic monument and incorporate it into a new water feature fed from cistern water, creating a more visible and beautiful gathering space where the history of the location can be celebrated
Potentially conserve thousands of gallons of water each year and reduce demand on existing wastewater infrastructure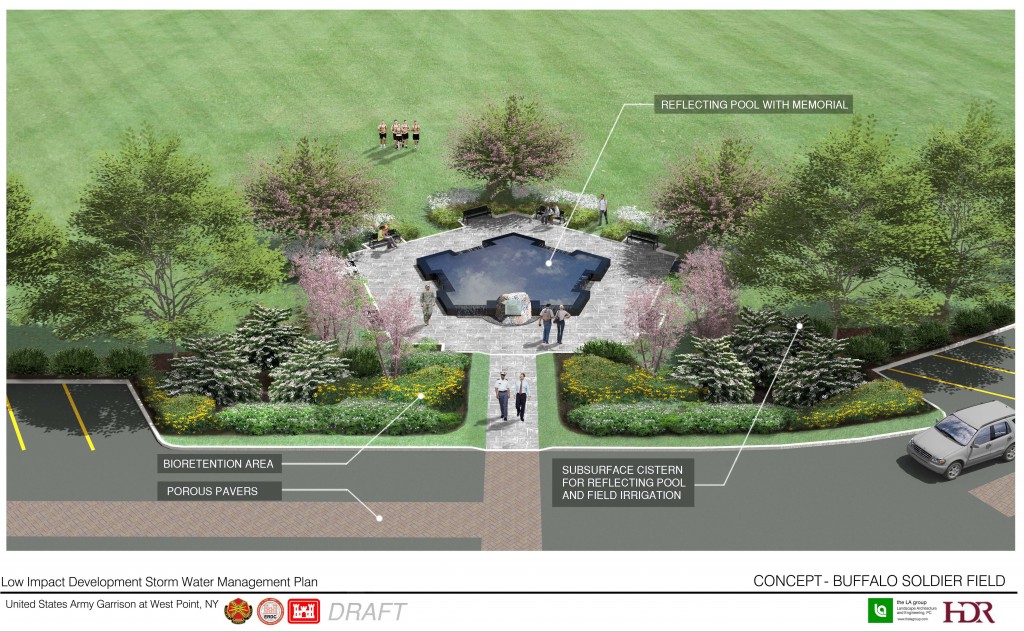 Enhancing Experiences and Places with Designed Solutions for Stormwater
While LID isn't a new concept, the difference today is whether you can meet the task at hand with a creative eye and use it to your advantage. Successful LID means striking a perfect balance between form and function, the engineering and design teams. The LID processes can be done by many, but few can see the bigger aesthetic possibilities and benefits it can bring to campus, corporate or commercial environments.