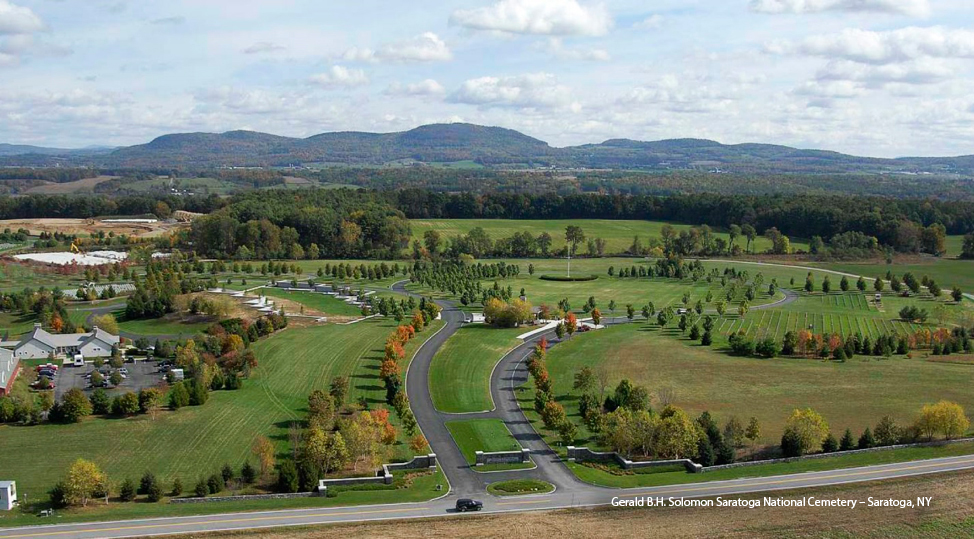 Visit a national cemetery and you're sure to feel an immediate sense of reverence for those who have served. It's only natural to look upon the rows of headstones and feel the awe of those that sacrificed their lives for the freedoms we cherish today. But – there's more to the story.
Cemeteries honor those who have passed but serve those who live. Thus, it's the visitor's experience that is of utmost importance. To achieve a thoughtful experience, national cemeteries feature consistent symbols and structures to create a subconscious "language" of the land. Paired with natural patriotism, this language "speaks" to our souls and carries us in times of grief or solemnity, evoking that powerful feeling of honor and dignity those buried before us deserve.
From solemn procession, to a quiet moment with family, The LA Group has been designing national cemetery experiences for more than 20 years. Pairing culture with tradition, history with emotion, our landscape architects and cemetery planners craft the journey by breaking it down into four distinct areas.
Four Features of the National Cemetery Experience
1. The Entrance Area
For thousands of visitors, their first view of the cemetery can trigger emotional memories. Striving to send a message quickly that says, "You've arrived and you're safe here," we use design elements to trigger a feeling of entering a sacred space. Some of these elements are:
Gateway: Using architectural or landscape features, a significant entrance separates you from where you've journeyed and invites you into the present moment. Like historic cemetery entrance gates, we use the entrance to symbolize passage into a sacred space.
Design vernacular: Whether it's plantings, materials or architectural style, the entrance area should align with the design vocabulary of the existing landscape and regional influences to magnify a feeling of belonging.
Boulevard: In many cases, a divided boulevard can control traffic and orchestrate a slow, peaceful experience. For example, it can weave visitors through the unique traditions of a national cemetery, such as the 'avenue of flags' – a place where donated American burial flags are displayed on special days.
Identification: The entrance area is a main communication point, imprinting the importance of the space. This is done with artfully-selected signage and proper display of the Department of Veterans Affairs Seal.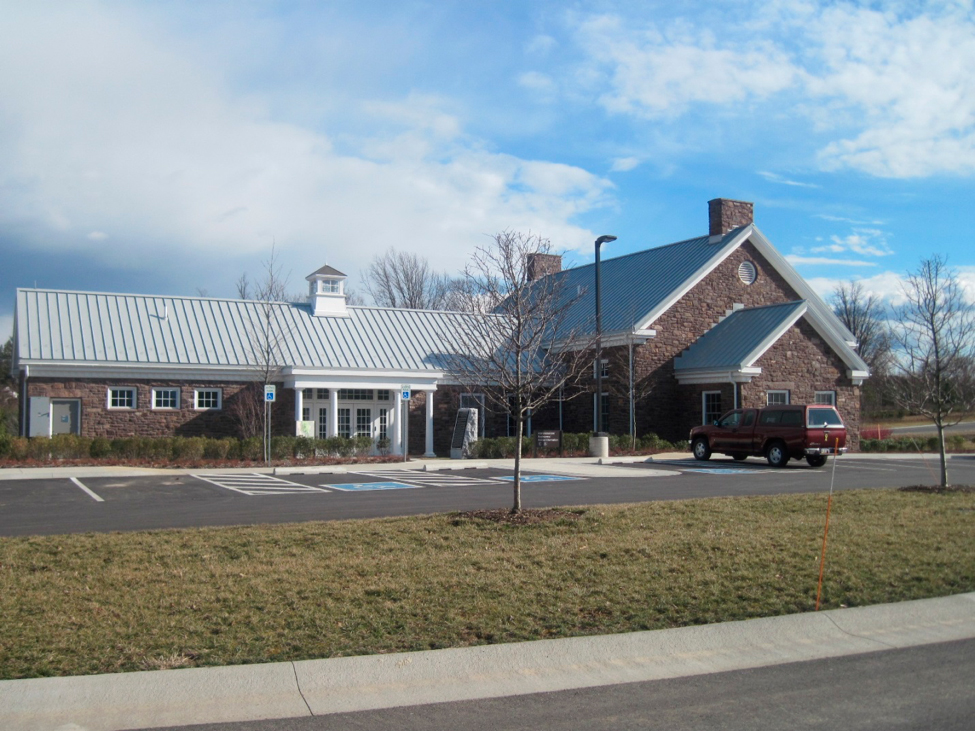 Washington Crossing National Cemetery
2. The Public Information Center and Administration Area
The formal arrival sequence for a national cemetery will bring funeral attendees and visitors to the public information center. Positioning and design of this destination are of the utmost importance.
Visibility and Location: Once, or even before, visitors have entered the cemetery, the public information center building is often visible. Like a beacon, it draws people to a gathering place to set their bearings. It is likely located along the main entrance boulevard and positioned as a first stop before continuing the journey.
Function: Like a haven, the facility guides you as a visitor or funeral attendee with valuable information. Service attendees often arrive here in a large procession of cars. A cortege staging area is always found next to the public information center and vehicular circulation design is integral to building design. You'll also notice a strategic separation of visitor and general public parking areas. This gives a degree of privacy to the service attendees. Often administrative services are also conveniently found in the same building or adjacent to the public information center.
Scale and Materials: As a support facility, the public information center typically has a residential scale and directs views toward elements such as the American flag or the burial sections as a central focus. As with the main entry, materials and design elements will express the regional character and identity.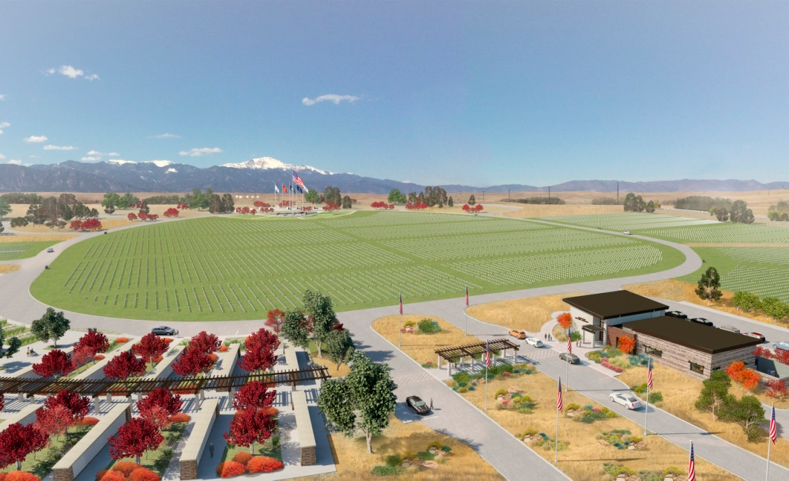 Pikes Peak National Cemetery – Colorado Springs, CO
3. The Burial Areas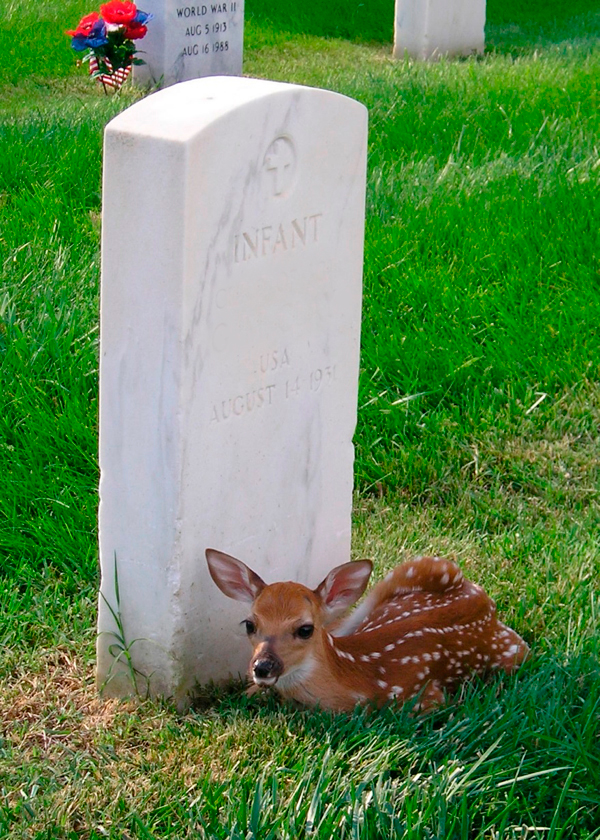 The simplicity of the white headstones laid out in a perfect grid suggests equality among those that served our country. As our culture has evolved, so have burial options. Thus, strategic design ensures that no matter where a service member is buried, they are given honorable representation.
Interment Areas: Design of interment areas seeks to balance efficiency, federal requirements, and must work with the particular environmental characteristics of the site. Interment areas which are made up of full casket sites are generally subdivided into burial sections of varying sizes and shapes based on the general lay of the land and the road system.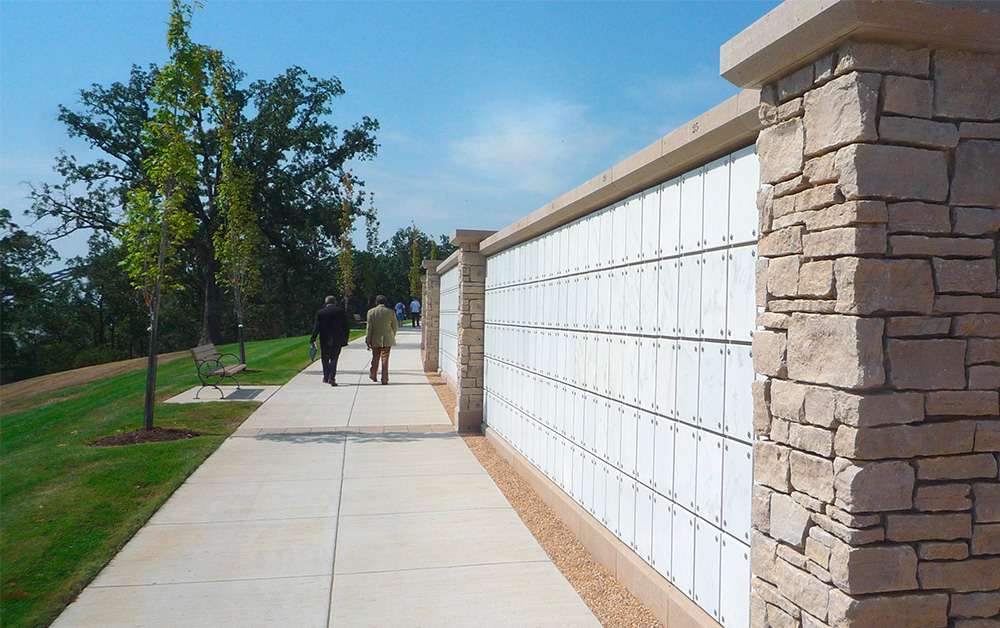 Jefferson Barracks National Cemetery – St Louis, MO
Inurnment Areas: Burial of cremated remains has become more popular as an alternative to traditional casketed burial and is a major component of national cemeteries. For those who desire in-ground burial, cremation plots provide a good option. Another option is columbarium inurnment. This choice often reflects a desire to be at rest in the natural beauty of an open-air garden setting. Columbarium walls are above-grade structures designed for the inurnment of cremated remains. Successful columbarium design is linked to its location and position relative to other site features and functions of the cemetery, as well as privacy and peacefulness.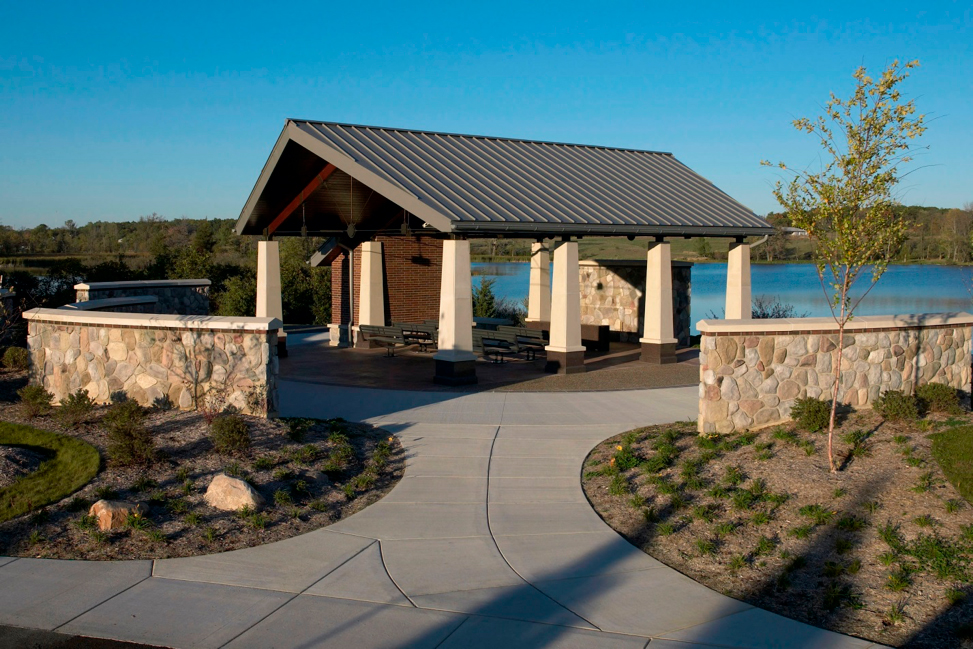 Great Lakes National Cemetery – Holly Township, MI
4. Ceremonial Spaces
The Committal Service Shelter: For many, the committal service shelter is a place of final goodbyes. The experience is characterized by the traditional playing of Taps that so often resonates in the memories of those who grieve the life of a service member. In veterans cemeteries, it is not appropriate to hold services within the burial areas, so this shelter becomes a temporary home for family and friends of the deceased during a service. The design of a committal service shelter focuses on creating a safe and private space. The LA Group's design team strives to place these structures in tranquil locations. This requires thoughtful attention to the surrounding landscape as well as thorough understanding of wind and solar patterns to ensure it remains a welcoming, comfortable and private place.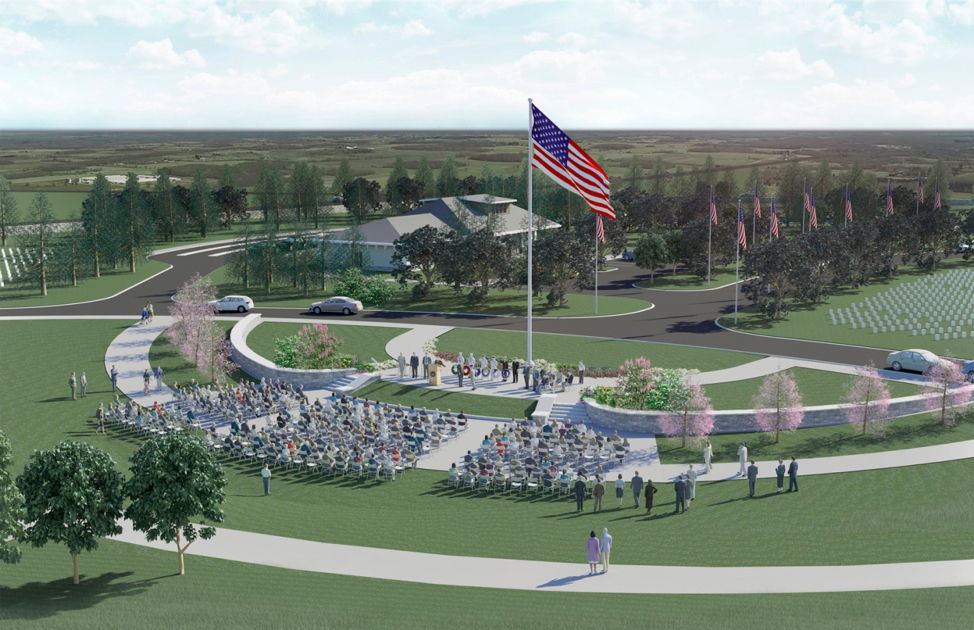 Western New York National Cemetery – Pembroke, NY
The Flag/Assembly Area: Within the fabric of a Veterans Cemetery, the United States flag is the single most significant and tallest feature and is always located at the highest, or most visually prominent point in the cemetery. The flag is flown every day, 24 hours a day if illuminated after dark.
Used for events held during Memorial Day, Veterans Day, and other occasions, the adjacent assembly area has its own identity within the cemetery landscape. Design details and decisions made here include:
Primary flagpole – Typically, the flag is located away from the visitor center to avoid the perception of it being an adornment of the building
A combination of accessible paved and turf assembly area for ceremonies and gatherings and the assembly stage or focal point that is used by guest speakers and dignitaries
Placement of military branch service seals and/or flags to emphasize the stage area and focal point
The orientation of the site to take advantage of panoramic landscapes and views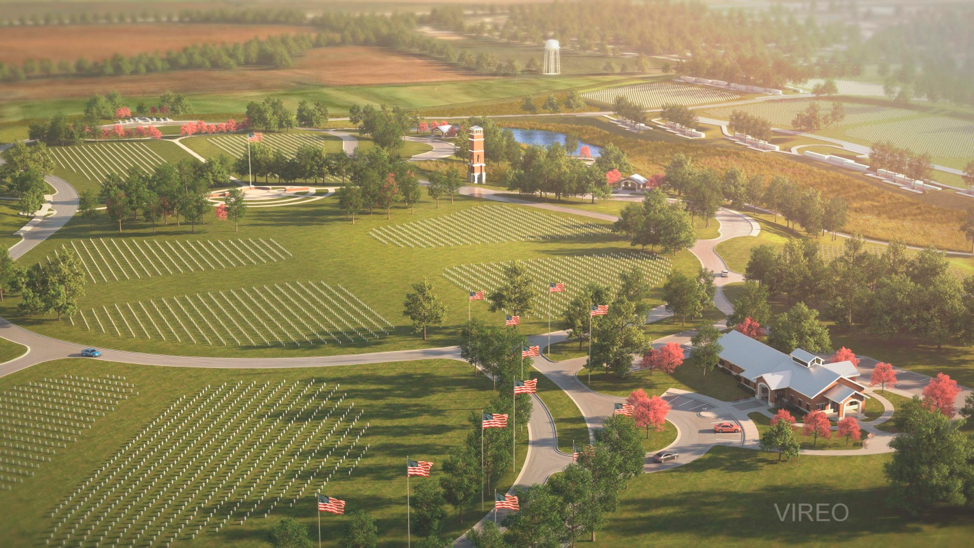 Omaha National Cemetery – Omaha, NE
Design that Creates an Experience
Every place is unique because of its own set of physical, cultural, and historical characteristics as well as the adjacent lands that surround it. A successful cemetery design is directly related towards an understanding of those characteristics and whether, or not, they have bearing on the type of place being created. Because of the eternal nature of national cemeteries, it is imperative to understand these relationships with respect to the past, present and future.
President Lincoln, on July 17, 1862, signed legislation which authorized the creation of 14 national cemeteries, "…for the soldiers who shall die in the service of the country." More than 150 years later, The LA Group is committed to honoring those who have served and meeting the needs of the National Cemetery Administration and the Department of Veterans Affairs. To learn more about some of our work, please visit our Federal Experience page and Cemetery Portfolio.