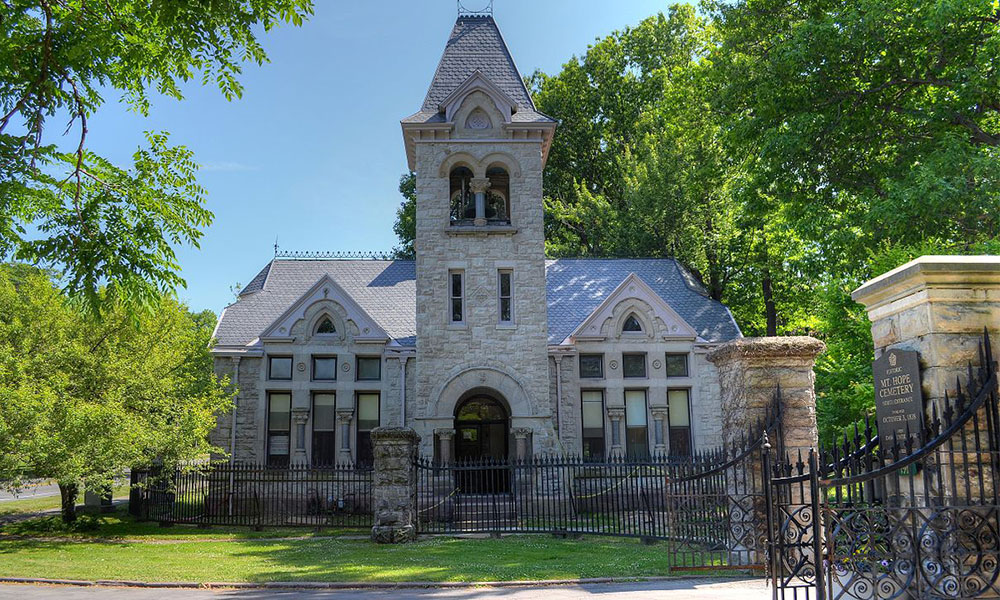 For some, cemeteries are simply gloomy places or forgotten corners of towns and cities across the country. But, this couldn't be further from the truth. Cemeteries are gateways into history, culture, and community. Often places of historical significance, they're a critical part of understanding the past and how people who've walked the streets before us used to live.
The LA Group has recently been involved in the preservation, restoration, and renovation of several historic cemeteries. Applying our cemetery design experience in these special projects has reminded us that these important places will endure beyond our own lives. Considering the evolution of the land use – from where it began to how it can serve the community today and into the future – takes a concerted effort and strategic design. With the right plans in place, we're able to protect, expand, or renew these permanent places of remembrance.
1. Ballston Spa Village Cemetery, Ballston Spa, NY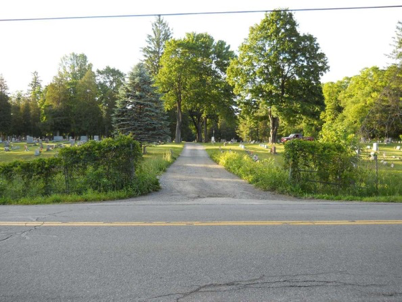 Established in the mid 1800s, The Ballston Spa Village Cemetery Garrett Road entrance had long-greeted visitors with a gravel road, overgrown brush, and rusty chain-link fence. But, committed to preserving their 200-year-old history, local community members initiated a grassroots fundraising campaign to upgrade the entrance and reflect the beauty of the main entrance. With The LA Group's design, the cemetery now has a welcome entrance for visitors and processions. The rusty fence and gravel road were replaced with new pavement, granite pillars, picket fencing and plantings that reflect the original historic character of the main entry.

2. Riverside Cemetery, Rochester NY
Riverside Cemetery, established in 1892 on the west bank of the Genesee River, is an active municipal cemetery with ongoing burials and many visitors. But, it was facing some struggles common to many historic cemeteries. The LA Group helped Riverside work through both infrastructure and design-related challenges. The solutions have lowered maintenance costs, improved visitor experience, expanded the cemetery's interment options and increased revenue opportunities.
Here are a few of the design improvements that are being put into place:
A. Restoring the Central Pond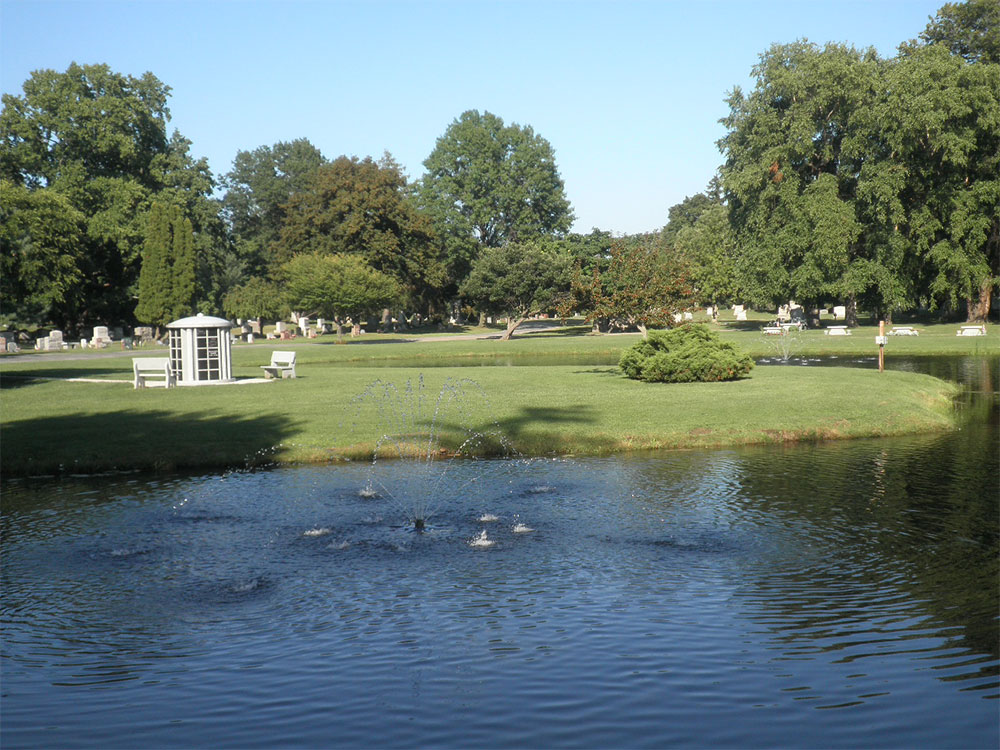 Visitors and maintenance staff expressed concerns with annual spring flooding of the central pond. Through assessment of the stormwater conditions, The LA Group developed a strategy to improve the storm drainage system and pond area. The result is lower annual maintenance, improved access, and a better visitor experience.
B. Introducing Green Burial Options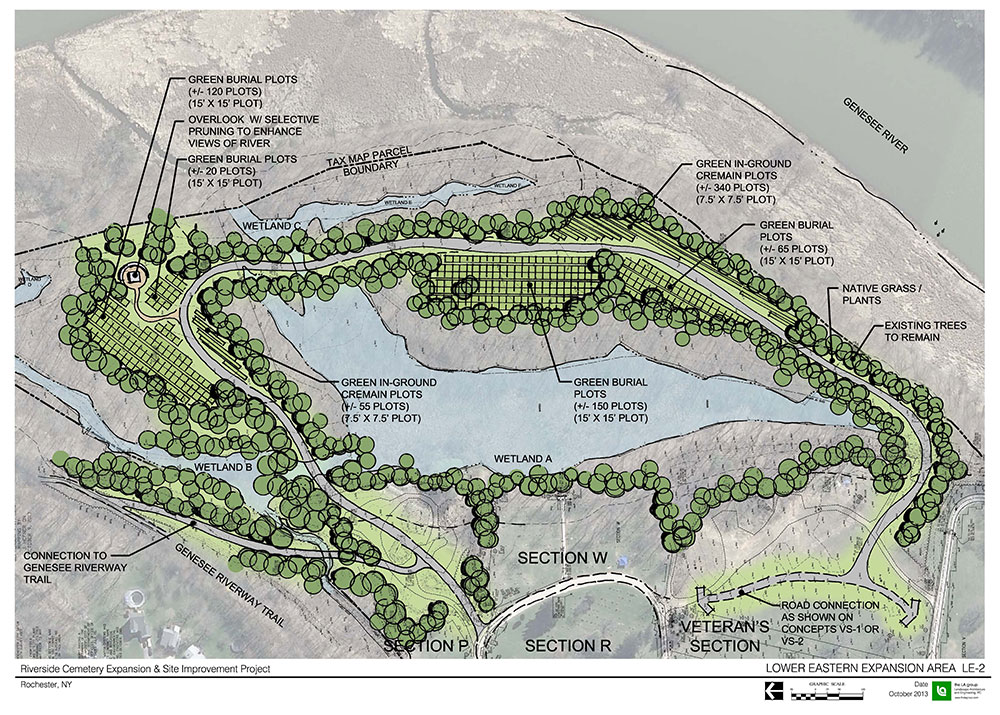 The residents of the City of Rochester had been asking about lower-cost burial options. In addition, residents had a strong desire to incorporate environmentally-balanced components into their burial. The LA Group helped Riverside Cemetery meet these demands with the design of green burial sections. The Garden of Renewal green burial sections is in a wooded area that overlooks the Genesee River. Designed for minimal impact on the land and cost-effective internment:
Existing vegetation and topography is retained
A shroud in lieu of a coffin is used
Excavation is minimized
Any areas disturbed are replanted with native material
C. Expanding Options for Cremains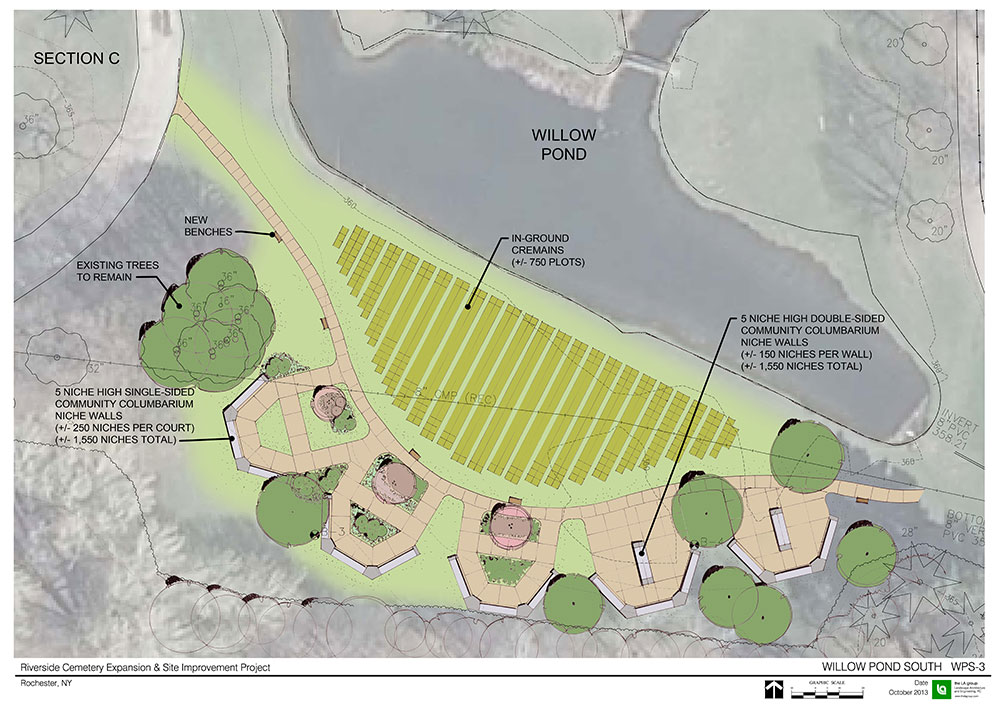 The LA Group helped Riverside Cemetery explore several different solutions for cremains. Through design studies, the cost and potential revenue of traditional plots, columbaria, a scattering garden and ossuary were evaluated. Able to make an informed choice, Riverside Cemetery moved forward with Phase 1, in-ground cremains burial section and are looking to a future Phase 2 including columbaria. This new burial section is set overlooking the pond amidst the tranquil sounds of a nearby fountain.
3. Mount Hope Cemetery, Rochester NY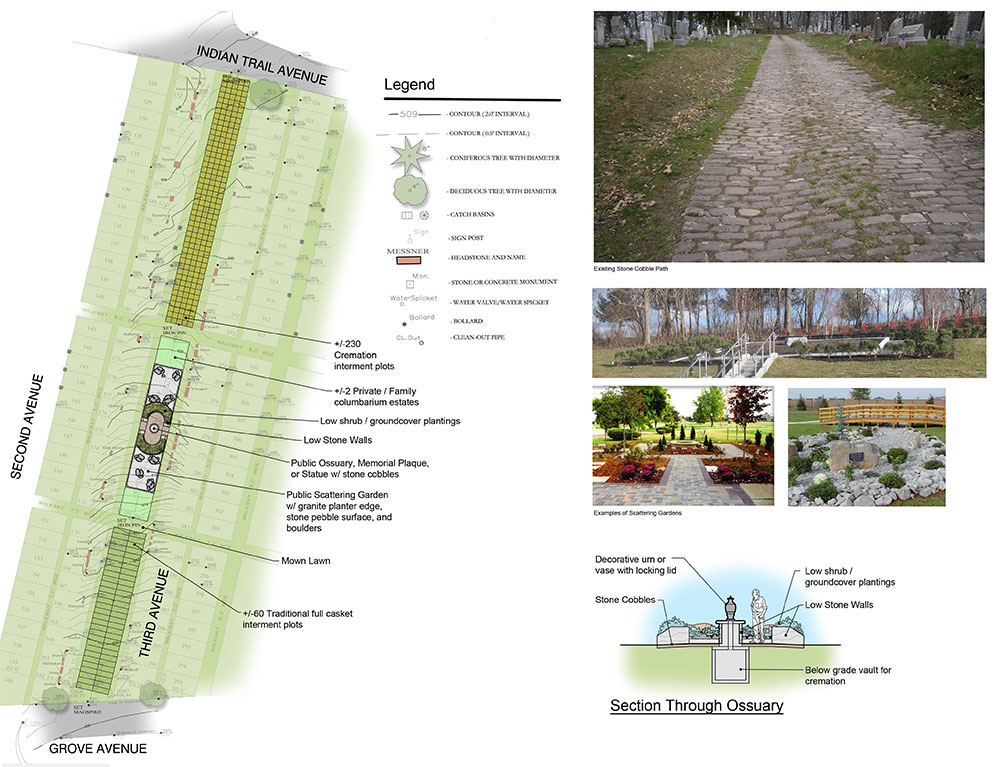 Dedicated in 1838, Mount Hope Cemetery is America's first municipal Victorian cemetery. Set in a picturesque landscape, with an arboretum shading thousands of marble, bronze and granite monuments, it's a priceless museum of art and culture. The final resting place of many dignified and internationally-known individuals includes Susan B. Anthony, Frederick Douglass, Nathaniel Rochester and Fletcher Steele. Mount Hope is also on the National Park Services' National Underground Railroad Network to Freedom and the National Register of Historic Places.
Like many historic cemeteries, Mount Hope needed to find a way to provide plots for new burials while respecting the treasured design of its existing landscape. The LA Group helped the City of Rochester assess the cost benefits of various burial types in some challenging locations. The areas designated for expansion were originally intended for roads but later deemed unnecessary for operations. Thus, The LA Group's designs capitalized on these long, linear spaces with options for an ossuary, cremation plots, and traditional internment plots.
A Strategic Partner for Cemetery Challenges
Walking through these cemeteries, among aging headstones, grand trees, and centuries of history is like a walk back in time. Distinct symbols of our cultural record, historic cemeteries offer a particularly unique 'snapshot' of communities. But the need to continually provide options for changing generations and generate enough revenue to match growing maintenance demands grows more challenging with time.
These examples, while only a few, demonstrate The LA Group's commitment to supporting cemeteries of all sizes. With over 30 years of experience in cemetery design, the firm specializes in identifying cost-effective growth, restoration, and renovation strategies to ensure the future of each community cemetery.