Wayfinding
Choreographing First Impressions and Positive Experiences
At The LA Group, landscape architecture is not only about visual beauty or functional foundations, it's also about communication. Our comprehensive wayfinding studies and systems ensure your institution, campus, or outdoor destination tells the right story.
Design for Every Point of View
Welcome and inform. Guide and entertain. With an integrated approach, thoughtful wayfinding can enrich your visitor experience. And from the ADA Standards to municipal or corporate guidelines – we specialize in creative solutions that keep you compliant while enhancing the natural environment.
Services include:
Wayfinding Audits – Conducting site-wide inventory and analysis of existing wayfinding systems.
Gateway and Entrance Studies – Identifying the primary locations for communication based on your goals for vehicular and pedestrian circulation.
Wayfinding Master Plans – Producing comprehensive plans that align with the evolution of your institution, campus or park and consider all possible wayfinding solutions, including plantings, walkways, signage, and more.
Information Hierarchy and Sequencing – Determining natural decision points, creating zones, and delineating the proper order of communication to move from 'Point A' to 'Point B' safely and easily.
Construction Documentation and Administration – Preparing construction details of your wayfinding system to clarify size, materials, fabrication, and finishes and overseeing the final implementation and quality.
Guidelines – Creating graphic and landscape standards manuals for consistent communication.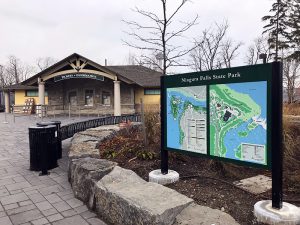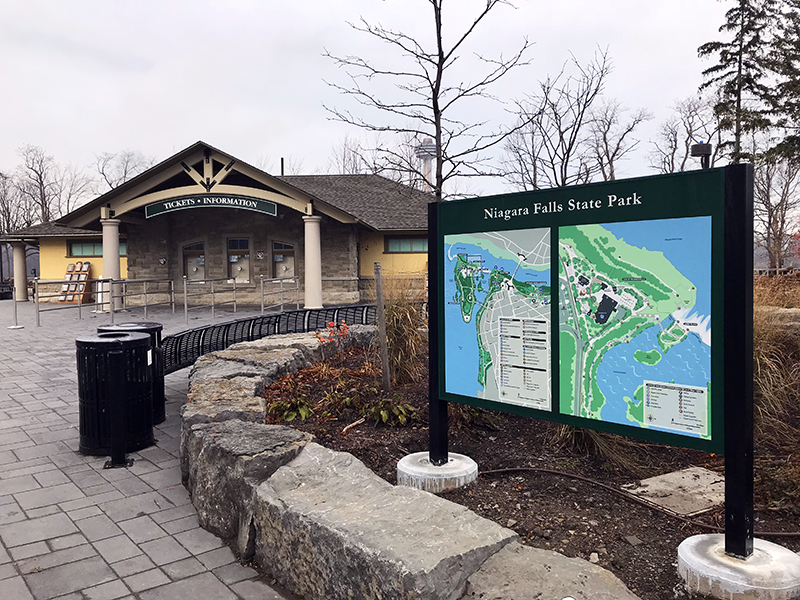 Niagara Falls State Park Wayfinding Signage
The memory of your campus green.
"Projects old and new, we are repeatedly complimented for work that wouldn't have been possible without The LA Group. Their partnership is a game changer."
– Dennis Kennelly, T.Y. Lin International
"Honoring heritage and respecting the natural aesthetic, The LA Group cultivated a truly special place for meditative moments, recreational activities, and family gatherings."
– Bradley Birge, Administrator, City of Saratoga Springs Planning and Economic Development
"When it comes to The LA Group, I can always count on a trustworthy, straight story. There are no excuses here. Their ethics are admirable."
– Bob Joy, Founding Principal, JMZ Architects and Planners, P.C.