A Strategic Partner for Project Success
Economic Development Strategies
In historic neighborhoods, growing cities or on corporate campuses, planning, development and construction projects carry inherent financial risks and require specialized expertise well beyond the landscape. Serving as an owner's advisor or a trusted liaison between municipal or private landowners and potential developers, The LA Group can help protect your interests before you invest. Often, the most effective time to engage us is before engineering studies are initiated or an architect is hired, when communication with planning boards, feedback from permitting authorities, public presentations and in-depth interviews can have meaningful impact.
While we don't take the place of your attorney, we can help reduce legal fees by identifying development issues early and guiding you to creative solutions that facilitate collaboration and save time and money. Our extensive experience in Saratoga County, Upstate New York communities, including Saratoga Springs and Glens Falls, and regions such as the Adirondack Park and Catskills Park, allows us to anticipate potential difficulties projects may need to respond to or overcome.
We can advise on and assist with:
Fiscal feasibility and patterning
Land planning
Environmental regulations
Surveys
Neighborhood meetings to assess community impact and garner support
Interface with local politicians and engineers to vet out concerns early
Predictability of success prior to filing permits and applications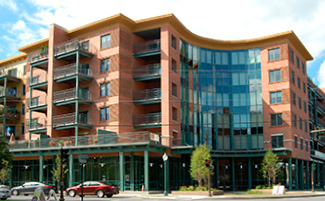 Market Center at Railroad Place
The revitalization of historic Saratoga Springs.
"Partnering with The LA Group is like both sides of the brain functioning together. It's a beautiful thing."
– Dennis Kennelly, Vice President, T.Y. Lin International
"The LA Group's expertise, knowledge, and experience are invaluable to us. We will forever be appreciative of their willingness to hit the ground running. Their help with soliciting bids was instrumental."
– Valerie A. Muratori, Executive Director, Saratoga Bridges