Centennial Celebration
Principal Mike Ingersoll has been chosen by Marylou Whitney and John Hendrickson to design a new entrance to Saratoga Springs, NY. The park is a gift from Whitney and Hendrickson to celebrate the 100th anniversary of the City of Saratoga Springs' incorporation.
Stormwater at West Point
In collaboration with HDR, The LA Group is developing a 20-year, campus-wide stormwater management plan for The United States Military Academy at West Point. We're employing Low Impact Development (LID) technologies based on a landscaped approach, through a cost-effective design that respects this historic national resource.
Design in the Desert
The desert landscape north of Tucson, AZ, sets the stage for the latest LA Group project: a master plan for the new Arizona Veterans Memorial Cemetery. The project will honor veterans, their families, and the history and culture of the region.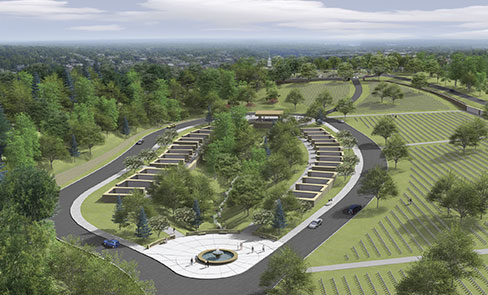 Honor. Dignity. Respect.
Working with the Arlington National Cemetery staff, the US Army Corp of Engineers, the National Capital Planning Commission, the Commission of Fine Arts and the National Park Service, The LA Group developed plans to transform a difficult, steeply-sloped and wooded 30-acre parcel into a dignified and honorable shrine.
LEARN MORE