Niagara Falls ASLA Award
The firm is the honored recipient of an ASLA, NY Upstate Chapter Built Design Merit award for its Niagara Falls State Park Terrapin Point Reconstruction project.
Stormwater at West Point
In collaboration with HDR, The LA Group is developing a 20-year, campus-wide stormwater management plan for The United States Military Academy at West Point. Read how we're using a landscaped approach to respect this historic national resource.
New National Cemeteries
The LA Group is currently providing design and master plan services for new national cemeteries in Western New York and Southern Colorado. These projects will honor veterans and their families.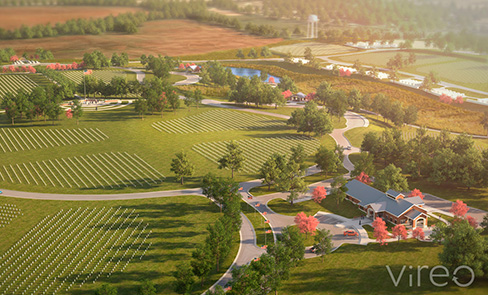 A Monumental Memorial
On a team led by fellow planning and design firm Vireo, The LA Group is proud to have been the cemetery master planner and site designer for the new 253-acre Omaha National Cemetery. Construction is underway and is scheduled to be complete in fall of 2018.
LEARN MORE