Centennial Celebration
The LA Group has been chosen by Marylou Whitney and John Hendrickson to design a new entrance to Saratoga Springs, NY. The park is a gift from Whitney and Hendrickson to celebrate the 100th anniversary of the City of Saratoga Springs' incorporation.
Stormwater at West Point
In collaboration with HDR, The LA Group is developing a 20-year, campus-wide stormwater management plan for The United States Military Academy at West Point. We're employing Low Impact Development (LID) technologies based on a landscaped approach, through a cost-effective design that respects this historic national resource.
Design in the Desert
The desert landscape north of Tucson, AZ, sets the stage for the latest LA Group project: a master plan for the new Arizona Veterans Memorial Cemetery. The project will honor veterans, their families, and the history and culture of the region.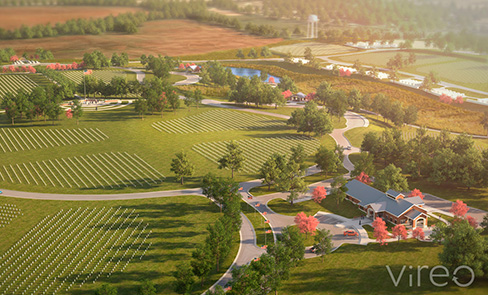 A Monumental Memorial
The LA Group has been selected as the site designer on a team led by Vireo, a fellow planning and design firm, to prepare a master plan and full professional design service for the new 253-acre Omaha National Cemetery.
LEARN MORE